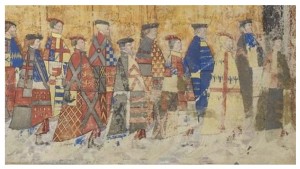 In the second part of my series on Anne Boleyn's life, I want to take a look at her family and extended family. I'm going to give some brief bios of some of the people she was related to with links to where you can find out more about them. Apologies for some repetition from last week's article.
You can find out more about Anne's background in my article Anne Boleyn's Background and Birth and the origins of the Boleyns in Anne Boleyn's Family Tree.
Let's kick off with a look at Anne's immediate family and the Boleyns…
Immediate Family
Anne Boleyn's immediate family were, of course, the Boleyns. In his research of records going back to the 13th century, Rev. Canon Parsons, author of the journal article "Some Notes on the Boleyn Family", found the name "spelt variously – Boleyn, Buleyn, Bolen, Bulleyne, Boleyne, Bolleyne, Boyleyn, Bowleyne, Bulloigne, and the modern form Bullen", but concluded that "Boleyn was the most common of the mediaeval forms." It is a myth that Anne Boleyn changed the spelling from "Bullen" to "Boleyn" to make it more upmarket. See Boleyn or Bullen – The Spelling of Boleyn and the Myth that Anne Boleyn Changed it.
Thomas Boleyn – Father
Anne Boleyn's father was Thomas Boleyn, son of Sir William Boleyn, a landowner, of Blickling, Norfolk, and his wife Margaret Butler, daughter and co-heiress of Thomas Butler, 7th Earl of Ormond. Thomas was born in around 1476/7 and he married Elizabeth Howard in around 1499. The couple had at least five children who were brought up at Hever Castle in Kent.
Thomas Boleyn had a talent for languages and was said to be the best French speaker at court and it was this gift combined with his intelligence and ambition that led to him being appointed as an ambassador and undertaking many important diplomatic missions. He was also a member of Henry VIII's privy council and his offices included Treasurer of the Household and Lord Privy Seal. He was made a Knight of the Garter in 1523, Lord Rochford in 1525 and Earl of Wiltshire and Earl of Ormond in 1529.
He was also a Renaissance man and religious reformer, and believed in educating all his children to a high standard. He died on 12 March 1539 at his home, Hever Castle, aged around 62. He was laid to rest in a tomb in the family church of St Peter's in Hever, Kent. Visitors to the church today can pay their respects to Thomas and admire the incredibly detailed brass which shows him in the full robes and insignia of a Knight of the Garter, including the badge on his left breast and garter around the left knee. It is said to be one of the finest brasses in England.
You can read about Thomas Boleyn's career in my article In Defence of Thomas Boleyn, Father of Anne Boleyn
Elizabeth Boleyn (née Howard) – Mother
Elizabeth Boleyn was born around 1476 and was the daughter of Thomas Howard, the Earl of Surrey and later Duke of Norfolk, and his wife Elizabeth Tylney. As I've already said, Elizabeth married Thomas in around 1499 and we know from a letter written by Thomas Boleyn to Thomas Cromwell that in the early years of their marriage Elizabeth gave birth on an annual basis. We have evidence of five children, but there may have been more. We know that there are further tombs in Hever church but that at some point the floor collapsed and these are now hidden.
Traditionally, it is said that Elizabeth served as lady in waiting to Elizabeth of York, Catherine of Aragon and then her own daughter, but I have not found any evidence at all of her serving Elizabeth of York. There is also no evidence of her serving Catherine of Aragon on a full-time basis, but she was present at the Field of Cloth of Gold so may have been called on to serve the Queen at big state occasions.
In the early 1530s, before Henry VIII's marriage to Anne Boleyn, it was rumoured that the King had slept with Elizabeth Boleyn. When Sir George Throckmorton spoke to the King of rumours that he had slept with Anne's sister and her mother, Henry VIII stated "Never with the mother". See Was Anne Boleyn Henry VIII's Daughter? for more on this.
It is a myth that Elizabeth Boleyn died in 1512 of puerperal fever (childbed fever) and that Thomas Boleyn remarried – see Did Anne Boleyn have a Stepmother? Elizabeth appears to have had a close relationship with her daughter Anne, acting as a chaperone when Henry was courting her. We know from Chapuys that she accompanied Anne and the King to view York Place in October 1529 after Wolsey had fallen from favour. She was there for her daughter during that difficult time of being queen-in-waiting. Elizabeth attended her pregnant daughter at her coronation in 1533, riding in one of the carriages in the procession.
She appears to have been ill in 1536, suffering from a bad cough, and she died on 3 April 1538. She was laid to rest in the Howard Chapel of St Mary's Church, Lambeth. See 7th April 1538 The Burial of Elizabeth Boleyn, Mother of Anne Boleyn for more on this.
Mary Boleyn – Sister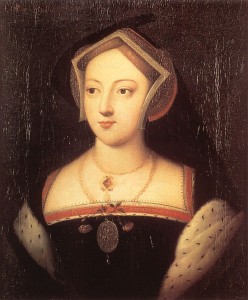 The birth dates and birth order of the Boleyn children is not known, but I believe that she was born in around 1500 and that she was the eldest Boleyn child. In 1514, Mary was chosen to accompany Princess Mary Tudor, Henry VIII's sister, to France as a maid-of-honour. Henry VIII had arranged for his sister to marry the ageing King Louis XII of France and Thomas Boleyn had managed to secure a position for his daughter in Mary's party. Mary's sister Anne was also chosen to join Mary Tudor's household. In January 1515, Louis XII died and in March 1515 Mary Tudor returned to England with her new husband Charles Brandon, Duke of Suffolk. While we know that Anne stayed on in France as a maid to Queen Claude, wife of Francis I, the new French king, it is not known what happened to Mary Boleyn. She was certainly back in England in 1520 because she married William Carey, a Gentleman of the Privy Chamber and a royal favourite, on 4 February 1520. Henry VIII attended the wedding.
At some point, Mary Boleyn slept with Henry VIII. We only know that they had a sexual relationship because of the fact that the King applied for a dispensation from the Pope in 1527 to enable him to marry Anne Boleyn and in this dispensation was listed the impediment of "affinity arising from illicit intercourse in whatever degree, even the first". There was the impediment of affinity in the first degree due to Henry having slept with Anne's sister. Many historians date the relationship to 1522 because at the Shrovetide joust of 2 March 1522 Henry VIII rode out with the motto Elle mon Coeur a navera, or "She has wounded my Heart", embroidered on the trappings of his horse. A woman had obviously rebuffed his advances, but we cannot be sure that it was Mary, who, by this time, was married to William Carey. Mary could well have been just a one night stand when Elizabeth Blount, the King's former mistress, was pregnant with the King's son in 1519, they may not have had a long-lasting affair at all. See Mary Boleyn and Henry VIII for more on this.
Mary Boleyn had two children during her marriage to William Carey – Catherine, who was born in 1524, and Henry, who was born in 1526. William Carey died of sweating sickness in June 1528 and Mary's sister Anne, who was at that time involved with Henry VIII, was granted wardship of Mary's son in July 1528 to help Mary provide for her family. Mary married William Stafford in secret in 1534 and turned up at court pregnant in September 1534. She was banished from court for marrying without Anne's permission and her allowance was cut off by Thomas Boleyn. She was forced to write to Thomas Cromwell for financial help. It is not known what happened to her baby. William Stafford, was one of the men chosen to meet Anne of Cleves at Calais in 1539, and Mary's daughter Catherine was appointed as one of Anne of Cleves' ladies in November 1539. Mary died on the 19th July 1543, but it is not known where she was laid to rest – see 19 July 1543 – The Death of Mary Boleyn.
George Boleyn – Brother
It is thought that George was the youngest of the surviving Boleyn children and that he was born in around 1504, probably at Blicking Hall in Norfolk. George received an excellent education, speaking French, Latin and some Italian, and may have attended Oxford University. He was appointed as one of Henry VIII's pages in around 1516. He lost his position in the privy chamber in January 1526 but was appointed as one of the King's cupbearers as compensation. In 1528 he was appointed Esquire to the Body and Master of the Buckhounds, and in 1529 he was knighted and restored to the privy chamber.
George married Jane Parker, daughter of Henry Parker, 10th Baron Morley, and Alice St John, in late 1524 or early 1525. Morley had been brought up in the household of Lady Margaret Beaufort, Henry VIII's grandmother, and he had acted as cupbearer at Henry VIII's coronation. Jane was born in Norfolk around 1504-5, making her more or less the same age as George. She was lady-in-waiting to the Queen and would become lady-in-waiting to her sister-in-law in due course. Although the marriage was an arranged one, it was a good social match for both parties, and more particularly for their parents, merging two powerful and influential families.
George was chosen as ambassador to France in 1529 and undertook a total of 6 embassies to France between October 1529 and July 1535. He was active in the Reformation Parliament from 1530 until his death and was chosen by Henry to argue the case for supremacy in front of Convocation on 10th February 1531. In June 1534 he was appointed Lord Warden of the Cinque Ports and Governor of Dover Castle.
George was also a talented poet and a zealous Reformer. You can read more about his life and career at www.GeorgeBoleyn.com.
He was executed on 17 May 1536 after being found guilty of high treason, for committing incest with his sister Queen Anne Boleyn and conspiring to kill the King.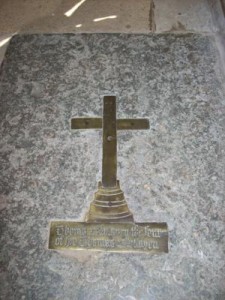 Thomas the Younger and Henry Boleyn – Brothers
Thomas and Henry, named after their father and the King respectively, died in childhood, and their graves can be found in the parish churches of Penshurst and Hever. They are marked with simple brass memorial crosses. That's all we know about them.
The other Boleyns
Sir James Boleyn – Paternal Uncle
Sir James Boleyn was Anne's uncle, being the younger brother of Anne's father, Thomas Boleyn, and he was a man who shared her religious beliefs. Anne appointed him as her chancellor but she was obviously not close to his wife, Lady Elizabeth Boleyn (née Wood), who was one of the five women appointed to serve Anne in the Tower and who accompanied Anne to her trial on the 15 May 1536.
Lady Anne Boleyn – Paternal Aunt
Lady Anne Shelton (née Boleyn) was the sister of Thomas Boleyn and therefore Anne Boleyn's aunt. She was married to Sir John Shelton and the couple were in charge of the combined household of Henry VIII's daughters, Mary and Elizabeth, from 1533, with Sir John acting as steward. The couple had nine children, including Margaret and Mary Shelton.
In May 1536, Lady Anne was appointed to serve her niece Anne during her imprisonment in the Tower. It is thought that Lady Anne did not sympathise with her niece at this point because she had been angry with Anne when she had pushed Mary Shelton into having an affair with Henry VIII to prevent him from having an affair with a lady not sympathetic to Anne.
See Lady Margaret Shelton for more on the Sheltons.
Sir William Boleyn – Paternal Grandfather
Sir William Boleyn was Anne Boleyn's paternal grandfather and was the son of Sir Geoffrey Boleyn, a successful merchant and Lord Mayor of London, and his wife Anne, daughter of Lord Hoo and Hastings. The Butlers were a wealthy family in Ireland and Margaret was descended from men who had been magnates, landowners and justiciars of Ireland. Thomas could trace his roots back to Edward I and ultimately to Eleanor of Aquitaine and Henry II. William was made a Knight of the Bath during Richard III's coronation celebrations and served as Sheriff of Norfolk from 1500 to 1501. He died in 1505 and was buried in Norwich Cathedral.
Lady Margaret Boleyn – Paternal Grandmother
Sir William Boleyn's wife, and Anne Boleyn's paternal grandmother, Lady Margaret Butler was the daughter of Thomas Butler, 7th Earl of Ormond, (known as "The Wool Earl"), and of his first wife, Anne Hankford. Thomas Butler served on Henry VII's privy council and was Catherine of Aragon's first Lord Chamberlain, serving her from 1509-1512. Her paternal grandparents were James Butler, 4th Earl of Ormond, and Joan Beauchamp. James Butler was known as "The White Earl" and was the patron of "The Book of the White Earl", an Irish religious and literary miscellany. The Butler family were descended from Theobald Walter, 1st Baron Butler (d. 1205), who was of Norman origin. The family surname changed from Walter to Butler during the reign of Henry II and came from Theobald's title, Chief Butler of Ireland.
Lady Margaret's father, Thomas, was a friend of Henry VII and so sat in the Irish and English Parliaments. In 1509 he became Queen Catherine of Aragon's Lord Chamberlain and served her in this post for three years. He died in 1515 leaving his English estates (72 manors) to his two daughters, Margaret and Anne.
Lady Margaret and Sir William had ten children and their eldest son was Thomas Boleyn, father of Anne Boleyn. Lady Margaret lived with the Boleyns at Hever following the death of her husband. She outlived her eldest son Thomas and after his death in March 1539 arrangements were made for her to be removed from Hever Castle so that the King could take possession of it. She died in March 1540.
You can find out more about the Butlers in my article Anne Boleyn's Irish Roots.
Next time I'll be looking at the Howards.
Notes and Sources
Ridgway, Claire (2013) The Anne Boleyn Collection II
Cherry, Clare and Ridgway, Claire (2014) George Boleyn: Tudor Poet, Courtier and Diplomat
Norton, Elizabeth (2013) The Boleyn Women