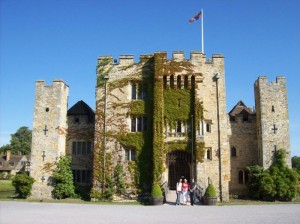 I'm kicking off our series about Anne Boleyn's life with a look at her background and birth…
Anne Boleyn was the daughter of Thomas Boleyn and Elizabeth Howard, who had married in around 1499. Her mother Elizabeth was the daughter of Thomas Howard, Earl of Surrey and later, from 1514, 2nd Duke of Norfolk. The Howards were an ancient noble family who could trace their roots back to Edward I and who had served English monarchs for generations. Anne's father Thomas was descended, on his mother's side, from Theobald Walter, 1st Baron Butler (d. 1205), who was of Norman origin and who served Prince John as the first Chief Butler of Ireland. The title was passed down the family and the surname changed from Walter to "Butler" (Thomas's mother was Lady Margaret Butler). Thomas's maternal grandfather was Thomas Butler, 7th Earl of Ormond. Interestingly, the Butlers also descended from Edward I.
Although the Boleyns are often seen as "social upstarts" or "nouveaux riches", because Thomas's grandfather Geoffrey Boleyn rose from humble beginnings to be a wealthy merchant, knight and Lord Mayor of London, many regard them as an ancient French family who may have been descended from the Norman Counts of Boulogne. You can read more about this in my article Anne Boleyn's family Tree. Whatever the truth of the Boleyns' origins, by the time the Boleyn children were born Thomas Boleyn was a well-respected courtier.
Thomas and Elizabeth Boleyn had at least five children: Mary, Anne, Thomas, Henry and George. Thomas and Henry, named after their father and the King respectively, died in childhood and their graves in the parish churches of Penshurst and Hever are marked with simple brass memorial crosses which can still be seen today. There is a long-standing dispute as to the ages of the three surviving Boleyn children and their order of birth. Although people like to speculate about Anne's date of birth, some even going as far as drawing up an astrological natal chart, we just don't know when she was born, not even what year. She may have been named Anne because she was born on the feast day of St Anne (26th July) or because she was named after her paternal aunt (the Anne Boleyn who married Sir John Shelton), and historians argue over whether she was the oldest daughter and whether she was born in 1501, 1507, or some year between those dates. It is frustrating that we don't know her birth-date, but it is a common problem when researching Tudor personalities. It wasn't until the 19th century that it became compulsory to officially register births and deaths, and it wasn't until 1538 that parish priests were ordered to record baptisms, marriages and burials, and even then many priests ignored the order.
There are valid arguments for 1501 and 1507 as years of birth for Anne Boleyn – you can read the arguments and evidence given in my article The Early Life of Anne Boleyn Part One – Beginnings – but I personally believe that Anne was born in 1501 because she was sent to the court of Margaret of Austria in Mechelen in the spring of 1513 as a maid of honour, a position usually only open to a girl of 12 or 13 years of age, and in 1514 she was recalled from there to serve Mary Tudor, Queen of France. When Mary returned to England, following the death of her husband Louis XII, Anne went on to serve the new queen consort of France, Queen Claude. I do not believe that a girl of 6/7 would have been chosen to serve these important women. However, unless more evidence comes to light we will never know for sure when Anne was born and the subject does make for a great debate.
We also don't know where Anne Boleyn was born, but it is likely that she was born at Blickling Hall in Norfolk. The property had been in the Boleyn family since its purchase by Geoffrey Boleyn in 1452, and it passed to Thomas Boleyn when he married. Thomas formally inherited the property upon his father's death in 1505. He and Elizabeth lived there from the date of their marriage until 1505-6, when they moved to Hever Castle in Kent. Unfortunately, the Blickling Hall the Boleyns knew no longer exists; the current property, which occupies the grounds of the original, was built during the reign of James I. Anne would have spent the years between 1505/6 and her departure for Margaret of Austria's court in 1513 at Hever Castle. Geoffrey Boleyn had bought the property in 1462 and had set about building a comfortable home – a manor house – within the existing structure of the original walled bailey. Thomas Boleyn also made significant improvements to the house when he inherited it, including the long gallery. Hever would have been the place Anne called home and it is well worth a visit – see Hever Castle – A Magical Place for more information. Don't forget to visit St Peter's Church, which is on the green just outside the castle entrance, and pay your respects to Thomas Boleyn and view his beautiful brass memorial. You'll find Anne's brother Henry's little brass memorial cross on the floor near Thomas's tomb too.
Thomas Boleyn is often seen as a man who rose at the Tudor court because of his daughters' relationships with the King, but this idea is a myth. In 1501, Thomas was a guest at Catherine of Aragon's marriage to Arthur Prince of Wales; in 1503, Thomas was chosen as a member of the party escorting Margaret Tudor, Henry VII's daughter, to Scotland to marry King James IV; he served Henry VII as an Esquire of the Body and carried on in this role when Henry VIII acceded to the throne; he was knighted in 1509 by Henry VIII and his wife served as one of the "baronesses" of the Queen's Chamber at the coronation of Henry VIII and Catherine of Aragon in 1509; he received a number of grants and offices in 1509, 1511, 1512 and 1514; he was a chief mourner and one of the knight bearers at Prince Henry's funeral on the 27th February 1511; he was sent to Margaret of Austria's court to act as an envoy in 1512; he was a member of the Privy Council by 1518 and a respected ambassador; he sponsored Francis I's baby son, Henry, Duke of Orleans, in the name of Henry VIII in 1519; he was appointed Comptroller of the Household in 1520 and Treasurer of the Household in 1521… And those are just some of his career highlights. His rise had everything to do with hard work and talents such as his gift for languages, which made him an ideal diplomat, and nothing to do with his daughters being involved with the King.
Anne was born into a family on the rise and to a father who was a Renaissance man. No-one could have had any inkling that this little girl would one day be a queen consort, but she was given opportunities that many girls could only dream of. I'll be talking about her education and upbringing in a future post.
Other articles that may be of interest: