Posted By Claire on September 30, 2022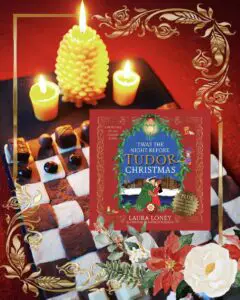 A big welcome to Laura Loney who is visiting us today in celebration of the release of her debut book 'Twas The Night Before Tudor Christmas, which is beautifully illustrated by Kathryn Holeman. It's out today in paperback and Kindle.
Find the book on your Amazon store – click here. It really is gorgeous.
Over to Laura…
Does your heart beat a little faster seeing those beautiful Tudor gown posts online? The luxurious swoosh of fabric, the inevitable twirl, all topped with either a French or English style hood and studded with jewels. Have you ever worn such an outfit? Have you ever longed to? Maybe you'd prefer a grand doublet and hose ensemble. Or maybe you're like me, admiring them, but if you actually wore one you'd be all fancied up, surrounded by people in jeans and T-shirts, and looking more than a tad out of place.
I know the feeling, but I also cannot quench my addiction to history. The solution? I speckle my Tudor obsession throughout my day in ways that satisfy me, but do not overtake my modern life. I read, listen to podcasts, watch documentaries, but I long to share my interest with others too. Maybe it's because I often think that anyone who isn't interested in the Tudors just doesn't know what they are missing.
So I trickle in fun history facts and tidbits at parties, bring up Henry VIII and Anne Boleyn over coffee, maybe tell a Tudor ghost story or two around Halloween. If you are nodding or grinning right now, then you understand and are likely a history fact teller too.
Christmas is one of my favourite times of year. I absolutely love it. It's magical, sparkly, delicious and full of feel-good vibes. It also happens to have a very rich and interesting history. And you know what? You guessed it. I wanted to bring a touch of Tudor history to my Christmas. The catch? Well, as a mom I can't very well say to my kids, "Sorry, lovelies. No tree this year. We are going full Tudor. Turkey, dressing and gravy? Nope. Say hello to a boar's head and a dead peacock made to look as though it's still alive. Oh and by the way, we are opening all our presents on January 1st this year." What a disaster that would be!
However, I can bake gingerbread cookies made to look like a peacock for dessert. How about a bowl of Pleasant Pottage to feed hungry guests who stop by with little notice? Maybe enjoy a festive group craft about secret messages?
'Twas the Night Before Tudor Christmas began as a witty retelling of the classic poem by Clement Clarke Moore, but grew into a much larger book compiling more than 30 Tudor-inspired recipes, games and activities. The story is the heart of the book, and its words are brought to life by the beautiful illustrations created by the talented Kathyrn Holeman. While writing it, I imagined fellow history enthusiasts having a special Tudor storybook to pull from their bookshelves to read every Christmas Eve.
COMMENTS ABOUT "Adding a twist of Tudor to a modern Christmas – with two dashes of fun and a sprinkle of whimsy by Laura Loney"
NONE YET - PLEASE LEAVE ONE »