Posted By Claire on July 14, 2014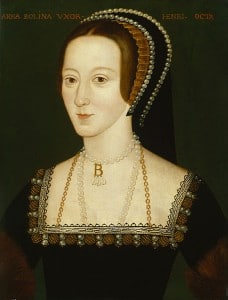 Recently I've written lots of articles on Tudor events, Henry VIII and his wives, and various Tudor personalities, but as this site is called The Anne Boleyn Files I thought it was time to get back to Anne Boleyn. Obviously, I've written lots on Anne before, both on here and in my books, but it's always good to revisit her story so that we can discuss and debate the various questions, blanks, myths and facts, and also to help those who are new to Anne's story and who want to know more about her.
I posed the question "Which aspects of her life would you like to know more about?" on The Anne Boleyn Files Facebook page and the answers included Anne's early life, her education, her family, her background, her style/fashion, her personality, her time in France, whether there was any truth in the allegations made against her, her relationship with her siblings, her relationship with Henry, her role in the Reformation, her fall, her musical and literary interests, her daily life, her 1536 miscarriage, her time as queen, her love life (Henry Percy, Thomas Wyatt, James Butler…), her relationship with Elizabeth, her appearance and whether she had six fingers, her patronage of the arts, Anne's circle/faction at court, places connected with her, objects/artefacts related to her, her staff, her faith, Anne and witchcraft… If there's something you want to add to this list then please leave a comment below.
I do hope you'll enjoy the series on Anne, I intend to do a post a week for this series, and I'll still be covering "on this day in history" events too.
We've had lots of new visitors recently so a big welcome to all of you and a big thank you to those of you who have been visiting The AB Files for years. I'm Claire Ridgway, a full-time history researcher and author, and I've been running this site since February 2009. I have written four Tudor history books, co-authored a biography of George Boleyn and helped with the translation of a 19th century French book on George Boleyn and Henry Howard. Please do get involved in this site by commenting, joining the forum, browsing the archives and resources etc. I hope you enjoy your time here.