Claire | September 20, 2023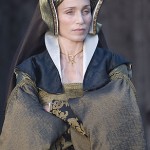 Did you know that Elizabeth Boleyn (née Howard), Anne Boleyn's mother, acted as a chaperone when the king was courting her daughter?
It's true.
We know from the records that Elizabeth accompanied the king and Anne on their 1529 visit to inspect York Place, which the king had taken from Cardinal Thomas Wolsey, and that she also lived there with Anne before Anne became queen.