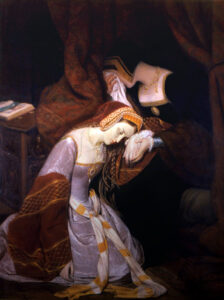 A big thank you to Sophie Bacchus-Waterman for writing this guest article for us here at the Anne Boleyn Files.
Over to Sophie…
Introduction
Anne Boleyn was attended to by four women following her arrest and subsequent placement in the Tower of London on 2 May 1536. The identity of three of them is undisputed – they were Elizabeth Stoner (née Chamber), wife of William Stoner, Mary Kingston (née Scrope), wife of William Kingston, Constable of the Tower, and Margaret Coffin (née Dymoke), wife of William Coffin. However, the identity of the fourth woman, Lady Boleyn, has been in question for centuries. She was certainly one of Anne's paternal aunts – Elizabeth Wood Boleyn, wife of James Boleyn, or Anne Tempest Boleyn, wife of Edward Boleyn – but which one?
Like Anne's three other attendants, Lady Boleyn seems to have been unsympathetic towards her niece. On her first night in the Tower, Anne Boleyn complained to William Kingston that she thought 'much unkindness in the King to put such about me as I never loved'.1 She went on to say that 'the King wyst [knew] what he did when he put such two about her as my lady Boleyn and Mistress Coffin; for they could tell her nothing of my Lord her father, nor nothing else', to which Lady Boleyn replied, 'such desire as you have had to such tales has brought you to this'.2 Lady Boleyn and Margaret Coffin lay on Anne Boleyn's palet [bed] at night, with Kingston and his wife guarding at the door, so they could hear the conversations inside.3 However, Kingston claimed that it was only Margaret Coffin who reported things to him.
Labelling Lady Boleyn as the wife of Edward Boleyn seems to be a Victorian phenomenon. In 1827, Elizabeth Benger suggested that 'Lady Edward Boleyn, afterwards Lady of the Bedchamber to Queen Anne Boleyn, appears to have been envious of her niece's advancement', though she is misnamed as Jane Dacre.4 Benger also placed her in the Tower.5 In her 1866 biography of Anne, Mary Howitt also claimed that Lady Boleyn was the wife of Edward Boleyn.6 Paul Friedmann, in his 1884 biography of Anne Boleyn, claimed that Sir Richard Tempest was 'a near kinsman of Anne's aunt and enemy, Lady Boleyn.'7 Agnes Strickland also claimed that Lady Boleyn was Edward Boleyn's wife in her 1902 book.8
Recent scholarship has gone in the opposite direction, with historians suggesting that she was Elizabeth Wood Boleyn. Though he didn't name her in the text, in the index of the 2004 reprint of his book, Anne's biographer Eric Ives asserted that Elizabeth Wood Boleyn was in the Tower.9 In her 2010 book on Anne Boleyn's downfall, Alison Weir stated the same.10 Recently, Sylvia Barbara Soberton claimed that Lady Boleyn was Elizabeth Wood Boleyn in her study on Anne Boleyn's ladies-in-waiting, published in 2022.11 The same year, Natalie Grueninger claimed that Anne Boleyn was waited on in the Tower by Elizabeth Wood Boleyn, in her book on Anne's last year.12 In 2023, Tracy Borman made the same assertion in her book on Anne Boleyn and Elizabeth I.13
In truth, we will never know which of Anne's aunts was present in the Tower. However, is one a more likely candidate than the other? By looking at what we know about both of these women, perhaps we are able to make a stronger case for either one being the Lady Boleyn in question.
Elizabeth Wood Boleyn
Elizabeth Wood was the daughter of John and Margaret Wood.14 The Wood family hailed from Norfolk, holding the manor of East Barsham since the mid-15th century.15 Elizabeth Wood Boleyn was possibly at court as early as October 1519, where she was entitled to breakfast, along with Elizabeth Howard Boleyn, Anne Boleyn's mother.16 Both women are referred to as 'Lady Boleyn', making identifying them with certainty impossible, but this was likely the two Elizabeths, as Anne Tempest was not married yet. Elizabeth Wood Boleyn's long service to Katherine of Aragon does suggest that she is the more likely Lady Boleyn of the Tower.
However, there are hints from her husband's court position prior to Anne's arrest which cast doubt over this possibility. James Boleyn was his niece's chancellor. According to Anne's earliest biographer William Latymer, he used to debate the king over theology,17 and references to him in the collected Letters and Papers of Henry VIII's reign reveal him to have been an ardent reformer throughout his adult life. Anne Boleyn also lent her uncle the not insignificant sum of £50, which he had still not repaid at the time of her death.18
It has been suggested that James Boleyn turned against his niece in the wake of her arrest.19 In turn, Elizabeth may have agreed to spy on Anne in the Tower as a way to gain favour with the king, and keep herself and her family safe. Perhaps she even believed some of the accusations against her. The couple's presence at court makes Elizabeth a likely candidate. She was also the older of Anne Boleyn's two aunts, and she may have been a more obvious choice for the trusted position of spy and lady-in-waiting to her niece during her imprisonment.
Though it would be risky to infer Elizabeth's religious leanings from her husband's, it is possible that they shared similar views. It can also be inferred that James and his niece were close, from his position in her household, and the money she lent him. Would Elizabeth have agreed to spy on her niece, if her husband – and, possibly, Elizabeth herself – was close to her? Of course, she may have been ordered to do so. As has been discussed, Lady Boleyn did not pass Anne's words onto Kingston. Perhaps her silence suggests her reluctance to inform on her niece?
Anne Tempest Boleyn
The younger of Anne Boleyn's aunts, Anne Tempest Boleyn is the other possible candidate for the Lady Boleyn of the Tower. She was the daughter of John Tempest, whose grandfather, John, had married into the Welles family, who could boast nigh kinship with Margaret Beaufort.20
Anne Tempest had married Edward Boleyn by November 1520, when she first appears as his wife in court records among Katherine of Aragon's attendants at the Field of Cloth of Gold.21 She was still a minor on 31 July 1517 (meaning that she was under twelve) when her wardship was granted to William Tyler following the death of her father in 1513.22 She would have therefore been young when she married at most three years later. The couple had one son and four daughters – Edward, Mary, Ursula, Amy, and Elizabeth.23
Edward Boleyn does not seem to have held a position in his niece's household, and was a rare visitor at court. He was present at the Field of Cloth of Gold in the king's retinue, as was his wife. But he left court in July 1523, to join the retinue of John Bourchier, 2nd Baron Berners, Deputy of Calais.24 He does not appear in court records again until March 1530.25 These infrequent appearances at court suggest that he and Anne Tempest Boleyn might not have been present in May 1536, making her an unlikely candidate for the Lady Boleyn in the Tower.
However, their son's fate may offer some insight. They were both deceased by 24 June 1538.26 Their son Edward the younger was a minor at the time of his parent's deaths. He was placed into the wardship of Sir Philip Parrys, who was paid an annuity of 20 marks on 18 February 1542, from his possession of lands which had belonged to Edward Boleyn during his son's minority.27 Edward the younger was married into the Parrys family by the time this annuity was paid. He was present at the christening of 'Mr. Carie's child' in December 1551.28 He then disappears from the court records, and possibly died soon after.
Wardships were profitable, and the wardship of Edward the younger was no exception, granting Philip Parrys 20 marks, and the right to marry him into the Parrys family. Philip Parrys would have either bought Edward's wardship, or been granted it by the king. It is the connection between Parrys and this branch of the Boleyn family which may shed light on who the Lady Boleyn in the Tower was. Philip Parrys was the treasurer to Stephen Gardiner in the 1530s and 1540s.29 He is frequently mentioned in the dispatches of Germain Gardiner, Stephen Gardiner's nephew. The fact that the younger Edward Boleyn was the ward of Philip Parrys suggests a link between this branch of the Boleyns and the Parrys family. Despite having campaigned in favour of Henry's divorce from Katherine of Aragon, by 1531, Gardiner had shifted to the conservative stance that would remain his position for the rest of Henry's reign.30 Does this connection between the wardship of Edward Boleyn and Phillip Parrys hint at a broader connection between this branch of the Boleyns and the conservative faction at court?
A few final things to note regarding Anne Tempest Boleyn's death. She, like Elizabeth Howard Boleyn, Anne Boleyn's mother, was dead within two years of her niece's death. She may have been predeceased by her husband, who may have passed away the same year as Anne Boleyn, but was certainly dead by 1538. Elizabeth Wood Boleyn, however, was still living until at least 1553, and seems to have remained at court.31 Could Anne Tempest Boleyn's early death be put down to the sadness at being so close towards her niece during her downfall? This is pure speculation, of course, but it is worth speculating.
Conclusion
In conclusion, the identity of the frustratingly named "Lady Boleyn" will never be known for certain. Whoever she was, she accompanied Anne Boleyn to her trial on 17 May, standing beside her chair while her niece gave evidence. She may even have been among the ladies on the scaffold, though we don't have the names of those women. Whether she was Elizabeth Wood or Anne Tempest, she was Anne's aunt, and we may wonder at how she felt to see her niece's arrest and execution.
I hope I have laid out clear and convincing arguments for and against both women being "Lady Boleyn". Who do you think is the more likely candidate?
Sophie Bacchus-Waterman recently graduated from the School of Advanced Study with a Masters in the History of the Book. Her dissertation focused on the Psalter of Anne Boleyn, and her research into this manuscript is still ongoing. She currently works as the Special Collections
Photographer at St. John's College, Oxford, digitizing manuscripts and early printed books from the Library's collection. Outside of her work at St. John's College, she is undertaking research into the Boleyn family and the wider Henrician court.
Notes and Sources
L&P, vol. X, 797.
Ibid., 798.
Ibid., 793.
Elizabeth Benger, Memoirs of the Life of Anne Boleyn (London: Longman, Rees, Orme, Brown, and Green, 1827) 186.
Ibid., 405.
Mary Howitt, Biographical sketches of the Queens of England, from the Norman Conquest to the reign of Victoria (London: Virtue and Co., 1866) 294.
Paul Friedmann, Anne Boleyn, A Chapter in English History, 1527-1536, vol. II (London: MacMillan and Co., 1884) 270.
Agnes Strickland Lives of the Queens of England, vol. IV (Philadelphia: George Barrie & Sons, 1902) 307.
Eric Ives, The Life and Death of Anne Boleyn (Oxford: Blackwell Publishing, 2004) 458.
Alison Weir, The Lady in the Tower (London: Vintage Books, 2010) 174.
Sylvia Barbara Soberton, Ladies-in-Waiting: Women Who Served Anne Boleyn (London [?]: Golden Age Publishers, 2022) pp. 187-8.
Natalie Grueninger, The Final Year of Anne Boleyn (Yorkshire: Pen & Sword History, 2022) p. 163.
Tracy Borman, Anne Boleyn and Elizabeth I (London: Hodder & Stoughton, 2023) p. 81.
Elizabeth Norton, The Boleyn Women (Gloucestershire: Amberley Publishing, 2014) p. 81.
Ibid., p. 81.
L&P, vol . III, 491.
William Latymer's Chronickille of Anne Bulleyne, edited by Maria Dowling, Camden Fourth Series, 39 (1990) p. 62
L&P, vol. X, 912.
Alison Weir, The Lady in the Tower, p. 174.
Norton, The Boleyn Women, p. 83-4.
Rutland Papers, p. 37.
For a more detailed discussion of Anne Tempest's potential age during this period, see: Norton, The Boleyn Women, pp. 84-5.
The Publications of the Harleian Society (London: The Harleian Society, 1869), pp. 52-3.
L&P, vol. III, 11.
Nicholas Harris Nicolas, The Privy Purse Expenses of King Henry the Eighth (London: W. Pickering, 1827), p. 44.
L&P, vol. XIII part I, 32.
L&P, vol. XVII, 59.
Household Expenses of the Princess Elizabeth During her Residence at Hatfield. October I, 1551, to September 30, 1552 (London: Camden Society, 1853) p. 35.
A.P.M. Wright, 'Parishes: Linton' [Accessed 30 October 2023].
Diarmaid MacCulloch, Two Dons in Politics: Thomas Cranmer and Stephen Gardiner, 1503-1533 The Historical Journal, 37.1 (1994) 19-20 .
Norton, The Boleyn Women, p. 207.