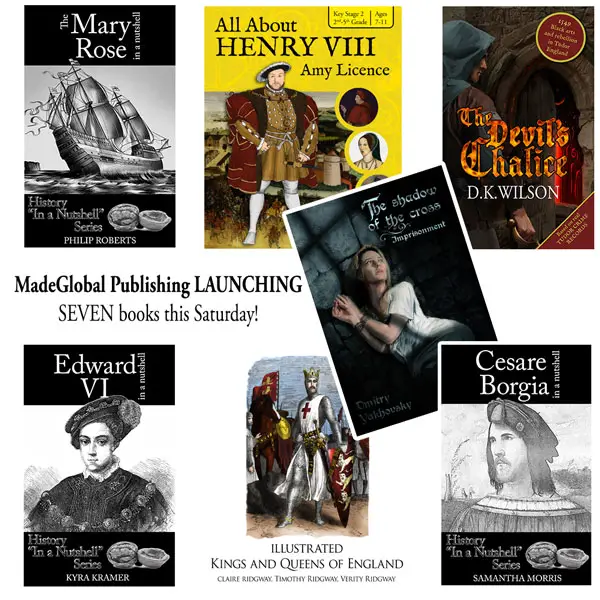 As part of the "Evening with the Authors" event on Saturday in London, MadeGlobal Publishing is launching seven new books.
I'm so looking forward to meeting these authors on Saturday!
All About Henry VIII by Amy Licence
Henry VIII is probably the most famous Tudor. He was a handsome, athletic young man; he never expected to become king and so was determined to enjoy his reign. Henry had six wives but could hate as passionately as he loved. He even had two wives executed. Henry surrounded himself with extraordinary men, including Cardinal Wolsey and Thomas Cromwell, and, during his reign, he changed religion forever in England. His son and daughters went on to be famous monarchs too.
Why did Henry have so many wives? Why was his reign so important?
Read the facts about Henry VIII in this book and make up your own mind.
Amy Licence is a historian with a special interest in the medieval and Tudor world. She has been a Leading Literacy Teacher specialising in children's literature and the use of open questions to extend learning. She is also the mother of two small boys.
Link to find it on your country's Amazon site: http://getbook.at/henry_viii
The Devil's Chalice by D K (Derek) Wilson
The third book in the acclaimed series of Thomas Treviot Tudor crime thrillers – Based on REAL TUDOR CRIME RECORDS.
The Real Crime
In the steaming summer of 1549 two men languish in the Tower of London. William West is accused of attempted murder. Robert Allen is under investigation for dabbling in the Black Arts. Meanwhile, England is in the grip of rebellions against the boy king, Edward VI. The connections between these facts remains a mystery.
Our Story
London goldsmith, Thomas Treviot, is sent by his patron, Archbishop Cranmer, to discover discreetly what connections West has with leading figures at court. But Thomas has problems of his own: his teenage son has gone off to Norwich to join rebels led by Robert Kett. Trying to find his son and please Cranmer, he is plunged into dangers from peasant mobs, London gangsters and political chicanery, not to mention an enemy wielding occult power…
Once again, D.K. Wilson bases his story on documented facts in order to evoke the feverish atmosphere of 1549's 'summer of discontent' in which magic was as real to people as mob violence and political scheming.
'Derek Wilson is a fine historian – and he can also tell a gripping story. This is historical fiction at its best, effortlessly underpinned by a wealth of research by a writer whose understanding of the period is profound.' – Alison Weir, author of Katherine of Aragon, The True Queen
Link to find it on your country's Amazon site: http://getbook.at/chalice
Edward VI in a Nutshell by Kyra Kramer
Born twenty-seven years into his father's reign, Henry's VIII's son, Edward VI, was the answer to a whole country's prayers. Precocious and well-loved, his life should have been idyllic and his own reign long and powerful. Unfortunately for him and for England, that was not to be the case. Crowned King of England at nine years old, Edward was thrust into a world of power players, some who were content to remain behind the throne, and some who would do anything to control it completely. Devoutly Protestant and in possession of an uncanny understanding of his realm, Edward's actions had lasting effects on the religious nature of the kingdom and would surely have triggered even more drastic changes if he hadn't tragically and unexpectedly died at the age of fifteen.
Physicians of the day wrote reams of descriptions of the disease that killed him, but in Edward VI in a Nutshell, medical anthropologist Kyra Kramer (author of Henry VIII's Health in a Nutshell) proposes a new theory of what, exactly, caused his death.
Straightforward and informative, Edward VI in a Nutshell will give readers a better understanding than they've ever had of the life, reign, and death, of England's last child monarch.
Link to find it on your country's Amazon site: http://getbook.at/edward_vi
The Mary Rose in a Nutshell by Philip Roberts
MadeGlobal's History in a Nutshell Series aims to give readers a good grounding in a historical topic in a concise, easily digestible and easily accessible way.
Henry VIII's prized flagship sank in 1545 under the watchful eye of the king himself. With it, over 500 men tragically lost their lives.
The Mary Rose in a Nutshell takes us up-to-date with the theories and finds from this, the only Tudor ship in the world. From her construction in 1511, through expansion and refitting, to the Battle of the Solent, and then on to various attempts at salvage, the story of the Mary Rose is amazing. 437 years after she sank, her hull was brought back to the surface and an intense conservation effort was begun.
Philip Roberts' close association with the Mary Rose for well over 20 years comes through in his assessment of the life story of this magnificent ship.
Link to find it on your country's Amazon site: http://getbook.at/mary_rose
Cesare Borgia in a Nutshell by Samantha Morris
Cesare Borgia in a Nutshell outlines the life of one of history's most controversial figures from his birth through to his murder in 1507 at the age of just 31. This book aims to expose the truth behind the age-old rumours of this ancient family and to shed light onto a fascinating period of history.
Samantha Morris studied archaeology at the University of Winchester where her interest in the history of the Italian Renaissance began. Her interest in the Borgia family has grown and she is always looking for new information on the subject.
Link to find it on your country's Amazon site: http://getbook.at/cesareborgia
The Shadow of the Cross: Imprisonment by Dmitry Yakhovsky
Shrouded in darkness is the history of a time of terror. A time when people lived in fear, were divided, conquered and enslaved. The state was the church, and the church was the law; when justice was the tool of the self-seeking, and when imprisonment and poverty weren't enough to satisfy the enemy's appetites…
Featuring the stunning artwork of Dmitry Yakhovsky, this debut graphic novel is a bold undertaking. The novel is a complex and visually inspiring epic based in history, and will thrill with its masterful depth of imagery.
Link to find it on your country's Amazon site: http://getbook.at/shadowofthecross
Illustrated Kings and Queens of England by Claire Ridgway
The paperback version of my book is being launched.
With stunning colour illustrations of the 59 English kings and queens from Alfred the Great to Elizabeth II, Illustrated Kings and Queens of England is packed with interesting facts about the wonderful English monarchy.
This full-colour book shows the fascinating progression of English history. Every monarch has a biography plus details of their birth and death dates, the dates they ruled and details of their offspring.
Each monarch is accompanied by a vintage etching, lovingly restored to perfect condition and carefully tinted. These images bring each monarch to life. Anyone with a love of British history will adore this book.
See English history as you've never seen it before.
Link to find it on your country's Amazon site: http://getbook.at/illustrated_k_q