Fiction
Anne Boleyn's story, from her meteoric rise to fame to her dramatic fall from grace, is enough to inspire anyone and it has inspired many great writers. Here is a list of novels which feature Anne Boleyn:-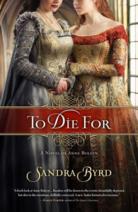 Publisher's blurb:To Die For, is the story of Meg Wyatt, pledged forever as the best friend to Anne Boleyn since their childhoods on neighboring manors in Kent. When Anne's star begins to ascend, of course she takes her best friend Meg along for the ride. Life in the court of Henry VIII is thrilling at first, but as Anne's favor rises and falls, so does Meg's. And though she's pledged her loyalty to Anne no matter what the test, Meg just might lose her greatest love—and her own life—because of it.
Meg's childhood flirtation with a boy on a neighboring estate turns to true love early on. When he is called to follow the Lord and be a priest she turns her back on both the man and his God. Slowly, though, both woo her back through the heady times of the English reformation. In the midst of it, Meg finds her place in history, her own calling to the Lord that she must follow, too, with consequences of her own. Each character in the book is tested to figure out what love really means, and what, in this life, is worth dying for.

Though much of Meg's story is fictionalized, it is drawn from known facts. The Wyatt family and the Boleyn family were neighbors and friends, and perhaps even distant cousins. Meg's brother, Thomas Wyatt, wooed Anne Boleyn and ultimately came very close to the axe blade for it. Two Wyatt sisters attended Anne at her death, and at her death, she gave one of them her jeweled prayer book—Meg.
You can read my review of this wonderful novel at To Die For: A Novel of Anne Boleyn by Sandra Byrd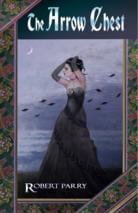 Author's synopsis: "London, 1876. The painter Amos Roselli is in love with his life-long friend and model, the beautiful Daphne – and she with him – until one day she is discovered by another man, a powerful and wealthy industrialist. What will happen when Daphne realizes she has sacrificed her happiness to a loveless marriage? What will happen when the artist realizes he has lost his most cherished source of inspiration? And how will they negotiate the ever-increasing frequency of strange and bizarre events that seem to be driving them inexorably towards self-destruction. Here, amid the extravagant Neo-Gothic culture of Victorian England, the iconic poem 'The Lady of Shalott' blends with mysterious and ghostly glimpses of Tudor history. Romantic, atmospheric and deeply dark."
You can read my review of this wonderful novel at The Arrow Chest by Robert Parry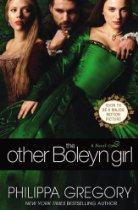 Many Anne Boleyn fans have told me that their fascination with Anne Boleyn started after reading this novel by Philippa Gregory.

Philippa Gregory's "The Other Boleyn Girl" tells the story of the Boleyn sister, Mary and Anne, and their relationships with Henry VIII. The girls are used as pawns by their father, Thomas Boleyn, and their uncle, the Duke of Northumberland, to raise the profile and the wealth of the Boleyn family and faction – but at what cost? We all know how Anne's story ends, but it is great to get inside the character of Mary Boleyn (Mary Carey), who was Henry's mistress and might well have been mother to two of his children.

Although it is not historically accurate, it is a compelling novel that you will not be able to put down.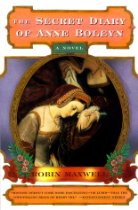 This novel tells both the story of Elizabeth I, Queen of England and daughter of Anne Boleyn and Henry VIII, and also of Anne Boleyn.

In the novel, Elizabeth receives a secret diary kept by Anne Boleyn and learns the true story of her mother's rise and fall. It is a story which changes Elizabeth, when she reads her mother's words "Never relinquish control to any man", and which shapes her destiny. It's a great read.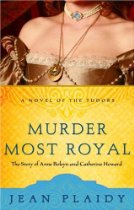 "Murder Most Royal: The Story of Anne Boleyn and Catherine Howard" by Jean Plaidy is a fantastic blend of Tudor history and drama. Plaidy recounts the story of one powerful king and two doomed cousins, Anne Boleyn and Catherine Howard, who both rise to be Queens of England and then are both beheaded.

I haven't read it yet, but it keeps being recommended to me! People say that Plaidy brings both the characters to life, humanizing them, and the events to life. Another page turner which is famous the world over.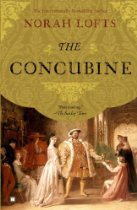 "The Concubine" by the historical novelist, Norah Lofts, tells the story of Henry VIII's love and passion for Anne Boleyn – a passion that has him defying advisers and friends, and moving heaven and earth to make her his own.

Written in 1963, it is still a popular historical novel today.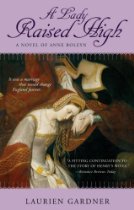 From Laurien Gardner, the author of "The Spanish Bride" (about Catherine of Aragon), this is Anne Boleyn's story told by country girl, Frances Pearce, who enters Anne Boleyn's circle and becomes a friend to the Queen.

As Anne's story unfolds, Frances learns just how quickly the tide can turn against you.

A great novel if you need a break from the Philippa Gregory ones!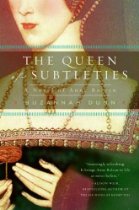 "The Queen of Subtleties" by Suzannah Dunn tells the story of Anne Boleyn from two different points of view – Anne herself and Lucy Cornwallis, the King's confectioner.

As well as being responsible for creating the confectionary masterpieces that mark the events that lead to Anne's rise in favour, Lucy also has something else in common with Anne Boleyn – Mark Smeaton.

Described by "Publisher's Weekly" as a " delicious romp through the romance, politics and drama of 16th-century England", this novel has mixed reviews on Amazon – best to make your own mind up.
"The Boleyn Inheritance" by Philippa Gregory moves on from where "The Other Boleyn Girl" left off (plus a bit!). The story is told by three very different characters – Anne of Cleves, who is leaving her home in Germany to become Henry VIII's third wife, Catherine Howard, a teenager who is lady- in-waiting to Anne but who catches the King's interest, and Lady Rochford (Jane Boleyn/Parker), wife of the late George Boleyn and the one who accused Anne and George of incest.

Although I do get annoyed with historical inaccuracies (I have to keep saying "It's fiction!" to myself), I loved this book and was instantly hooked.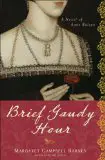 "Brief Gaudy Hour" by Margaret Campbell Barnes has been recommended to me by so many people and has got great reviews on Amazon – it's on my list of "must-reads"!

Through meticulous research into Anne Boleyn and this period of history, Margaret Campbell Barnes has been able to bring Anne Boleyn's character to life and draw the reader in to life at the Tudor Court. Many people have told me that Anne is portrayed as "likeable" and that you spend the novel hoping for a different ending!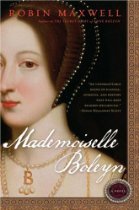 In "Mademoiselle Boleyn", Robin Maxwell tells the story of Anne Boleyn BEFORE she met Henry VIII and thsi novel actually ends with her meeting him. We learn of Anne's childhood in France, her life at the French Court, her relationship with her father, her dismay at what happens to her sister, Mary, and her love for Henry Percy.

Although it is a fictional account of Anne's early life, it gives us some insight of what made Anne who she was.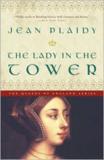 Amazon.com blurb: "Young Anne Boleyn was not beautiful but she was irresistible, capturing the hearts of kings and commoners alike. Daughter of an ambitious country lord, Anne was sent to France to learn sophistication, and then to court to marry well and raise the family's fortunes. She soon surpassed even their greatest expectations. Although his queen was loving and loyal, King Henry VIII swore he would put her aside and make Anne his wife. And so he did, though the divorce would tear apart the English church and inflict religious turmoil and bloodshed on his people for generations to come.

Loathed by the English people, who called her "the King's Great Whore," Anne Boleyn was soon caught in the trap of her own ambition. Political rivals surrounded her at court and, when she failed to produce a much-desired male heir, they closed in, preying on the king's well-known insecurity and volatile temper. Wrongfully accused of adultery and incest, Anne found herself imprisoned in the Tower of London, where she was at the mercy of her husband and of her enemies."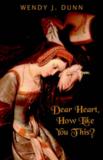 Amazon blurb: "May, 1536. The poet Sir Thomas Wyatt, released from imprisonment in the Tower of London, is in his father's custody. From almost the beginning of his life, Tom has loved his cousin Anne Boleyn, content to sit at her feet while she sang her love songs to another, if doing so gave him just a moment in her company. Now he is heartsick and despairing, having witnessed her juridical 'murder' by Henry VIII. Only wanting to escape from the recent memories now rending his heart, Tom recounts his story, a story which narrates too the tragic tale of Anne Boleyn, second wife of Henry VIII."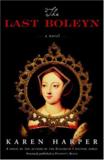 Amazon Blurb: "She Survived Her Own Innocence, and the Treachery of Europe's Royal Courts. Greed, lust for power, sex, lies, secret marriages, religious posturing, adultery, beheadings, international intrigue, jealousy, treachery, love, loyalty, and betrayal. The Last Boleyn tells the story of the rise and fall of the Boleyns, one of England s most powerful families, through the eyes of the eldest daughter, Mary.

Although her sister, Anne, the queen; her brother, George, executed alongside Anne; and her father, Thomas, are most remembered by history, Mary was the Boleyn who set into motion the chain of events that brought about the family s meteoric rise to power, as well as the one who managed to escape their equally remarkable fall. Sent away to France at an extraordinarily young age, Mary is quickly plunged into the dangerous world of court politics, where everything is beautiful but deceptive, and everyone she meets is watching and quietly manipulating the events and people around them. As she grows into a woman, Mary must navigate both the dangerous waters ruled by two kings and the powerful will of her own family in order to find a place for herself and the love she so deeply desires."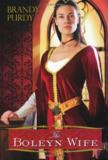 Amazon blurb: "Shy, plain Lady Jane Parker feels out of place in Henry VIII's courtly world of glamour and intrigue–until she meets the handsome George Boleyn. Overjoyed when their fathers arrange a match, her dreams of a loving union are waylaid when she meets George's sister, Anne. For George is completely devoted to his sister, and cold and indifferent to his bride. As Anne acquires a wide circle of admirers, including King Henry, Jane's resentment grows. But if becoming Henry's queen makes Anne the most powerful woman in England, it also makes her highly vulnerable. And as Henry, desperate for a male heir, begins to tire of his mercurial wife, the stage is set for the ultimate betrayal. . .

Encompassing the reigns of four of Henry's wives, from the doomed Anne to the reckless Katherine Howard, The Boleyn Wife is an unforgettable story of ambition, lust, and jealousy, of the power of love to change the course of history, and of the terrible price of revenge."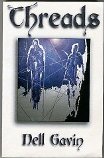 Amazon blurb: "It's 1970. Anne and Henry still have issues they need to address. It's been 434 years since they parted – on bad terms – and they haven't spoken since. Henry now has problems with alcohol, drugs and irresponsibility, and Anne is still holding onto a grudge.

They don't know they were married 434 years ago. They don't know they parted on bad terms. Anne has no idea why she has a compulsion to punish him, a man she's only just met, and Henry has no idea why he can't be near her without falling in love.

Threads, a reincarnation fantasy, opens with Anne's death in 1536. Her husband Henry, seemingly in defense of Anne (but more likely acting out of "stubborn perverseness," she observes), has terrorized England and decreed murder after political murder to protect her. Ultimately, to Anne's horror, he made the decision to have her executed as well.

Anne's fury at her husband's betrayal has enough momentum to survive centuries, but in "Threads" she learns that she has been assigned a hard task: she must forgive him. This may prove difficult and take some time. The husband in question is Henry VIII. The narrator is the stubborn, volatile Anne Boleyn, who is not at all inclined to forgive. .

It is a very unusual love story. "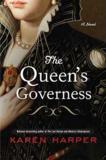 Amazon blurb: "A fresh and intriguing historical novel told in the voice of Queen Elizabeth I's governess.

Katherine Ashley, the daughter of a poor country squire, happily secures an education and a place for herself in a noble household. But when Thomas Cromwell, a henchman for King Henry VIII, brings her to the royal court as a spy, Kat enters into a thrilling new world of the Tudor monarchs.

Freed from a life of espionage by Cromwell's downfall, Kat eventually befriends Anne Boleyn. As a dying favor to the doomed queen, Kat becomes governess and surrogate-mother to the young Elizabeth Tudor. Together they suffer bitter exile, assassination attempts, and imprisonment, barely escaping with their lives. But they do, and when Elizabeth is crowned, Kat continues to serve her, faithfully guarding all the queen's secrets (including Elizabeth's affair with the dashing Robert Dudley) . . . and ultimately emerging as the lifelong confidante and true mother-figure to Queen Elizabeth. "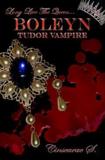 Amazon blurb: "The slightest tweak in history makes all the difference in its outcome… Tudor England. It is during the reign of King Henry VIII and Anne Boleyn. As her time in power nears an end, Anne is greatly disheartened by the false accusations of adultery, high treason and incest she is arrested for, and the cold-heartedness of her father for his lack of defense in her honor. Upon her death, she vows revenge on those who have wronged her, and the simple change of her death sentence from beheading to hanging grants her the opportunity to execute her wish on those who betrayed her. Unknown forces of inconceivable dark magic abounds. Anne discovers she has risen from her grave because of her denouncement of God just moments before her hanging, and resurrects two others from their untimely, wrongful deaths–her brother, George, and her favorite court musician and dear friend, Mark Smeaton. This unlikely trio will drive Whitehall Palace to madness, bringing those closest to Anne to their knees, begging for mercy and forgiveness. Once Anne executes her justice among those who have failed her, the last and final question will be whether Anne will finally have peace, or find comfort in haunting England forever."
Amazon blurb: "Much has been written about the mighty, egotistical Henry VIII: the man who dismantled the Church because it would not grant him the divorce he wanted; who married six women and beheaded two of them; who executed his friend Thomas ore; who sacked the monasteries; who longed for a son and neglected his daughters, Mary and Elizabeth; who finally grew fat, disease-ridden, dissolute. Now, in her magnificent work of storytelling and imagination Margaret George bring us Henry VIII's story as he himself might have told it, in memoirs interspersed with irreverent comments from his jester and confident, Will Somers. Brilliantly combining history, wit, dramatic narrative, and an extraordinary grasp of the pleasures and perils of power, this monumental novel shows us Henry the man more vividly than he has ever been seen before."
The above links are all Amazon US links, but all the books are also available at Amazon UK – click here to go to our special Amazon Anne Boleyn UK page.