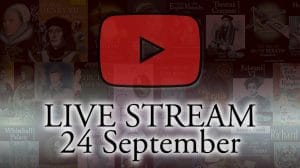 As you know, I'm going to be one of the 19 authors and historians at MadeGlobal Publishing's "An Evening with the Authors" event in London on 24th September. Those attending will be able to meet the authors, chat with us, have books signed, enjoy panel discussions and interviews, and ask questions.
Can't make it to London?
Well, don't fret! You can still be a part of the event via live-streaming. Comment, watch, listen, have your questions answered by experts…. MadeGlobal Publishing has just launched a LIVE STREAMING EVENT for the 24 September – see www.madeglobal.com/live-streaming-24-september/ for more details and to purchase a live-streaming ticket. Note: it will not be live streamed publicly.
Of course, if you can get to London on 24th September then I'd love to meet you in person – buy a ticket at https://www.madeglobal.com/meet/