New online history course – The Six Wives of Henry VIII
Posted By Claire on September 19, 2016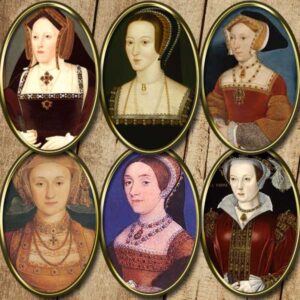 MedievalCourses.com has today launched a new online history course written and narrated by historian Gareth Russell, author of The Emperors: How Europe's Rulers Were Destroyed by the First World War, A History of the English Monarchy: From Boadicea to Elizabeth I and the forthcoming Young and Damned and Fair: The Life and Tragedy of Catherine Howard at the Court of Henry VIII.
It is a seven-unit course and is entitled The Six Wives of Henry VIII:Monarchy and Matrimony in Tudor England. What I have found so interesting about this course is that Gareth doesn't just give biographies of these six women, he "uses each wife to explore a different aspect of monarchy in Tudor England".
There is a special introductory launch price for the course, you can get it for $20 instead of $30 if you use coupon code SIXWIVES. The coupon is valid until Monday 26th September 2016. Click here to go to the course page now for further details and to purchase.
Note: This is an online course of downloadable or streaming audio lectures which can be done in your own time and you have lifetime access to the course once you have signed up and paid. As it is online, it is open to everyone, whichever country you live in. There is no set start or end date, you can do it at your own pace. The course includes audio lectures, PDF transcripts, a further reading list and end of course certificate.
Here are details of the course…
Blurb:
Henry VIII was one of the most powerful, divisive, and important monarchs in European history. Today, he is arguably most famous for his six marriages, two of which ended in the public execution of a queen and all of which showcased the era's fascinating, torturous attitudes towards power, sexuality, and faith. Fascination with Henry's wives shows no signs of diminishing in the 21st century, but they are also the subject of myth, fabrication, and popular misconception.
In this new seven-unit course, "The Six Wives of Henry VIII: Monarchy and Matrimony in Tudor England", historian Gareth Russell examines the fusion of political and private that shaped each queen's story, disentangles them from the myths that surround them, and uses each wife to explore a different aspect of monarchy in Tudor England. A final instalment covers how the wives became icons of popular culture, from William Shakespeare to the age of television.
Narrated by historian Gareth Russell.
Course units:
Queens Regent: Katherine of Aragon and the problem of foreign alliances
The Rise and Fall of Anne Boleyn: Politics and personalities at the heart of Tudor government
Sweet Lady: Jane Seymour and the quest for the perfect Tudor queen
On Foreign Shores: Anne of Cleves and the experience of royal arranged marriages
The Queen in the North: Catherine Howard and the Queen as a symbol of Tudor monarchy
The Crises of 1546: Katherine Parr and the attack on the Queen's household
The Ghosts of Queens: The importance and fascination of Henry VIII's marriages
MedievalCourses.com also has four other history courses available:
Warrior Kings of England: The Story of the Plantagenet Dynasty, a 24-unit course written by Toni Mount and narrated by Claire Ridgway
Everyday Lives of Medieval Folk, a 20-unit course written by Toni Mount and narrated by Claire Ridgway
Heroes and Villains, a 10-unit course written by Toni Mount and narrated by Claire Ridgway
Richard III and the Wars of the Roses, a 10-unit course written by Toni Mount and narrated by Claire Ridgway
Find out more about the courses at MedievalCourses.com