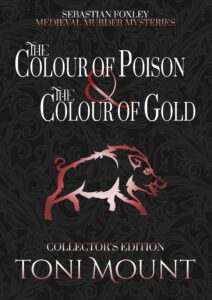 A big welcome to author and historian Toni Mount!
Back in 2016, Toni came to the Anne Boleyn Files site in a book/blog tour for her very first novel, The Colour of Poison, a Seb Foxley Medieval Murder Mystery. The series has been an incredible success, and I have to say that I am a huge Seb Foxley fan. It's a wonderful series and Toni will soon be releasing the 11th book in the series, The Colour of Bone.
To celebrate the success of the Seb Foxley series, MadeGlobal Publishing has just released a collector's edition special hardback of the first two novels, The Colour of Poison and The Colour of Gold. It really is a beautiful book and you can order it now on Amazon – click here. We're celebrating its release here at the Anne Boleyn Files by re-sharing Toni's article from 2016…
In "The Colour of Poison", Gilbert Eastleigh isn't just an apothecary. Behind closed doors, he dabbles in alchemy and sorcery. Such practices were supposed to be illegal but it's known that kings encouraged alchemists – as King Edward does in the novel – in the hope that they really would discover how to turn base metals into gold, or uncover the secret of immortality. Either way, it involved the use of the mythical Philosopher's Stone. So, what did alchemists and sorcerers do in their gloomy, secret dens?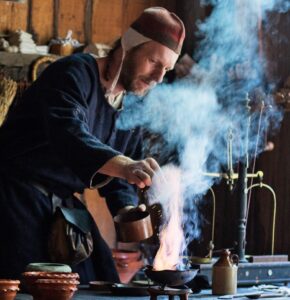 From the preparation of exotic potions, as you can imagine, it was only a small step to the mysterious art of alchemy. In fact, many of the apothecary's standard procedures, such as distillation and evaporation, were used by alchemists – and, later, scientists – in their experiments, in pursuit of the elusive philosopher's stone, which would turn base metals into gold, and the elixir of life which would restore health and bestow eternal life. In medieval times, there seemed no reason to doubt these things were possible.
Though much of what alchemists did was the foundation of modern science, they liked to disguise their knowledge and results – or lack of – in weird, symbolic language, making sure only the truly initiated would understand what they meant. It was also a matter of self-preservation: because one of the basics was to be able to make gold, all monarchs had to beware of some lowlife secretly manufacturing gold, either to get rich quick himself, or to finance the enemies of the monarch. Therefore, all alchemy was outlawed, unless sanctioned by the monarch. A sensible alchemist made sure the king was on his side.
One such was George Ripley, born at Ripley, near Harrogate, in the early fifteenth century. He studied alchemy and related subjects in Rome, Louvain and on the island of Rhodes. While on Rhodes, he created gold for the Knights of St John, giving them £100,000 a year – so he claimed, but of course the process was far too involved and secret to be divulged openly. In 1471, George was a canon at Bridlington Priory where it was noted how the fumes and stink from his still-room (laboratory) annoyed the prior and brethren of the community. He wrote books on the alchemical arts: On the philosophers' stone and the phoenix was a rewriting of earlier authors from the thirteenth and fourteenth centuries, so not too controversial, but his Compound of alchemy or the twelve gates leading to the discovery of the philosopher's stone, the first alchemical text written in English in 1471, was dedicated to King Edward IV, just to be on the safe side, and his Latin Medulla alchemiae or the Marrow of Alchemy of 1476, was dedicated to the Archbishop of York. The twelve gates were the various chemical techniques then known e.g. calcination, condensation and sublimation. To give you some idea of the lengths to which an alchemist would go to disguise his secret formulae, this is Ripley's colourful description from his Compound of alchemy of the making of the elixir of eternal life – the alchemists' other goal – complete with a zoo full of metaphorical creatures:
Pale & black with false citrine, imperfect white & red,
The peacock's feathers in colour gay, the rainbow which shall overgo,
The spotted panther, the lion green, the crow's bill blue as lead,
These shall appear before the perfect white and many other mo'e.
And after the perfect white, grey, false citrine also,
And after these then shall appear the body red invariable,
Then hast thou a medicine of the third order of his own kind multiplicable.
Apparently, the green lion symbolises the element mercury, the lion often being referred to as 'devouring the sun' i.e. gold, and mercury will dissolve gold (and silver) to form an amalgam which can be used for gilding other metals. The alchemists believed mercury was the element, a component of all other known metals which made it possible to turn them liquid when heated. Because it was so important, it was symbolised by the most illustrious animal: the lion, but why green? I haven't been able to discover, as yet. Mercury was also known to alchemists as the doorkeeper, May dew, mother egg and the bird of Hermes, to name a few.

When George Ripley died c.1490, he was rich – far richer than a humble canon ought to be – so folk believed he must have succeeded in making gold but, on his deathbed, he confessed to having wasted his whole lifetime in fruitless pursuits, urging that his writings should all be burned, seeing they were merely speculation, not based on valid experiments at all. Of course, his books weren't destroyed. After all, George had got rich by some means and, if not by alchemy, then how?
Thomas Norton was a Bristol man from a respected family: his grandfather had been mayor of Bristol. Born c.1433, Thomas did a kind of correspondence course in alchemy with George Ripley and, aged 28, spent forty days studying at Ripley's side. Thomas was supposed to have succeeded in making the elixir of life – twice – only to have it stolen from him, once by a servant and once by the wife of neighbouring Bristol merchant. According to his great-grandson, Samuel Norton (also an alchemist), Thomas was a member of Edward IV's privy chamber.
This is quite possible. Edward certainly took a serious interest in alchemy, probably because the manufacture of gold would have done his ever-depleted coffers a world of good; he may even have 'dabbled' himself. In 1477, Thomas published a book called the Ordinal of alchemy which was still in print in 1652 but he didn't dare declare his authorship openly, concealing in name encoded in a cipher. But in 1479, Thomas accused the then mayor of Bristol of treason. In the course of enquiries, Thomas's own life came under examination and was found to be anything but blameless: he frequented taverns, skipped church and played tennis on Sundays. The charges against the mayor were dropped; the accusations of a back-slider like Thomas would not have carried weight in court.
The Colour of Poison & The Colour of Gold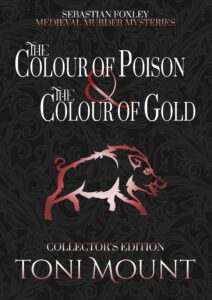 In this unique collector's edition, we've combined my best-selling Sebastian Foxley adventure "The Colour of Poison" with the novella "The Colour of Gold" bound as a luxury hardback volume. We visit again the narrow, stinking streets of medieval London. They are dark and dangerous places where burglary, arson and murder are every-day events, and the gossips whisper of alchemists making gold for the King.
Meet again Sebastian Foxley, a talented yet challenged young artist as he tries to save his brother from the hangman's rope. Does he find an inner strength in these, the hardest of times? Yet can the Duke of Gloucester or his friend Francis Lovell help? One thing is certain – if Seb can't save his brother, nobody can.
Then a wedding is planned and in medieval London this should be a splendid occasion, especially when a royal guest is attending. Yet for the bridegroom, the day begins with disaster when a valuable gold livery collar goes missing. From the lowliest street urchin to the highest nobility, who could be the thief? Can Seb save the day, despite that young rascal, Jack and his dog causing chaos?
Join in the fun and adventure, the bustle and the stench of medieval London, when we re-visit the first two Sebastian Foxley stories, the most popular Colour of Poison and the entertaining Colour of Gold. And to make this volume something Seb Foxley followers will cherish we add bonus material including a detailed map of the Foxley's neighbourhood, background details, fun quizzes and much much more.
Buy from Amazon – click here.
Toni Mount Biography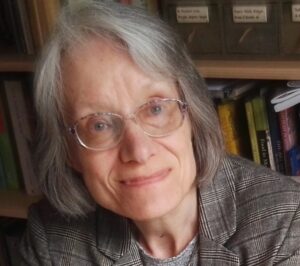 Toni Mount studies, teaches and writes about history. She is well known as an author of popular non-fiction and specialises in the ordinary lives of medieval people. Toni earned her Master's Degree as a mature student, by completing original research into a unique 15th-century medical manuscript. Her enthusiastic understanding of the period allows her to create accurate, atmospheric settings and realistic characters for her Sebastian Foxley adventures. Toni's first career as a scientist, together with her love of art, brings extra dimensions to her novels. She writes regularly for both The Richard III Society and The Tudor Society, is a member of the Crime Writers' Association and teaches history to adults at her weekly classes. Toni has been married to her husband Glenn for over 40 years, has two grown-up sons and lives in north Kent, England.
Praise for Toni Mount's Sebastian Foxley series
"An atmospheric and compelling thriller."
Tracy Borman
"Impeccable research and sculpted characters combine to create another irresistible story."
Matthew Lewis
"Sebastian Foxley is the Cadfael of the 15th century."
J.P. Reedman
"The scents, the sights, the tastes of the late Middle Ages are superbly rendered."
Mel Starr
"If you love CJ Sansom's Matthew Shardlake you will love Toni Mount's Sebastian Foxley."
Samantha Willcoxson
"Toni Mount is a magician with words, weaving a captivating story in wonderful prose."
Sharon Bennett Connolly