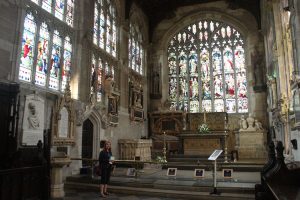 A couple of years ago, I made a video as one of my "Claire Chats" weekly talks for the Tudor Society on Holy Trinity Church. I had just been to visit this church, specifically to visit the resting places of William Shakespeare, his wife Anne Hathaway, his daughter Susannah and other members of the family. It's a lovely church and well worth a visit.
I'll be visiting there again (yay!) when Philippa and I lead the Discover the Tudors tour in September and I'm so looking forward to going home (I grew up 12 miles from Stratford). If you'd like to join us on the tour then you can find out more at https://www.britishhistorytours.com/history-tours/discover-the-tudors. We're visiting 12 historic venues!
But for now, here is the talk I did and photos that Tim and I took.