The Lady in the Tower
Posted By Claire on October 2, 2009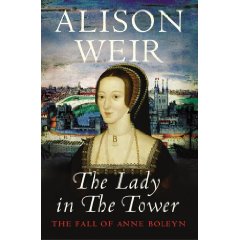 Before I give you a quick Friday Round Up of what has been going on in at The Anne Boleyn Files and in the Tudor world, so many people have been asking me for my thoughts on Alison Weir's "The Lady in the Tower" that I thought I'd better let you know! Please bear in mind that I've only read the first few chapters!
Alison Weir's "The Lady in the Tower"
Yes, Weir's long awaited book is finally out and I've already got my hands on it. When I have finished reading it, I promise I will write a proper book review but here are a few things that have struck me so far:-
Weir's belief that Anne and Henry's marriage was unhappy from the start – I can't say that I'm entirely sure about this one but Weir believes that Anne and Henry's relationship deteriorated as soon as they were married. Anne was a disappointment once Henry had attained her, his passion cooled and he started to take mistresses as soon as Anne became pregnant.
Weir describes Anne as "haughty, overbearing, shrewish and volatile", perhaps due to hormonal imbalances caused by pregnancies and miscarriages – Harsh words!
Weir's belief that Anne was not chaste and virtuous – Weir writes of how Anne's famous virtue, the "tactical weapon" she had used to catch the King, was not genuine and that Henry was shocked and disenchanted when he realised that Anne was actually experienced. Henry believed that Anne had duped him, she had lied.
Weir's ideas about Anne's appearance – Weir writes about Anne's sixth fingernail and her moles which could have been seen as marks of the devil. Now, I'm not an historian with loads of primary sources at my fingertips and I know that George Wyatt wrote of an extra fingernail, but would Henry have really risked chasing and marrying someone with such defects? With all of the superstitions of the time, and the fact that he felt that his first marriage was cursed, I just cannot see Henry risking everything to marry a woman with an extra fingernail and questionable moles!

The idea that Anne was Rhesus negative – not a new idea as it was put forward by Retha Warnicke, but it's interesting that Weir is also discussing it. It could explain why Anne had only one surviving child.
Anne's malice towards Mary – Weir writes of how Anne ordered Lady Shelton to treat her badly and to give Mary "a good banging on the ears, like the cursed bastard she was".
Chapuys – I always thought that historians might be giving too much credence to the words of Chapuys, an man who hated Anne Boleyn, and Weir does imply that although his letters are great primary sources Henry VIII's secretary wrote of Chapuys' "Tale-telling, lying and flattering". His reliance on gossip and rumour, and the fact that he was often mistaken, means that we should take his letters with a pinch of salt.
Jane Seymour – Hallelujah! Alison Weir also believes that Jane Seymour may not have been the meek, demure, "sugar and spice and all things nice" woman that she is often portrayed as. Weir points out that even Chapuys, who saw Jane as a way of removing "the concubine" from power and helping Mary, wondered if she really was demure and hoped that "no scorpions lurk under the honey".
Henry's accident – Weir makes the interesting point that Henry's serious jousting accident at Greenwich, the shock of which may have caused Anne to miscarry, may have brought home to the King how he was without an heir. If Henry had died in this accident, there would have been "dynastic chaos", so Henry realised that he urgently needed a son. Did this make him question his marriage to Anne?
And that's only reading the first few chapters! Any thoughts?
By the way, although the book is not available in the US yet, you can still order it through Amazon UK who ship worldwide – just click on the book cover above.
Friday Round Up
Here's some news from The Anne Boleyn Files and the Tudor world:-
Spotted any interesting news in the history world this week? Comment below and let us know. Thanks!
Have a great weekend!