#WednesdayFact – Anne Boleyn survived sweating sickness in 1528
Posted By Claire on August 30, 2023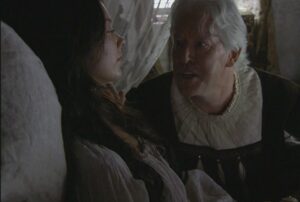 Did you know that Anne Boleyn survived sweating sickness?
In June 1528, Anne Boleyn fled from court to her family home, Hever Castle in Kent, after one of her ladies came down with sweating sickness. King Henry VIII and his wife, Catherine of Aragon, fled to Waltham Abbey.
Unfortunately, at Hever, Anne came down with the sweat, as did her father, Thomas Boleyn. Anne's brother George, cupbearer to Henry VIII, became ill with it at Waltham and the royal couple quickly moved on to Hunsdon to try and escape the illness. Fortunately, Anne, Thomas and George survived, but they were incredibly lucky. French ambassador Jean du Bellay recorded that by the end of June 1528, two thousand people had died of sweating sickness in London.
The king was panicked when news reached him that his sweetheart, Anne Boleyn, had come down with sweating sickness. He wrote her a letter and sent his second best doctor, William Butts, to treat her. Click here to read the king's panicked words to Anne.
Mary Boleyn's husband, William Carey, along with courtiers William Compton and Francis Poyntz, died that June.
Sweating sickness was very serious. In 1517, chronicler Edward Hall recorded that "This malady was so cruel that it killed some within three hours. Some within two hours, some merry at dinner and dead at supper". There were major outbreaks of sweating sickness in England in 1485, 1508, 1517, 1528 and 1551 before it disappeared.
Image: Natalie Dormer as Anne Boleyn and Nick Dunning as Thomas Boleyn in Showtime's "The Tudors".