Tudors: The Illustrated History by Richard Rex – Do not buy if you own Rex's The Tudors!
Posted By Book Reviewer on September 5, 2023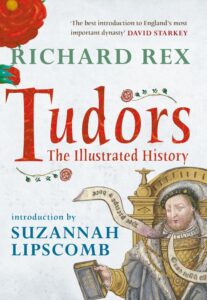 I was sent a review copy of this illustrated history of the Tudors by Richard Rex and experienced a weird sensation of déjà vu as I read Rex's preface. It was only published on 5th November 2014 and Suzannah Lipscomb's introduction was dated August 2014, but I was convinced that I'd read it before. I then checked my bookcase and found Rex's 2009 hardback book "The Tudors". The text of both books was identical, the only difference appears to be the addition of an introduction in this new book along with a family tree. What is very odd is that the original 2009 book had 143 illustrations and this one only appears to have 129, yet this is called "the illustrated history", bizarre!
I'm not giving it a bad review as it is an excellent book – Rex gives very detailed biographies of each monarch and the illustrations are beautiful – I just wouldn't want anybody to go to the expense involved in buying it only to find that they've already read it. If you haven't got the first edition then do buy this one, it's a great book and Rex is a reputable historian.
So, a great book but check your bookcase first!
Book Details
The Tudor Period is regarded by many as England's golden age, and still casts a spell over the public imagination. Whether it is the glittering rule of Elizabeth, the ruthless power of her father Henry VIII, or the bloody and radical reign of Mary, the Tudors remain the most fascinating English dynasty. Richard Rex looks at how the public and private lives of the Tudors were inextricably linked, and how each Tudor monarch exuded charisma and danger in equal measure.
The visual culture of the period was equally spectacular, from Holbein's brooding portraiture to the architectural magnificence of the chapels of St George at Windsor and King's College. Alongside the authoritative and approachable story of the Tudor monarchs, beautifully reproduced, are the iconic – and the lesser known – images of Tudor England.
Hardcover: 256 pages
Publisher: Amberley Publishing (5 Nov 2014)
Language: English
ISBN-10: 1445643715
ISBN-13: 978-1445643717
ASIN US: B00PCMB9E2 (This is my affiliate link for Amazon.com and I may receive a small payment if you buy the book through this link).
Available from Amazon.com, Amazon UK and your usual bookstore.
Originally posted on November 17, 2014.