#WednesdayFact – Anne Boleyn had big plans for Hampton Court Palace
Posted By Claire on August 23, 2023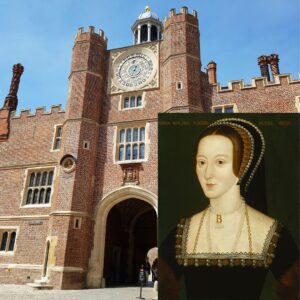 Did you know that Anne Boleyn had big plans for Hampton Court Palace?
Well, those of you in the UK who have access to the Mail on Sunday may already know that she did as you may have read the recent article "What Anne Boleyn really wanted in the bedroom".
This article wasn't about Anne Boleyn's sexual habits – sorry! – It was actually about Anne Boleyn's plans for the refurbishment of Hampton Court Palace during Henry VIII's reign, and was based on the research historian Gareth Russell carried out for his newly released book The Palace: From the Tudors to the Windsor, 500 Years of History at Hampton Court.
A big thank you to Gareth and his publisher for sending me a copy of his book, it really is wonderful, and it is fascinating to read about the work carried out on Hampton Court Palace after Cardinal Wolsey 'gave' it to King Henry VIII.
Gareth writes that "Henry had shown relatively little interest in architecture for the first twenty years of his reign" but that his sweetheart, and later queen, Anne Boleyn, "came from two families – the Butlers and the Boleyns – with a long history of interest in architecture", plus, of course, Anne had seen beautiful architecture during her time abroad. Gareth notes that the refurbishment of Hampton Court Palace began just after Anne became queen and that she "took a leading role in the designs for the new palace".
But what changes did Anne Boleyn want for Hampton Court Palace?
Well, in addition to the new quarters Henry VIII had ordered built for himself, Anne wanted:
A third courtyard – This would expand Hampton Court "to almost half again its original size".
A new wing for the Queen's Apartments, which would include a Presence Chamber, bedroom, withdrawing room, dressing room, privy kitchen, private oratory, two garderobes, jewel house, and private closet.
Galleries to link the King and Queen's rooms.
Artwork by the likes of Toto del Nunziata to decorate the royal apartments.
A nursery for the children Anne expected to have by Henry VIII.
A coal house.
"A vast storage facility for Anne's wardrobe".
Bathrooms with hot and cold running water.
Anne really did want all the 'modcons'.
Sadly, although, as Gareth notes, work on the Queen's Apartments was complete by the spring of 1536, Anne never got to enjoy the work she'd planned. In fact, she never even saw her apartments, for she was arrested on 2nd May 1536 and executed on 19th May 1536.
I am thoroughly enjoying Gareth's book and will be reviewing it for you all very soon. Here are the details for it…
Blurb:
For centuries, Hampton Court has been a place of power, scandal and intrigue: a stage for events that shaped the nation. The Palace raises the curtain on 500 years of British history with royals, politicians, criminals, and geniuses all playing their parts.
Hampton Court has been an arc of monarchy, revolution, religious fundamentalism, sexual scandals, and military coups. In this rich and vivid history, Gareth Russell moves through the rooms and the decades, each time focusing on a different person who called Hampton Court their home.
Beginning with the Tudors, Russell takes the reader from the kitchens of Henry VII and the dreams of Anne Boleyn to Elizabeth I's brush with death and the staging of Shakespeare's plays. To the commissioning of the King James Bible, the republican victories of Oliver Cromwell, the many mistresses of Charles II and their laxative-laced attempts to embarrass one another. The gossip and feuds of Georgian aristocrats lead into the era of the Windsors when Hampton Court becomes the place to host Elizabeth II's coronation ball and hide the last Tsar's sister.
Fascinating and engaging, The Palace is as atmospheric as it is gossipy and through the many sovereigns and servants that lived and worked in its halls reveals the personal tragedy and political importance of this extraordinary place.
Order on Amazon.com by clicking here.