#WednesdayFact – Red roses are delivered to Anne Boleyn's resting place every year
Posted By Claire on August 16, 2023
Following her execution on 19th May 1536, Queen Anne Boleyn's remains were laid to rest in the Chapel of St Peter ad Vincula, one of the Tower of London's Chapels Royal.
In 1876 and 1877, restoration work was done in the chapel and this included repairing the chancel floor. Remains had to be exhumed and at that point, remains found in the spot recorded as the resting place of Anne Boleyn were examined then reinterred – click here for more details. The burial position was then marked with a memorial tile giving Anne's name and title and the date of her death.
Many people visit the chapel on 19th May to pay their respects to Queen Anne Boleyn, but did you know that each year, on that day, a basket of red roses is delivered to the Tower? The accompanying card reads "Queen Anne Boleyn, 19th of May 1536". The basket is always delivered by courier and a yeoman warder takes it to the chapel and places it on Anne's tile.
But who sends the roses?
Well, according to news reports, Major General Christopher Tyler, who was Governor and Keeper of the Jewel House of the Tower of London from 1989 to 1994, did some detective work and found that some Boleyn descendants in Kent were responsible. They admitted that were responsible for the flowers, and their relatives before them. The florist shop closest to the Tower confirmed that they had been receiving the order since the 1850s but a few years ago the order was moved to florist in a Kent village close to where the descendants lived.
When I spoke to the Chief Yeoman warder about the roses back in 2010, he said that he was under the impression that the flower order was part of a bequest and that it would go on and on until the money ran out.
Whatever the truth of the matter, it's a beautiful tradition. Members of the public also take bouquets of flowers to the chapel and to the glass memorial on Tower Green.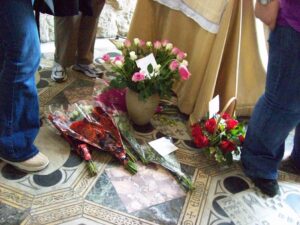 Notes and Sources
Photo 1 courtesy of Paudie Kennelly, Photo 2 by Tim Ridgway.