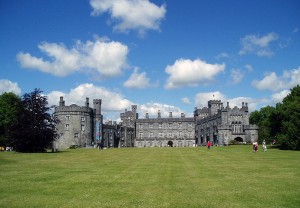 As today is St Patrick's Day – Happy St Patrick's Day to all our Irish visitors! – I thought it was only fitting to look at Anne Boleyn's Irish roots.
"Anne Boleyn was Irish?!", I hear you cry! Well, no, but she was descended from a noble family's whose family seat was in Ireland through her paternal grandmother, Lady Margaret Butler, was an Irish noblewoman.
Lady Margaret Butler
Lady Margaret Butler was born at Kilkenny Castle, Kilkenny, Ireland, somewhere between 1454 and 1465. She was the daughter of Thomas Butler, 7th Earl of Ormond, (known as "The Wool Earl") and his first wife, Anne Hankford, and her paternal grandparents were James Butler, 4th Earl of Ormonde, and Joan Beauchamp. James Butler was known as "The White Earl" and was the patron of "The Book of the White Earl", an Irish religious and literary miscellany. Margaret's maternal grandparents were Sir Richard Hankford and Anne Montagu.
Lady Margaret's father, Thomas, was a friend of Henry VII and so sat in the Irish and English Parliaments. In 1509 he became Queen Catherine of Aragon's Lord Chamberlain and served her in this post for three years. He died in 1515 leaving his English estates (72 manors!) to his two daughters, Margaret and Anne.
Lady Margaret married Sir William Boleyn, son of the wealthy mercer Geoffrey Boleyn from Blickling, Norfolk, and his wife, Anne Hoo. The couple had ten children and their eldest son was Thomas Boleyn, father of Anne Boleyn. Margaret died in 1539.
The Butlers of Ormond
According to the Kilkenny Castle Visitor's Guide (Thanks Paudie!), the first ancestor of the Butler family in Ireland was Theobald Walter, who was of Norman origin. His father was a landowner in Weeton, Lancashire, and his mother was Matilda, daughter and co-heiress of the Lord of Parham, Suffolk. Theobald and his brother, Hubert, were raised in the household of Ranulf de Glanville, Justiciar of England in the 1180s, and would have known Henry II's son, Prince John (the future King John) who also spent time there. In 1185, Theobald accompanied Prince John to Ireland when the Prince visited as Lord of Ireland and the Kilkenny Visitor's Guide explains how Theodore established religious houses in Wicklow, Limerick and Tipperary. By the time he died in 1205 he had built up extensive landholdings in Ireland, in Munster and south Leinster.
Theodore's brother, Hubert Walter was Bishop of Salisbury from 1189 until 1193, Archbishop of Canterbury from 1193 until 1205, Chief Justiciar of England and Lord Chancellor.
The family surname changed from Walter to Butler during the reign of Henry II. The name came from the fact that Theobald Walter was the ceremonial cup-bearer to Prince John, the boteillier (Norman French) or 'butler'. The title of Ormond(e)* also traces back to Theobald who was granted Irish lands by Prince John.
The first Earl of Ormond was James Butler (c.1305-1338), a descendant of Theobald Walter (his great-great-great-great-great-grandson). He became Chief Butler of Ireland (7th) in 1321 and in 1328 Edward III created him 1st Earl of Ormonde and granted him a life-grant of the liberty of the county of Tipperary which was held by the family until 1716.
The Butlers and Kilkenny Castle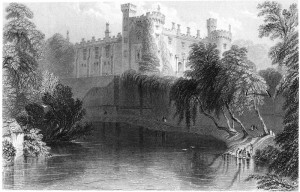 James Butler's grandson, James Butler, 3rd Earl of Ormond, bought the 13th century Kilkenny Castle in 1391 from Sir Hugh le Despencer, Earl of Gloucester. On King Richard II's visit to Ireland in 1394-95, he made Butler the Justiciar of Ireland as he regarded Ormond as the premier Irish earl. Kilkenny Castle was originally built for William Marshal, 4th Earl of Pembroke (c. 1146-1219) but became the main Irish residence of the Butler family between 1391 and 1967 when Arthur, 6th Marquess of Ormonde, gave it to the residents of Kilkenny for a payment of £50.
Thomas Boleyn and the Ormond Succession Crisis
Piers Butler (c.1467-1539) was a member of the Polestown branch of the Butler family and was cousin to the previous Earls of Ormond. While the family were absent from their lands in Ireland, Piers' father, Sir James Butler (d.1487) laid claim to the title Earl of Ormond and the lands that went with it, and Piers seized Kilkenny Castle c. 1498.
In my article "The Early Life of Anne Boleyn Part Five – The Boleyns and Butlers", I explained that when Thomas Butler, 7th Earl of Ormond, died on the 3rd August 1515, he left no legitimate offspring to inherit his title and instead he left the families of his two daughters – the Boleyns and St Legers – as joint heirs-general. Although Henry VIII's favour led to Anne's father, Thomas Boleyn (son of Margaret Butler), being granted the livery of his mother's estates and a hearing in November 1516 had seen the Boleyns and St Legers prove the case that they were entitled to the Irish lands and title, Piers Butler began styling himself as the Earl of Ormond and he had the support of the Irish Lords. It was a very tricky situation because Henry VIII did not want to upset the Irish Lords. The answer, it seemed, lay in a marriage match between Thomas Boleyn's daughter, Anne, and Piers Butler's son, James.
In September 1520, plans were put into place for Anne Boleyn to marry James Butler, a man who had actually been brought up in the household of Cardinal Wolsey. In December 1521 a letter was sent to Anne, who was serving Queen Claude in France, recalling her to England in preparation for the marriage. However, the marriage never did take place and Anne ended up marrying Henry VIII and James ended up marrying Lady Joan Fitzgerald, but Thomas Boleyn did get his title. After lots of negotiations and power struggles, Piers Butler gave up the title of Earl of Ormond in 1529 in return for the disputed Ormond lands on a long lease and the earldom of Ossory. Piers successfully regained the Ormond title in 1538, two years after the execution of Anne Boleyn, and his son, James, inherited the title on his father's death in 1539, becoming 9th Earl of Ormond.
So, there you go, as well as having royal blood (see "Anne Boleyn's Royal Blood"), Anne Boleyn also had some Irish heritage and could well have ended up living in Ireland as wife to James Butler.
Happy St Patrick's Day everyone! Here's a rather awful Irish joke:-
"An Irishman, by the name of O'Malley proposed to his girl on St. Patrick's Day. He gave her a ring with a synthetic diamond. The excited young lass showed it to her father, a jeweller. He took one look at it and saw it wasn't real.
The young lass on learning it wasn't real returned to her future husband. She protested vehemently about his cheapness.
'It was in honour of St. Patrick's Day,?' he smiled.
'I gave you a sham rock.' "
Ha ha!
*Ormond can be spelled with or without an "e".
Sources