On this day in history, 5th April 1531, Richard Roose (or Rouse), Bishop John Fisher's cook, was boiled to death after confessing to poisoning the soup* that was served to the Bishop and his guests. Fisher, the Bishop of Rochester, survived but some of his guests, who'd eaten more of the soup, died.
People were quick to blame Anne Boleyn, saying that she and her family had bribed Roose to poison the soup to get rid of Fisher, and that her father had even provided Roose with the poison, but Henry VIII did not believe this to be the case and there is no evidence that the Boleyns or their supporters were involved.
Even today, Anne Boleyn is still being blamed for this act of murder and attempted murder. In her book, "The Other Boleyn Girl", Philippa Gregory has Mary Boleyn saying:-
"A few nights later, Bishop Fisher was sick, and nearly died of his sickness. Three men at his dinner table died of poison, others in his household were sick too. Someone had bribed his cook to put poison in his soup. It was only his good luck that Bishop Fisher had not wanted the soup that evening.

I did not ask Anne what she had said to Father in the doorway, nor what he had replied. I did not ask her if she had any hand in the bishop's sickness and the deaths of three innocent men at his table. It was not a little thing, to think that one's sister and one's father were murderers. But I remembered the darkness of her face as she swore that she hated Fisher as much as she had hated the cardinal. And now the cardinal was dead of shame, and Fisher's dinner had been salted with poison. I felt as if this whole matter, which had started as a summer flirtation, had grown too dark and too great for me to want to know any secrets. Anne's dark-tempered motto, "Thus it will be:grudge who grudge," seemed like a curse that Anne was laying on the Boleyns, on the Howards, and on the country itself."
Gregory goes on to say in the Q&A section at the back of her novel that "she [Anne] was not a woman to let something like sin or crime stand in her way—she was clearly guilty of one murder", so she obviously believes that Anne Boleyn had a hand in this crime.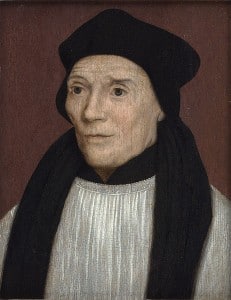 In "The Tudors", Season 2 Episode 1, after Anne and her father have been talking about "Bloody Bishop Fisher", the man standing in their way, we see Thomas Boleyn paying Richard Roose and threatening him with the destruction of his family if he betrays the Boleyns. George Boleyn then puts a vial on the table and Roose takes it. Later, we see Roose putting the contents of the vial into the soup he is cooking. The soup is then served to Fisher and his guests, which include Thomas More. Fisher says that he only wants a little soup and More refuses it all together. Fisher is taken ill and four of his guests die. Thomas More tells Henry VIII that people are blaming Thomas Boleyn, and even Anne Boleyn, and Henry is furious, saying that Anne is blamed for everything, even the weather.
Roose is arrested and examined by Cromwell in the Tower but will not say who paid him, as Thomas Boleyn is present. Roose is then boiled to death in the Tower, in the presence of Thomas Boleyn, George Boleyn and Thomas Cromwell. It's a very shocking scene.
We will never know who was really behind the poisoning, but I do not believe Anne Boleyn or her family would have been stupid enough to try and kill the bishop.
The primary source evidence is the preamble of the 1531 "Acte for Poysoning" (22 Henry VIII c.9), which stated:-
"On the Eighteenth day of February, 1531, one Richard Roose, of Rochester, Cook, also called Richard Cooke, did cast poison into a vessel of yeast to baum, standing in the kitchen of the Bishop of Rochester's Palace, at Lambeth March, by means of which two persons who happened to eat of the pottage made with such yeast died".
Roose allegedly claimed that had had just put purgatives into the food as a joke and that he meant no harm but two poor people, Bennett Curwen and Alice Tryppytt, died from eating the food. Roose was "attainted of high treason" and "boiled to death without benefit of clergy. He was taken to Smithfield and boiled to death.
* Some sources say porridge.
Sources
The Other Boleyn Girl, Philippa Gregory, p167 of my ebook and the Q&A section
The Tudors Season 2 Episode 1 "Everything is Beautiful"
A Draft of the 1531 'Acte for Poysoning', The English Historical Review, September 01, 2001, KESSERLING, K. J.