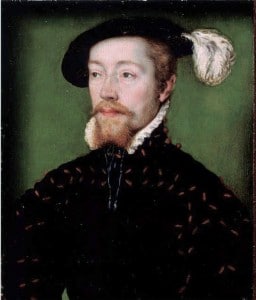 On this day in history, 10th April 1512, James V of Scotland was born at Linlithgow Palace, West Lothian, Scotland. He was the fourth child of King James IV of Scotland and his wife, Margaret Tudor, sister of Henry VIII, and was the only one of their children (the had six) to survive infancy.
On the 9th September 1513, James IV was killed at the Battle of Flodden Field, leaving his 17 month old son to inherit the Scottish throne. On the 21st September 1513 the little boy was crowned King James V of Scotland at the Chapel Royal in Stirling Castle and until he was old enough to reign in his own right regents ruled the country, with his  mother acting as the first regent.
In 1525, James's estranged stepfather, Archibald Douglas, 6th Earl of Angus, took control of the boy and government by kidnapping him and holding him hostage. He was able to control James until 1528 when he was able to escape and rule as king in his own right. James sought advice on governing the rather bankrupt Scotland from a team of trusted lawyers and diplomats and set out to secure a wealthy and influential bride to help his country.
In 1536 James V was contracted to marry Mary of Bourbon, the daughter of the Duke of Vendôme, but actually married Madeleine of Valois, Francis I of France's daughter, on 1st January 1537. Unfortunately, Madeleine died of consumption just six months later. In May 1538, James married Mary of Guise by proxy and this was followed by another ceremony in person in June 1538 when Mary arrived in Scotland. Mary was crowned Queen Consort on the 22nd February 1540 at Holyrood Abbey. The couple had three children: James Stewart, Duke of Rothesay, born on 22nd May 1540, Robert Stewart, Duke of Albany, born on 24th April 1541 and Mary Stewart born on 8th December 1542. Unfortunately, both boys died in April 1541.
James V died on the 14th December 1542 at Falkland Palace, after being taken ill after the Battle of Solway Moss. His daughter was just six days old when she became Mary Queen of Scots.
Trivia
James V had at least 9 illegitimate children
James V played the lute
He was a staunch Catholic and burned Protestants during his reign – Patrick Hamilton, the Protestant Preacher, was burned at the stake on the 29th February 1529, becoming Scotland's first Protestant martyr.
It is said that on his deathbed he uttered the words "it came wi a lass, it'll gang wi a lass" ("It began with a girl and it will end with a girl"), referring to how the Stewart dynasty began with a girl, through Marjorie Bruce, Robert the Bruce's daughter, and how he feared it would now end with his daughter, Mary. However, the Stewart dynasty actually ended with another girl, Queen Anne, in 1714.
James was supposed to meet his cousin, Henry VIII, at York in Autumn 1541 but James snubbed Henry and did not turn up.
You can find out more about James V's mother, Margaret Tudor, in my article "The Death of Margaret Tudor". Also, I have written articles on Mary Queen of Scots, James's daughter, over at The Elizabeth Files, see Mary Queen of Scots Bio page.