Posted By Claire on March 17, 2017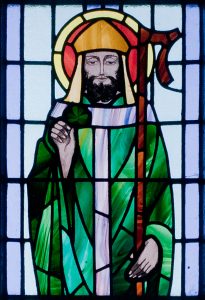 Happy St Patrick's Day! Beannachtai Na Feile Padraig Oraibh!
Now I'm not at all Irish, well, I don't think I am, but I do wish all of my friends and followers in Ireland, those with Irish ancestry, and those named Patrick and Patricia a very Happy St Patrick's Day. Beannachtai Na Feile Padraig Oraibh!Have fun celebrating today!
Did you know that at one point it looked like Anne Boleyn was going to live in Ireland?
Anne was recalled from France in late 1521 due to marriage negotiations which were going on to marry her off to James Butler, son of Sir Piers Butler, to settle a dispute over the earldom of Ormond. The negotiations fizzled out and Anne eventually married Henry VIII, but it's interesting to think that Anne could have ended her days at Kilkenny Castle, the seat of the Butler family at the time. Would we ever have heard of her if that had been the case?
Here are some articles about the marriage negotiations and the Boleyns and their Irish links:
If you're interested in reading more about St Patrick and his feast day then The Telegraph website has an article St Patrick's Day 2017: How to celebrate the Patron Saint of Ireland which gives an overview.
Picture: St Patrick depicted in a stained glass window in St. Benin's Church, Kilbennan, County Galway, Ireland. Wikimedia Commons.