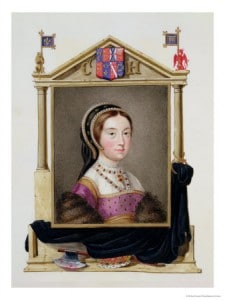 On this day in history, the 13th February 1542, Catherine Howard was executed at the Tower of London. Eustace Chapuys, the Imperial ambassador, wrote of how Catherine prepared herself for her execution:-
"On Sunday the 12th, towards evening, she was told to prepare for death, for she was to die next day. That evening she asked to have the block brought in to her, that she might know how to place herself; which was done, and she made trial of it."1
Catherine Howard's Execution
Chapuys goes on to say that at 7am the next morning, the 13th, members of the King's Council (Suffolk and Norfolk were absent)and other dignatories arrived at the Tower to serve as witnesses to Catherine's execution. Charles de Marillac, the French ambassador, reported to his master, Francis I, that the Queen was executed at around 9am, followed by Lady Rochford. Marillac recorded that "The Queen was so weak that she could hardly speak, but confessed in few words that she had merited a hundred deaths for so offending the King who had so graciously treated her"2. However, David Starkey3 points out that Marillac was not an eye-witness and quotes merchant Ottwell Johnson's account of the executions:-
"I see the Queen and the Lady Rochford suffer within the Tower. Whose souls be with God, for they made the most godly and Christian end… [Catherine] uttered [her] lively faith in the blood of Christ only… [she] desired all Christian people to take regard unto [her] worthy and just punishment."
Starkey goes on to say that Johnson recorded that Catherine said that she had offended "God heinously from [her] youth upward, in breaking all his commandments", that she had offended "against the King's royal Majesty very dangerously", was "justly condemned… by the Laws of this realm and Parliament to die" and that she "required the people… to take example at [her], for amendment of their ungodly lives and gladly to obey the King in all things." According to Johnson, Catherine then prayed "heartily" for "[the King's] preservation, and willed all people so to do." After then she commended her soul into God's care and asked for His mercy. Catherine knelt at the block and the executioner cut off her head with his axe.
Contrary to legend and "The Tudors", Catherine did not utter the words "I die a Queen, but I would rather die the wife of Culpeper", although I so wish she had!
Lady Rochford's Execution
Next was the turn of Jane Boleyn, Lady Rochford, wife of the late George Boleyn, and the woman who was accused of committing high treason by helping Catherine commit adultery. Chapuys says of Lady Rochford's execution:-
"Then Lady Rochford was brought, who had shown symptoms of madness till they told her she must die. Neither she nor the Queen spoke much on the scaffold; they only confessed their guilt and prayed for the King's welfare."4
And Marillac reported:-
"The lady of Rochefort said as much in a long discourse of several faults which she had committed in her life."5
According to Jane Boleyn's biographer, Julia Fox,
"she began by declaring her complete faith and trust in God. "I have," she said, "committed many sins against God from my youth upwards and have offended the king's royal Majesty very dangerously, so my punishment is just and deserved. I am justly condemned by the laws of this realm and by Parliament. All of you who watch me die should learn from my example and change your own lives. You must gladly obey the king in all things, for he us a just and godly prince. I pray for his preservation and beseech you all to do the same. I now entrust my soul to God and pray for his mercy." Not once did she refer to the specific offences…neither did she have anything but praise for Henry."6
It is a myth that Lady Rochford confessed to giving false testimony against her husband and her sister-in-law, Anne Boleyn, she did nothing of the sort.
After her short address, Lady Rochford knelt, laying her neck on the block, and her head was taken off with one blow of the axe. The bodies and heads of Catherine Howard and Lady Rochford were then taken to the Chapel of St Peter ad Vincula for burial. Visitors to the Chapel at the Tower of London can pay their respects to these two women at their memorial floor tiles, which lie underneath the altar table.
You can find out more about the falls of Catherine Howard and Lady Rochford in the following articles:-
Notes and Sources
LP xvii. 124
LPxvii. 100
Six Wives: The Queens of Henry VIII, David Starkey
LP xvii. 124
LP xvii. 124
Jane Boleyn: The Infamous Lady Rochford, Julia Fox