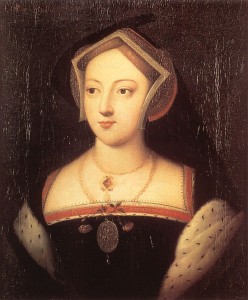 According to an inquisition post mortem taken at Brentwood in Essex, Mary Boleyn, sister of Anne Boleyn, died on 19th July 1543. The translation of her inquisition post mortem in the Essex Record Office lists the property she held at the time of her death:
"property including manors of High Roding, Great Holland, Leigh, Wakering, Hawkwell, Doggetts [in Rochford], East Hall and South Hall [in Paglesham], Foulness, manor or barony of Rochford, lands called Southwick, Eastwick, Ormondeswick, Arundels Marsh, Monkebarne [Monkton Barn], Rugworth [Rugwood], and Nasewick, all in Foulness, and tillat in Walattis alias Tylforde in Watys [Tillettsmarsh in detached part of parish of Great Stambridge on Wallasea Island]."1
Mary and her second husband William Stafford had only been granted these lands on 15 May 1543, years after the deaths of her father, grandmother and sister-in-law:
"Wm. Stafford and Mary his wife, kinswoman and heir of lady Marg. Bolleyn, widow, dec., viz. daughter of Thos. late earl of Wiltshire and Ormund, son of the said Margaret. Livery of lands of the said Thomas and Margaret and of those held by Joan [Jane] late wife of Sir George Bulleyn lord Rocheford, dec., by way of jointure."2
Mary's heir was her son Henry Carey, who, according to the inquisition, was aged 17 years 15 weeks and 5 days on 22 July 1543.
Like so much with Mary Boleyn, we do not know what she died of, where she was when she died, where she was laid to rest, how old she was when she died… and it is speculation that she was allowed to live at Rochford Hall before formally inheriting it in 1543. Although it is said that Mary ordered a dovehouse to be built at Rochford Hall in 1540, I have not been able to find a primary source record for this.3
Mary is the perfect "blank canvas" for novelists to create a story around, but whatever the truth of her later life and death, she had a happier ending than her brother and sister.
You can find out some facts about Mary in my article Mary Boleyn – One Big Boleyn Myth.
Mary Boleyn Portraiture
I always get comments about this portrait of Mary Boleyn, which can be found at Hever Castle, because of Alison Weir's theory about it not being Mary. If you have read Alison Weir's biography of Mary you will know that one of the reasons she rules it out as a portrait of Mary is because the sitter is depicted wearing ermine, which she says was a "fur reserved exclusively for royalty and peers of the realm".4 However, author Susan Higginbotham researched the sumptuary legislation dating back to Edward IV's reign and according to the legislation of 1463 Mary Boleyn was permitted to wear ermine because she was married to an Esquire of the Body (William Carey). Susan could not find any mention of that law being changed. Costume expert Bess Chilver also pointed out that ermine was not restricted to the royal family and that people would also make their own fake ermine from white rabbit fur.5
Weir's other reason, the fact that six versions of this portrait exist, may make us question whether it is Mary but she can't be ruled out at the sitter.
Notes and Sources
Inquisition Post Mortem of Mary Carey, late w. of William Stafford, esq., and daughter and sole h. of Thomas late Earl of Wiltshire and Ormond, Ref D/DU 514/29/5, Fonds MANORIAL RECORDS OF FOULNESS, Essex Record Office. The transcription online gives her date of death as 1542 but this must be wrong because we know Mary was alive in May 1543 when she was finally granted her inheritance.
LP xviii. i. 623.66
Weir, Alison (2011) Mary Boleyn: The Great and Infamous Whore, Appendix II, p250
Mary Boleyn or Francis Brandon? – Blog article by Susan Higginbotham (see comments below the main post for the sumptuary law legisation) at http://www.susanhigginbotham.com/blog/posts/mary-boleyn-or-frances-brandon/
Bowman, Karen (2010) Essex Girls, Chapter Mary Boleyn: La Petite Boullain
Also on this day in history…
1545 – Henry VIII's flagship, the Mary Rose, sank right in front of his eyes in the Battle of the Solent between the English and French fleets. Click here to read more.
1553 – Mary I was proclaimed Queen in place of Queen Jane. Click here to read more.
1584 – Death of three year-old Robert Dudley, Baron Denbigh, son of Robert Dudley, Earl of Leicester, and his wife, Lettice, at Wanstead. He was laid to rest in the Beauchamp Chapel of St Mary's Church, Warwick, and his tomb pays tribute to "the noble imp".