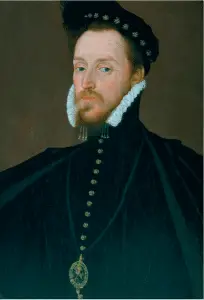 On 23 July 1596, Henry Carey, 1st Baron Hunsdon, Privy Councillor and Lord Chamberlain, died at Somerset House in London. It is said that on his deathbed, Elizabeth I offered to give him the title Earl of Wiltshire, a title once held by his grandfather, Thomas Boleyn, but Hunsdon refused Elizabeth's offer, saying "Madam, as you did not count me worthy of this honour in life, then I shall account myself not worthy of it in death."
Hunsdon was buried at Westminster Abbey on 12th August 1596 in St John the Baptist's Chapel, at Elizabeth I's expense. His tomb is the tallest in the Abbey, standing at 36 feet high (approximately 11 metres). You can see a photo of it and find out more about it at www.westminster-abbey.org/our-history/people/henry-carey
Hunsdon was the son of Mary Boleyn, sister of Anne Boleyn, and her first husband William Carey. Mary slept with Henry VIII at some point and some people believe it is possible that Hunsdon was actually fathered by the King. Both Carey children, Hunsdon and his older sister Catherine, were, however, born during Mary's marriage to Carey so it is impossible to say.
You can read more about Henry Carey and the arguments for and against him being the King's son in my article Mary Boleyn Part Two – The King's Children?
Trivia: Henry Carey became Anne Boleyn's ward in 1528, following the death of his father William Carey from sweating sickness. It was his aunt Anne Boleyn who ensured that the boy received a top notch education under the famous French poet, Nicholas Bourbon. This education helped Henry become an important and influential courtier.