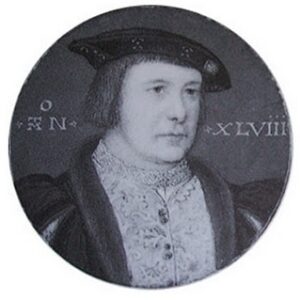 I recently read a comment on a Tudor history Facebook page which really struck me and got me thinking, as well as banging my head on my desk.
The writer was of the opinion that Thomas Boleyn did not deserve to be buried in St Peter's Church, Hever, and that he should have been buried in a field somewhere, in an unmarked grave, because of the "horrible things" he did to Anne and George. I considered these to be incredibly harsh words, but it made me think that perhaps this was the general perception of Thomas Boleyn, father of Mary, Anne and George.
I decided to carry out a bit of an experiment on Facebook and Twitter to see what people thought of Thomas. Obviously, you have to bear in mind that Anne Boleyn Files followers are Tudor history lovers with some knowledge of the Boleyns, but, even so, the general consensus was that Thomas Boleyn was an awful man who forced his daughters into their relationships with the King so that he could rise at court. There were a few comments giving him the benefit of the doubt, but here are some of the comments that summed up the general perception and got "liked" by other Facebook members:-
"Her father?! I dont like him at all. He seemed to only care about his position, his wealth, how much power he had. Did he care that 2 of his childern were killed?! that one was disgraced?! I doubt it."
"Overly ambitious, Not the best Father for pretty daughters…Yes I know it was the way of court to sell off your daughters to the highest bidder…however I think he took it toooooo far."
"I think he used his children for family advancement."
"He was very greedy and wanted power."
"Used his family to gain power. In the end, it destroyed his family."
Now, while I believe that everyone is entitled to their opinions, and I'm certainly not criticising the people who wrote these comments, I believe that this kind of opinion has no basis in fact. If Thomas Boleyn was the conniving, manipulative pimp of The Tudors and The Other Boleyn Girl then, yes, he was a horrid man, but I have not found any evidence to back up these depictions of Thomas Boleyn. I feel that the people who hold these views of Thomas Boleyn have been misled by authors, historians and scriptwriters, and it's time to challenge these perceptions of Thomas Boleyn, just as we challenge the myths surrounding Anne Boleyn.
Thomas Boleyn's Rise at the English Court
Those of you who have been led to believe that Thomas Boleyn gained his power as a result of pimping his daughters out to the King will be interested to know that Thomas Boleyn was a powerful and wealthy courtier long before Mary's affair with Henry VIII.
He was present at Catherine of Aragon's wedding to Prince Arthur in 1501.
In 1503, Thomas escorted Margaret Tudor, Henry VII's daughter, to Scotland to marry King James IV.
He was appointed an esquire of the body before Henry VII's death and Henry VIII chose to keep him on.
Thomas was knighted by Henry VIII in 1509 and his wife, Elizabeth, served as one of the "baronesses" of the Queen's Chamber at the coronation of Henry VIII and Catherine of Aragon in 1509.
In July 1509 he was appointed Keeper of the Foreign Exchange in Calais and in 1509 and 1510 he served as sheriff of Norfolk and Suffolk.
In January 1510 Thomas participated in a revel in honour of the Queen and dressed up as one of Robin Hood's (the King's) men. On 23rd May he was involved in the knightly combat and jousts, and accepted a challenge from King's team.
In 1511, Thomas was involved in the jousts to celebrate birth of Prince Henry, Duke of Cornwall. He was also a chief mourner and one of the knight bearers at Prince Henry's funeral on the 27th February.
Rewards and grants in 1511 included the keepership of the park of Beskwode, Nottinghamshire; the manors of Borham and Powers in Essex; Busshy in Hertfordshire; Purbright in Surrey and Henden in Kent; and Culverts and Little Waltham in Essex. Also appointed Sheriff of Kent.
1512 – Grants and appointments included being granted, jointly with Henry Wyatt, the office of constable and keeper of the castle and gaol of Norwich, which was also reconfirmed to them in 1515; being granted one half of the custody of the lands, wardship and marriage of John, son and heir of Sir George Hastings; and being reconfirmed and granted in survivorship the manor of Wykmer in Norfolk with his wife Elizabeth.
1512-1513 – Thomas Boleyn was sent to the court of Margaret of Austria, with John Young and Sir Robert Wingfield, to act as an envoy to her father, Maximilian I, Holy Roman Emperor, to conclude an alliance between England and the Empire against France. Thomas Boleyn became so friendly with Margaret that they had a wager on how long the negotiations would take and he also secured a place for his daughter, Anne, at Margaret's court. A place in Margaret's court was highly sought after by royal and noble families in Europe so this showed just how much Margaret respected Thomas.
1514 – Grants included the life grant of the lordship of the manors of Saham Tony, Nekton, Panworth Hall, Cressingham, Parva, and the hundreds of Waylond and Grymmeshowe in Norfolk. By this time, as William Dean points out, Thomas Boleyn owned, or had been granted, the controlling interest in around twenty manors and he was the keeper of various other estates, as well as being the Keeper of the Exchange at Calais and the Foreign Exchange in all English ports.
1514 – Thomas Boleyn secured places for both his daughters in the entourage of Mary Tudor, who was going to France to marry Louis XII.
1516 – Thomas Boleyn acted as a canopy bearer at the christening of Princess Mary, daughter of Henry VIII and Catherine of Aragon.
1517 – He acted as Queen Margaret of Scotland's official carver for the forty days of her visit to England.
1518 – Thomas was a member of the Privy Council by this time and was involved in the negotiations for the Treaty of Universal Peace signed that October.
End 1518/beginning of 1519 – Thomas was appointed as the English ambassador to the French court. He served there as Henry VIII's ambassador and as Cardinal Wolsey's agent. While in France, Thomas became good friends with the French royal family.
5th June 1519 – Thomas sponsored Francis I's baby son, Henry, Duke of Orleans, in the name of Henry VIII.
1520 – Returns to England and is appointed Comptroller of the Household.
1520 – Thomas attended the Field of Cloth of Gold, having been chosen as one of 40 select members of government, nobility and the Church who were to ride with the King to his first meeting with Francis I. Thomas's wife, Elizabeth, was appointed to attend Queen Catherine.
May 1521 – Thomas was now the Treasurer of the Household and was also was appointed to the special commissions of oyer and terminer which tried Edward Stafford, Duke of Buckingham. He benefited from Buckingham's fall, being granted in survivorship the manor, honour and town of Tunbridge, the manors of Brasted and Penshurst, plus the parks of Penshurst, Northleigh, and Northlands, in Kent. He had also recently been granted the manor of Fobbing in Essex and Fritwell in Oxfordshire. His manors now totalled around two dozen!
1521 – Thomas accompanied Cardinal Wolsey to meet Margaret of Austria under the pretence of mediating between France and the Empire, but actually to secure an alliance between England and the Empire.
Now, I could go on with grant after grant and details of Thomas Boleyn's diplomatic duties, but I just wanted to cover the period up to 1522, when it is thought that Mary Boleyn caught the King's eye. If you cast your eye over that list and consider that Thomas Boleyn was Treasurer of the Household by 1522, had over 24 manors and was the man Henry VIII and Cardinal Wolsey trusted with diplomatic missions, then it really is hard to argue that he owed his rise in status and wealth to acting as a pimp for his daughters. William Dean, who wrote a detailed thesis on Thomas Boleyn, summed it up when he said "One cannot, as some have done, simply attribute Boleyn's advancement to Henry's preferment of his daughters up to this point. Granted, a case may be made for this influence later, but Henry had no history of doing generous things for his mistresses, much less their parents. It is more likely that Henry  recognised ability and past service and rewarded Boleyn for it"1 and I agree. Bessie Blount's family had not benefited from her relationship with the King, so how could Thomas Boleyn have expected to? He was already a powerful man by the time Mary slept with the King, his rise had been rapid and deserved. He was a key courtier, a trusted adviser and a skilled negotiator and diplomat. He worked hard for his rewards.
Thomas the Pimp?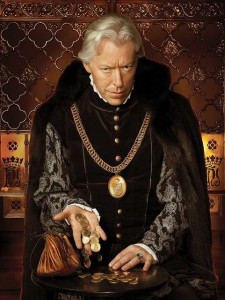 It can also be argued that Thomas Boleyn was actually unhappy about his daughters' relationships with the King. The fact that the King had to step in and ask him to provide for his daughter Mary after she was widowed suggests that the Boleyns had distanced themselves from Mary after her affair with the King, and there is evidence that he was initially against Henry VIII's plans to marry Anne:-
"I must add that the said earl of Wiltshire has never declared himself up to this moment; on the contrary, he has hitherto, as the duke of Norfolk has frequently told me, tried to dissuade the King rather than otherwise from the marriage,"2
"Shortly after the Duke [Norfolk] began to excuse himself and say that he had not been either the originator or promoter of this second marriage, but, on the contrary, had always been opposed to it, and tried to dissuade the King therefrom. Had it not been for him and for the father of the Lady, who feigned to be attacked by frenzy to have the better means of opposing it, the marriage would have been secretly contracted a year ago; and for this opposition (the Duke observed) the Lady had been exceedingly indignant with the one and the other."3
As for him being cunning, manipulative and cruel, the Duke of Norfolk actually described Thomas Boleyn as "very timid" and "not of a warlike disposition".4 He must have had drive and ambition to be a successful courtier, but the manipulative, cruel and overbearing Thomas Boleyn definitely belongs in the realm of fiction.
Conclusion
It is impossible to know what Thomas Boleyn was really like as a person or father, but evidence does not support the characterization that we so often see in fiction and on TV. As for him abandoning his children in May 1536, we just don't know what Thomas did, and he can hardly been blamed for picking himself up, dusting himself off and working his way back into royal favour. That was his job, that's what a courtier had to do and he still had his wife and mother to think of and provide for. The Tudor court was a dangerous place and Thomas had to move on and survive.
I think of Thomas as an intelligent, charismatic, hardworking Renaissance man. I am in awe of his career and how quickly he rose at Henry VIII's court and how respected he was by the French royal family, Margaret of Austria, Henry VIII and other courtiers. I think it's time to stop blaming him for what happened to Anne and George in 1536, when he had no hand in it, and, instead, applaud him for his amazing career and for providing his children, including his daughters, with a top notch education and amazing opportunities that other courtiers' children just did not get. Bravo, Sir Thomas!
Notes and Sources
Sir Thomas Boleyn: The Courtier Diplomat, 1477-1539, William Hughes Dean, Ph.D., West Virginia University
Span. Cal. iv. ii.1048
Span. Cal. iv. ii.1077
Span. Cal. iv. i.255
The Fall of Anne Boleyn
Remember to check out today's event on the timeline at www.thefallofanneboleyn.com