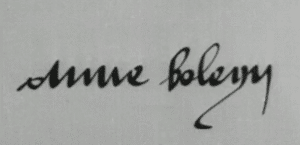 It has been claimed, on various occasions, that Anne Boleyn 'frenchified' her name by changing it from 'Bullen' to 'Boleyn', making it less common and more 'upmarket' – "Anne Boleyn" versus "Nan Bullen". This is a myth, however, and is actually to do with the fact that there was no standardized spelling in England at this time.
In his research of records going back to the 13th century, Rev. Canon Parsons, author of the journal article "Some Notes on the Boleyn Family", found the name "spelt variously – Boleyn, Buleyn, Bolen, Bulleyne, Boleyne, Bolleyne, Boyleyn, Bowleyne, Bulloigne, and the modern form Bullen" and concluded that "Boleyn was the most common of the mediaeval forms."
The name is also spelled various ways in documents/artefacts from Henry VIII's reign, in reference to Thomas Boleyn, George Boleyn and Anne Boleyn. Here are just a few examples:
Henry VII's funeral 1509 – Thomas listed as one of the Lords as "Th. Bolan". (LP i. 20)
Letter from Anne Boleyn to her father, Thomas Boleyn, while she was at the court of Margaret of Austria c. 1513 – The letter was written in French and was signed "Anna de Boullan".
Preparations for the coronation of Henry VIII and Catherine of Aragon 1509 – references to "Sir Thomas Boleyne" and "Dame Elizabeth Bolen". (LP i. 81, 82)
Commissions of the Peace 1509-1514 – Thomas listed as "Sir Th. Boleyn" and "Sir Thos. Bulleyn", and his brother listed as "James Bulleyn".
In the Accounts of Revels 1510, Thomas Boleyn is listed as "Sir Th. Boleyn". (LP ii. p1501)
Letter from Young, Boleyn (Thomas) and Wingfield to Henry VIII – refers to "Sir Thomas Boleyn" and his wager with Margaret of Austria. (LP i. 1350)
Letter from Margaret of Austria to her father,Emperor Maximilian, 1512 – Refers to Thomas as "Sieur de Boulan". (LP i. 1437)
In a list of the royal household December 1516, Thomas Boleyn's brother James is listed as "Sir Jas. Bullaygne" in the list of Knights for the Body. (LP ii. 2735)
In a record regarding the christening of Princess Mary in February 1516, Thomas Boleyn is listed as "Sir Thomas Boleyn". (LP ii. 1573)
Francis I refers to Anne Boleyn as the daughter of "Mr. Boullan" in a letter in 1522. (LP iii. 1994)
Anne is referred to as "Mistress Anne Boleyn" in the Revels accounts showing the expenses for the Shrovetide joust of 1522. (LP iii. p1559, Miscellaneous Revels 1519)
Anne is referred to as "Sir Thomas Boleyn's daughter" in negotiations for her to marry James Butler. (LP iii. 1011)
Letter from Anne Boleyn to Henry VIII, Summer 1526 – Anne signed it Anne Bulen
George Boleyn's inscription in a book, dated 1526 – Signed "George Boleyn"
Letter from Anne Boleyn to Cardinal Wolsey, June 1528 – Signed "anne boleyn"
Inscriptions on the brass cross memorials to Thomas Boleyn the Younger and Henry Boleyn, at Penshurst and Hever – Both refer to the boys being sons of "Sir Thomas Bullayen". However, their father's tomb has the name spelled "Bullen".
"Geo. Bulleyn" made "squire of the Body" in 1528. (LP iv. 4993
1533 summons for George Boleyn to attend Parliament – "Fiat for writs of summons as follows :—i. Geo. Boleyn, lord Rocheford, to be present in Parliament this Wednesday. Westm., 5 Feb. 24 Hen. VIII." (LP iv. 123)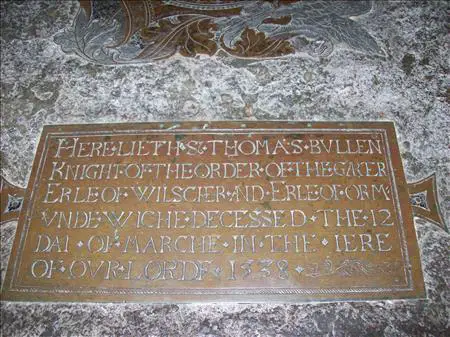 George Wyatt, grandon of Thomas Wyatt, the Poet, spelled the name "boleigne" in his biography of Anne, so there's another version of the name. I could go on and on finding different variations throughout Letters and Papers etc., as I could with Cromwell (Crumwell), Carey/Carew, Seymour and many other surnames. What I always find funny when reading Tudor documents is that the same word or name can be spelt two different ways in the same sentence, that's how 'unstandardized' the spelling was!
As I have mentioned before, we know that the city of Boulogne in France was written as "Boleyn" in the Chronicles of Calais and various other documents, so it may be that the family name "Boleyn" had its origins there – see my article "Anne Boleyn's Family Tree" for more on this.
So, it's not a case of Anne Boleyn being a snob by changing her name from "Bullen" to "Boleyn", it's all down to Tudor spelling, or the lack of it.
Notes and Sources
Some Notes on the Boleyn Family, communicated by The Rev. Canon W. L. E. Parsons, Rector of Salle, in Norfolk Archaeology or Miscellaneous Tracts relating to the Antiquities of the County of Norfolk, Norfolk and Norwich Archaeological Society, Vol. XXV, 1935, p386-407
Letters and Papers, Foreign and Domestic, Henry VIII