The Anne Boleyn Collection Audio Book NOW Available
Posted By Claire on November 21, 2013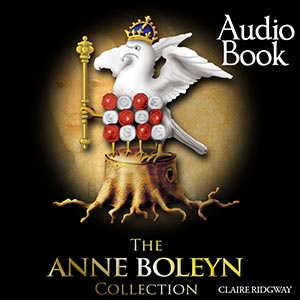 As many of you know, I've spent the last few weeks recording my first book The Anne Boleyn Collection as an audio book. It should be available on Audible.com, Amazon and iTunes in about 4 weeks, but I didn't want you to have to wait that long so we've listed it for sale on MadeGlobal.com, our publishing website.
Here are the details…
The Anne Boleyn Collection brings together the most popular articles from top Tudor website The Anne Boleyn Files. Articles which have provoked discussion and debate. Articles that people have found fascinating.
Written in Claire Ridgway's easy-going style, but with an emphasis on good history and sound research, these articles are perfect reading for Tudor history lovers everywhere. Discover the REAL truth about the Tudors…
Should Anne Boleyn be pardoned and reburied as Queen?
Anne Boleyn and "The Other Boleyn Girl".
Did Anne Boleyn dig her own grave?
The Six Wives' stereotypes – are they right?
Did Anne Boleyn commit incest with her brother?
Did Anne Boleyn really have 6 fingers?
and much more…
Narrator: Claire Ridgway, the author
Running Time: 399 Minutes
Audio Format: mp3 audio files
Download Size: 544Mb
Price: $15.99
Buy now at www.madeglobal.com/downloads/anne-boleyn-collection-audio-book/