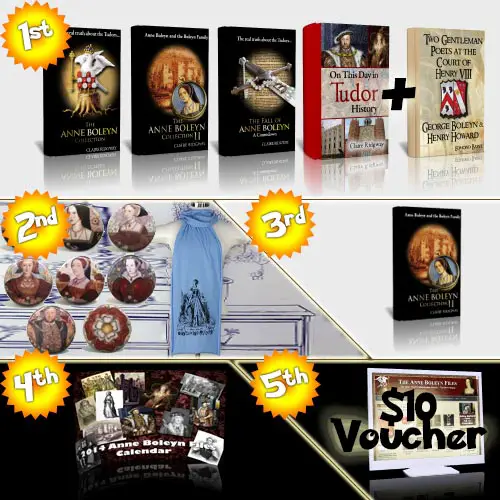 I've got lots of things to be thankful for – my day job is researching and writing about my passion: Tudor history, my books have all been bestsellers and I've sold over 50,000 books in the last 21 months, The Anne Boleyn Files Facebook page has over 50,000 followers, this website attracts over 100,000 unique visits per month, I have a family who put up with my Tudor addiction, I have an amazing husband who is also my business partner, I've made brilliant friends through running this site… So many wonderful things!
Many of the things I'm thankful for are things that I just couldn't have done without your support and encouragement, and I want to say thank you. So, I'm doing a super-duper giveaway with prizes for 5 lucky winners:
A selection of signed books – Signed copies of my Tudor books (The Anne Boleyn Collection, The Anne Boleyn Collection II, The Fall of Anne Boleyn: A Countdown and On This Day in Tudor History), plus a copy of Two Gentleman Poets at the Court of Henry VIII: George Boleyn and Henry Howard.
An Anne Boleyn scarf and a set of Henry VIII & Six Wives Magnets (thank you to Tiffini for donating the prizes).
A signed copy of The Anne Boleyn Collection II
An Anne Boleyn Files 2014 Calendar
A $10 voucher for The Anne Boleyn Files shop
To be in with a chance of winning one of these prizes, all you need to do is:
Subscribe to The Anne Boleyn Files – see Subscribe Now in the left hand side menu bar. Subscribing means that you will receive an Anne Boleyn Files "welcome pack" and you will receive key articles or weekly round-ups emailed to your inbox. Note: You don't need to re-subscribe if you're already a subscriber.
Leave a brief comment on this post saying what you like about The Anne Boleyn Files site.
The closing date is Wednesday 27th November (midnight Eastern Time) and it is a worldwide giveaway. 5 winners will be picked at random using Random.org's random number generator. Please only leave one comment as only one entry per person will be accepted.
It would also be wonderful if you could share news of this giveaway with anyone you think would be interested – thank you!