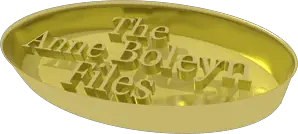 Good news! I'm giving away a pack of 5 FREE Tudor goodies here at The Anne Boleyn Files:
– Report: The Fall of Anne Boleyn
– Report: The Other Boleyn Girl – Fiction versus Fact
– Report: Anne Boleyn's Love-life
– Book list: Anne Boleyn and Henry VIII Books
– and Anne Boleyn Primary Source List
Simply sign up for free at our Free Report page – click here – confirm your subscription and enjoy!
It doesn't cost anything to subscribe to The Anne Boleyn Files and I promise that I won't fill your inbox with spam and rubbish. I tend to send 1 or 2 emails a week with round-ups of key articles and news.
Once you've signed up, you will receive an email asking you to confirm your subscription – please check your spam/junk email box if you don't receive an email after filling in your details – then you'll be sent links to the freebies. Simple!
Note: Those who are already AB Files subscribers will be sent details on how to get the new reports, I wouldn't want you to miss out!