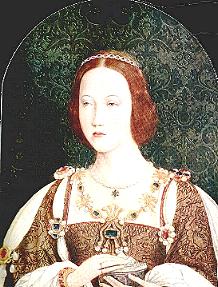 On this day in history, the 18th March 1496, Princess Mary Tudor was born – Happy 514th Birthday Mary!
Wow, it's confusing having two Mary Tudors – Mary Tudor Queen of England (Mary I) and Mary Tudor Queen of France (daughter of Henry VII and sister of Henry VIII) but it gets even more confusing when "The Tudors" write Princess Mary Tudor out of history entirely and combine her into the character of Princess Margaret, played by Gabrielle Anwar.
Writing Mary Tudor out of existence and killing Margaret Tudor in Season One  means that "The Tudors" simply cannot carry on into the reigns of Edward VI, Lady Jane Grey, Mary I and Elizabeth I, even if Michael Hirst wanted to, because vital characters haven't even been born – no Lady Jane Grey (granddaughter of Mary Tudor), no Mary Queen of Scots (granddaughter of Margaret Tudor), no James VI… See what I mean?!
So, who was the real Mary Tudor?
Mary Tudor, Queen of France and Duchess of Suffolk
Here is a bio of the REAL Mary Tudor:-
Birth: 18th March 1496, Richmond Palace
Parents and Family: Henry VII and Elizabeth of York. Mary was the youngest of their children to survive infancy and was a sister to Prince Arthur, Princess Margaret and Prince Henry (the future Henry VIII). Henry VIII was very fond of her and named his favourite ship, "The Mary Rose", after her and also his daughter Mary (future Mary I).
Appearance: Mary was known for her beauty and was even said to be the most beautiful woman in England. The Venetian Ambassador described her as "a Paradise—tall, slender, grey-eyed, possessing an extreme pallor" and she was known to have long red hair.

Motto: La volenté De Dieu me suffit (The will of God is sufficient for me)
Betrothals: In 1507, Mary was betrothed to Charles of Castile (the future Charles V Holy Roman Emperor) and their wedding was planned for 1514 but the betrothal was cancelled due to Henry VIII's diplomatic dealings. Instead, much to Mary's horror, she was betrothed to the 52 year old King Louis XII of France (not Portugal like in "The Tudors"), a man 34 years her senior, as part of Cardinal Wolsey's peace treaty with France.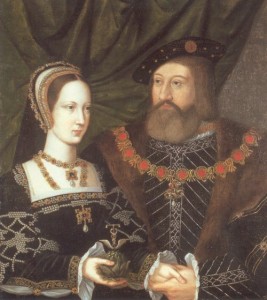 Marriages: Mary married King Louis XII of France in Abbeville on 9th October 1514, she was just 18. However, the King of France died just a few months later, on 1st January 1515. Mary had been in love with Charles Brandon, Duke of Suffolk and a great friend of Henry VIII, and before her marriage to Louis XII she had made her brother promise that if she married the French King and outlived him that she could choose her next husband.
Mary was kept isolated from men for 6 weeks at the Palais de Cluny to see if she was carrying the heir to the French throne, but then her real love, Charles Brandon, was sent to France to escort her home. Mary and Charles Brandon took a huge risk by secretly marrying in France on the 3rd March 1515, without the King's permission, something which could be classed as treason. Henry VIII was furious but his love for his favourite sister and his friendship with Brandon led to him forgiving the couple and they were officially married at Greenwich Palace on the 13th May 1515. Although she was now the Duchess of Suffolk, Mary was still referred to as the French Queen.
Children: Mary's 3 month marriage to the King of France did not result in a pregnancy but she had four children by Charles Brandon, the Duke of Suffolk: Henry Brandon, named after her brother (11th March 1516-1522), Lady Frances Brandon (16th July 1517-20th November 1559) who was the mother of Lady Jane Grey (and also Katherine and Mary Grey), Lady Eleanor Brandon (1519-27th September 1547) who went on to marry Henry Clifford, the 2nd Earl of Cumberland, and Henry Brandon, the 1st Earl of Lincoln (around 1523-1st March 1534). Only Frances and Eleanor survived childhood.
Relationship with her brother, Henry VIII: Mary was Henry VIII's favourite sister but the two did fall out over Henry's relationship with Anne Boleyn. Mary was good friends with Catherine of Aragon and disliked Anne Boleyn.
Death: Mary became ill in 1533 and died on the 25th June (some sources say 24th) at Westhorpe, Suffolk. She was laid to rest in the abbey at Bury St Edmunds, Suffolk, and then moved to St Mary's Church in Bury St Edmunds during the Dissolution of the Monasteries.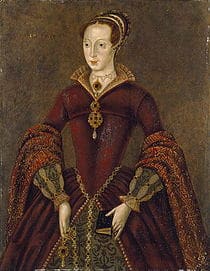 Legacy: Mary's granddaughter, Lady Jane Grey (The Nine Day Queen), became Queen after the death of Edward VI in 1553. Edward's famous "Device for the Succession" excluded his sisters, Mary and Elizabeth, as heirs and named Lady Jane Grey as heir to the throne. Lady Jane Grey was overthrown by Mary, who became Mary I, and was executed on the 12th February 1554 after being convicted of treason. You can read more about her at https://www.theanneboleynfiles.com/bios/lady-jane-grey/.
Lady Jane's sister, Katherine Grey, was imprisoned and then kept under house arrest during the reign of Elizabeth I for secretly marrying Edward Seymour, 1st Earl of Hertford, without the Queen's permission. The couple had two sons, Edward (Lord Beauchamp) and Thomas, who were both born in the Tower of London, and who were considered illegitimate due to their parents' marriage being ruled invalid. It is said that the present queen, Queen Elizabeth II, can trace back her ancestors to Katherine Grey through her mother, Elizabeth Bowes-Lyon, the Queen Mother. Lady Mary Grey died childless.