17 May 1536 – Who were the men who were executed in May 1536?
Posted By Claire on May 17, 2017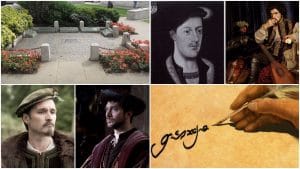 In the "bloody days", as Thomas Wyatt called them, of May 1536, not only was a queen executed, but also five courtiers.
If we believe that Queen Anne Boleyn was innocent of all charges then these five men were innocent too and deserve to be remembered just as we remember Anne. Five families were rocked by the executions that day. These men were brothers, sons, friends, royal servants…some were fathers. They were real people and they died because their work had brought them close to the crown. Their loyal service to the king had brought them close to the queen and that was used against them.
Who were these men?
Clare Cherry, co-author of George Boleyn: Tudor Poet, Courtier and Diplomat made a video for last year's Anne Boleyn Day on the men who were executed on 17th May 1536: