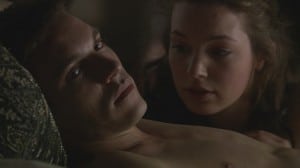 After I had posted my article marking the anniversary of Mary Boleyn's marriage to William Carey on 4th February 1520, I received lots of questions about Mary's relationship with the King – When did it start? Why do historians date it to 1522? How long did it last? Were her children fathered by the King? etc. – so I thought I'd write a brief article looking at the evidence for Mary's relationship with Henry VIII.
Mary Boleyn is a shadowy figure and although she has been the subject of biographies, novels and movies, very little is actually known about her. Although she is often portrayed as Henry VIII's favourite mistress or the Boleyn woman he really loved, we actually have no details at all about the King's affair with Mary. We only know that they had a sexual relationship because of the fact that the King applied for a dispensation from the Pope in 1527 to enable him to marry Anne Boleyn and in this dispensation was listed the impediment of "affinity arising from illicit intercourse in whatever degree, even the first".1 There was the impediment of affinity in the first degree due to Henry having slept with Anne's sister.
Mary is not named and some people may argue that this dispensation could also cover Henry VIII sleeping with Anne's mother, Elizabeth Boleyn (née Howard), but when Sir George Throckmorton said to the King, "I told your Grace I feared if ye did marry Queen Anne your conscience would be more troubled at length, for it is thought ye have meddled both with the mother and the sister," the King replied, "Never with the mother".2 See "Was Anne Boleyn Henry VIII's Daughter?" for more on this.
In her biography of Mary Boleyn, Alison Weir comments "Henry VIII's affair with Mary Boleyn was conducted so discreetly that there is no record of the date it started, its duration, or when it ended"3 and she's right. Apart from the dispensation, all we have is gossip and hearsay, most of it resulting from news of the dispensation:
Dr Ortiz, the Imperial ambassador in Rome, wrote to the Empress in 1533, "that some time ago he [Henry] sent to ask his holiness for a dispensation to marry her, notwithstanding the affinity between them on account of his having committed adultery with her sister."4
Charles V spoke to Dr Richard Sampson, one of Henry VIII's ambassadors, in January 1530 about Henry's quest for an annulment and mentioned that "the said king had kept company with the sister of her whom he now, it was stated, wanted to marry."5
Eustace Chapuys, the Imperial ambassasor in England, wrote that "Even if he could separate from the queen, he could not have her [Anne], for he has had to do with her sister."6
Cardinal Pole reproached Henry VIII for sleeping with Mary in his 1538 treatise pro ecclesiasticae unitatis defensione, accusing Henry of "seducing her, and then with retaining her as his mistress."7
John Hale, Vicar of Isleworth, wrote in 1535 of how a monk at St Bridget's Priory Abbey had pointed out "yongge Master Care", Mary's son, as being the King's bastard son.8
It appears to have been a known fact that Henry VIII had slept with Anne's sister, but this doesn't help us to date the relationship in any way. Most historians date the relationship to the 1520s, beginning in 1522. This is because at the Shrovetide joust of 2nd March 1522 Henry VIII rode out with the motto Elle mon Coeur a navera, or "She has wounded my Heart", embroidered on the trappings of his horse. A woman had obviously rebuffed his advances, but we cannot be sure that it was Mary, who, by this time, was married to William Carey. Mary could well have been just a one night stand when Elizabeth Blount, the King's former mistress, was pregnant with the King's son in 1519, they may not have had a long-lasting affair at all but the King still needed to declare the impediment whether the relationship had been one night, two nights or many nights.
Evidence that is used to back up the idea that Mary was Henry VIII's mistress from 1522, during her marriage to William Carey, and that one or both of her children were fathered by the King, is the list of grants and offices that Carey was granted between 1522 and his death in 1528. Carey was indeed awarded many lucrative grants and offices, including keeperships and manors, and he also kept his post of Gentleman of the Privy Chamber through Cardinal Wolsey's 1526 purge, the Eltham Ordinances. However, Carey was related to the King and was a favourite. Henry Norris, another Gentleman of the Privy Chamber at this time, also survived the Eltham Ordinances, being promoted to Groom of the Stool, and was granted a host of royal grants, keeperships and offices, but nobody suggests that his wife, Mary Fiennes, was sleeping with the King or that his children, born between 1524 and 1526, were the King's bastards.9 Henry VIII was generous to those who served him and William Carey was a loyal servant to him. We can't read too much into these rewards.
We're left with more questions than answers when we delve into the subject of Mary Boleyn's relationship with the King. All we know for certain is that they had a sexual relationship at some point. Although the relationship is always dated to 1522, it could well have taken place earlier, before Mary Boleyn married William Carey.
What do you think? Please do share your thoughts.
What about Mary's alleged relationship with Francis I? See Mary Boleyn – Was she really the Mistress of Francis I? for more on this. You may also be interested in Mary Boleyn Part Two: The King's Children?
Talking of Shrovetide jousts and declarations of love, on this day in 1526 Henry VIII rode out in cloth of gold and silver "richely embraudered, with a mannes harte in a presse, with flames about it, and in letters were written, Declare ie nos, in Englishe, Declare I dare not", the first indication of Henry VIII's courtly pursuit of Anne Boleyn. See The Shrovetide Joust of February 1526.
Notes and Sources
Ansgar Kelly, Henry (2004) The Matrimonial Trials of Henry VIII, p47
Quoted in Weir, Alison (2011) Mary Boleyn: The Great and Infamous Whore, p30
Ibid., p107
Friedmann, P (2010) Anne Boleyn, p262
Ibid.
Ibid.
Ellis, Henry (1827) Original letters, Illustrative of English history, Volume 2, p43
Henry Fitzhugh, A History of the Fitzhugh Family
Norris' grants included: 1515 – Recived his first royal grant, 1518/19 – bailiff of Ewelme, 1519 – Awarded an annuity of 50 marks, 1523 – Granted the keepership of Langley New Park, Buckinghamshire, and was made bailiff of Watlington, 1529 – received a grant of £100 a year from the revenues of the see of Winchester, 1531 – Made chamberlain of North Wales, 1534 – Made Constable of Beaumaris Castle, 1535 – Grants of manors once held by Thomas More, made constable of Wallingford Castle.
Carey's grants included: 1522 – keepership of Beaulieu and bailiff of the manors of New Hall, Walkeford Hall and Powers, 1522 – Wardship and lands of Thomas Sharpe, 1523 – An annuity of 50 marks, 1523 – Receiver and bailiff of Writtle, Keeper of Writtle, 1523 – Constable of Pleshy, 1524 – Made keeper of Wanstead Manor and awarded the grant of several manors in Essex, 1526 – granted several manors in Buckinghamshire, Hampshire and Wiltshire.