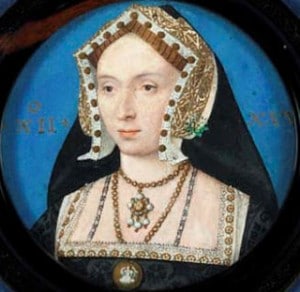 Recently, I asked my Facebook followers what aspects of Anne Boleyn's life they'd like me to write more about on The Anne Boleyn Files, and one that was mentioned by quite a few people was Anne's relationship with her sister Mary.
People are, understandably, intrigued by these two sisters, particularly as there have been very different depictions of their relationship in fiction and on screen.
Were they close growing up? Did they despise each other? Was there sibling rivalry? Were they jealous of each other? Did Anne really 'kidnap' Mary's son? Did Anne really banish Mary from court? Did Mary try to save Anne? These are the types of questions I receive, so let's look at what evidence we actually have regarding their time together and their relationship.
Unfortunately, Mary is a bit of a mystery figure. You'd think with her being the subject of a number of books, fiction and non-fiction, and being the main character of a movie, that we'd know quite a lot about her, but we don't. In an article I wrote back in 2013 I called Mary "one big Boleyn myth" and I agree with historian Eric Ives who once commented that what we actually know about Mary Boleyn "could be written on the back of a postcard with room to spare". We have ideas and theories in abundance, but facts are lacking. Frustrating, I know, but that's the way it is. So, apologies if this article is not as in-depth as you'd like it to be, but just blamed Mary Boleyn for not keeping a diary!
Early Life
We don't even know when the Boleyn girls were born and in which order. There is controversy over Anne's date of birth, with some historians believing she was born in 1501 and others believing she was born in 1507, and Mary's date of birth is usually put at around 1500. I personally would place the births of the Boleyn children as follows: Mary in 1499/1500, Anne in 1501, Thomas and Henry between 1502 and 1504, and George in 1504/5. It is likely that both girls were born at Blickling Hall in Norfolk and then moved with their parents and other siblings down to Hever, in Kent, in 1505/06 after their father inherited Hever Castle.
We know nothing about the sisters' early education. Thomas Boleyn appears to have been a forward thinking man and patron of humanism, and this combined with the fact that he managed to secure a place for Anne at Margaret of Austria's court in 1513 suggests that he had his daughters educated to a high standard. At that time, it was believed that girls had inferior brains to boys and so could not cope with, or need, a classical education. Families like the Boleyns just needed to ensure that their daughters learned the skills necessary to be a good wife, i.e. to learn the appropriate housewife's skills and to be able to govern and manage a household. Reading and writing English, and some French, would also allow her to be able to read books on etiquette and household management. Surely if Anne was educated to a high standard, then Mary would also have been, and it is likely that they would have shared a governess and/or tutor.
To the Continent
The sisters were separated in the summer of 1513 when Anne left for Mechelen. It is unclear what Mary was doing at the time, perhaps she continued her education at home, but in 1514 she and Anne were appointed to accompany Mary Tudor, sister of Henry VIII, to France for her marriage to King Louis XII. It seems likely that Mary Boleyn sailed with the princess to France, whereas Anne probably met up with the royal party in Paris. On 10 October 1514, the day after his marriage to Mary Tudor, Louis XII dismissed a large number of his wife's English attendants, believing that his queen should be served by French servants. A "Madamoyselle Boleyne" appears in the list of "Names of the gentlemen and ladies retained by the King (Louis XII)", but it is unclear whether this was Anne or Mary, or if Anne had even reached France by then. Was Mary retained or was she sent home? We don't know.
Back to England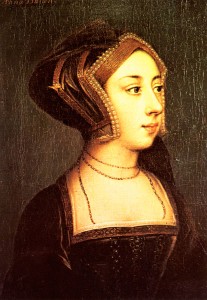 Louis XII died on 1 January 1515 and after marrying Charles Brandon, Duke of Suffolk, the man who had been sent to escort her back to England, Mary Tudor returned to her brother's court. Anne Boleyn stayed on in France, serving the new queen, Queen Claude, but nobody knows what happened to Mary at this point. All that we know for sure is that she was back in England by 4th February 1520 when she married William Carey. My own feeling, and I can't back it up with hard evidence, is that Mary accompanied her royal mistress back to England in 1515. It makes sense to me that it is at some point between then and February 1520 that she caught the King's eye and that she slept with him at least once. When Henry tired of her, I believe that he arranged a marriage with William Carey, a member of the King's Privy Chamber and an Esquire of the Body. Some historians believe that Mary and Henry VIII got together in March 1522 and that Henry's Shrovetide motto, "elle mon coeur a naver" (she has wounded my heart) was aimed at Mary. However, it could have been aimed at any woman watching him that day.
Anne did not attend her sister's wedding because she was still in France. She was not recalled to England until late 1521, so the sisters probably would not have seen each other for six years. It is not known exactly what date Anne Boleyn arrived back in England, but she was certainly at Henry VIII's court by 4th March 1522 when she played Perseverance and her sister Mary played Kindness in the Shrove Tuesday Château Vert pageant at Cardinal Wolsey's palace, York Place. Were the sisters excited and happy to be reunited after all that time or were they more like strangers? We don't know – sorry!
The Late 1520s
By the time Anne became involved with the king, which is thought to be in 1526, Mary had had two children: Catherine, born in 1524, and Henry, born in 1526. Mary was widowed when William died of sweating sickness on 22nd June 1528. Carey's death left Mary with two children to provide for and in considerable financial difficulty. Mary was forced to write to the King for help. Henry VIII obliged, securing financial help for her from her father, Thomas Boleyn, and granting the wardship of Mary's son, Henry, to Anne Boleyn. Wardship was standard practice in Tudor times and it meant that Anne was financially responsible for the little boy, which must have helped Mary enormously. Anne went on to provide Henry Carey with a good education, appointing the French poet and reformer, Nicholas Bourbon, as his tutor. Little Henry was educated along with Henry Norris (son of Sir Henry Norris, Henry VIII's Groom of the Stool) and Thomas Howard. Anne did not 'kidnap' or adopt the boy, she simply helped to provide for him and there's no evidence that the sisters fell out over it. It seems more likely that Mary would have been grateful for Anne's help at this stressful time. In December 1528, Henry assigned Mary an annuity of £100 (£32,000), which had once been paid to her husband. It must have been such a relief for Mary to have this income.
Queen-in-waiting
It is not known whether the sisters spent much time together in the late 1520s and early 1530s while Anne was waiting to marry the King. Was Mary at court? Was she living at Hever Castle with her mother? We just don't know. What we do know is that she accompanied Anne and Henry VIII on their trip to Calais in October 1532 because her name appears in the list of Anne's ladies at the banquet held in Francis I's honour at Calais on 27th October 1532. Her name is also listed as giving the King New Year's gifts in 1532 and 1534, so she may well have been serving her sister at that time. She certainly attended Anne at her coronation on 1st June 1533.
Banishment
In September 1534, a pregnant Mary Boleyn turned up at court and informed her sister the Queen that she had secretly married William Stafford, a soldier in the garrison at Calais and one of Henry VIII's gentleman ushers. It is not known when Mary and William met but he is listed as accompanying the King to France in October 1532. William was also present, as one of the "Knights and gentlemen to be servitors", at Anne Boleyn's coronation and he had been at court since 1526.
Anne was furious with Mary. Mary had married a man of lower rank and she had married without her family's permission. Anne, as queen, could have arranged a 'good match' for her sister, but Mary had gone her own way and married for love. Anne banished her from court, leading to her sister suffering from financial problems once again. In a letter to Thomas Cromwell, asking for to intercede with the King on her behalf, Mary wrote "I loved him as well as he did me […] I had rather beg my bread with him than to be the greatest queen in Christendom" – moving words. There is no evidence, this time, of the King helping Mary, but it appears that Anne did send her money and a golden cup. It seems a small action, but it suggests that Anne's anger had dissipated and that she did feel for her sister. Had Anne been jealous of her sister's pregnant state? It does appear that Anne lost a baby in the summer of 1534 so perhaps Mary's appearance at court in that September had been too much for Anne to bear. That is, however, pure speculation. There is no mention of Mary's third child in any of the records so Mary must also have lost her baby.
It is not clear whether the sisters ever saw each other again, but Anne carried on providing for Mary's son until May 1536..
The Fall of the Boleyns
Mary's whereabouts in May 1536, when her brother and sister fell so spectacularly from favour and were executed as traitors, is unknown. After her banishment from court in 1534, Mary may well have settled with her husband in Calais, where he continued to be a soldier and to serve Lord Lisle, Lord Deputy of Calais. There is certainly no evidence of her being at court at that time and the idea that she did anything to try to save her sister is purely fictional. Mary's feelings about the events of 1536 are also unknown, but she must surely have been upset about the deaths of her siblings, particularly in such a brutal manner. Did she thank her lucky stars that her sister had banished her from court? I expect so. Mary's distance from court may well have saved her from being involved in such an awful series of events.
Conclusion
Mary is the perfect 'blank canvas' for a novelist because she is such a mystery. We know so little about her, so novelists can create a life for her and also create a relationship with her sister.
We know that Anne was angry with her in September 1534 and we know that Anne's actions led to Mary being put in a difficult position financially. There was obviously anger and upset, but this is not evidence of an ongoing battle between the sisters and they may well have become reconciled anyway. As much as I'd love to write an in-depth article on the relationship between these two women, all I can do is relate the facts that we have and these do not really help to build a picture of their relationship. Sorry!
For more on Mary Boleyn, you can read my article Mary Boleyn – One Big Boleyn and Sarah Bryson's book Mary Boleyn: In a Nutshell. You can also use the Google search box (in the right hand menu) and the Caregories section (in the left hand menu) to browse The Anne Boleyn Files for more articles on the Boleyns.