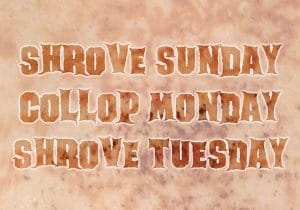 Today is Shrove Sunday, the seventh Sunday before Easter and the beginning of Shrovetide. Shrovetide comprises three days: Shrove Sunday, Collop Monday and Shrove Tuesday.
The word "Shrove" comes from "shriving", the confession of sins and the receiving of absolution for them, and Shrovetide was time to prepare for Lent and the last opportunity to have some fun and enjoy the foods that would be forbidden during the six and half weeks of Lent. During Lent, meat, eggs, cheese and sexual relations were all forbidden.
Collop Monday, a 'collop' being a piece of fried or roasted meat, was the time to use up meat before Lent so why not treat yourself to some collops of bacon tomorrow, knowing that you're following a centuries' old tradition?
Shrove Tuesday, the last day before Lent, was marked with court celebrations and entertainment such as jousting, plays, music and masques. Alison Sim, in Pleasures and Pastimes in Tudor England describes one Shrovetide entertainment, "threshing the cock", which consisted of tethering a cock and then people trying to kill it by throwing things at it. A prize was given to the person who killed it. Sim also writes of how "sometimes the cock was buried with just its head sticking out of the ground and then blindfolded people would try to kill it with a flail." Awful!
Thomas Tusser wrote of this in Elizabeth I's reign:
At Shroftide go shroving, go threshe the fat hen
If blindfold can kill her, then give it thie men.
I'll be talking more about Shrove Tuesday on Tuesday.
(This article is based on articles I've done over the years for The Anne Boleyn Files and Tudor Society.)