Q&A with Fleur Keith, Anne Boleyn actress
Posted By Claire on September 21, 2015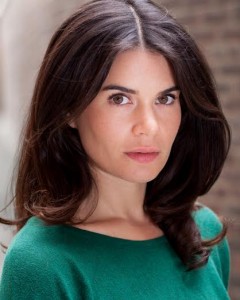 Fleur Keith plays Anne Boleyn in "I Am Henry", a​ British short film written and directed by Jan Hendrik Verstraten. The film is set in the hour of King Henry VIII's death and one of the most dramatic and emotional scenes is when Anne Boleyn's ghost appears to Henry VIII and gives an account of her last hours alive so Jan and I thought it would be interesting for Anne Boleyn Files followers to come up with some questions for Fleur. Thank you to everyone who participated. Fleur has chosen some questions to answer and here they are…
Richard Thompson: I am always intrigued as to how one approaches playing such a character, there are various different accounts of Anne, some of which are mostly slanderous propaganda, how did you go about finding the person behind the myths?
Fleur: When I researched Anne Boleyn, I referred to historical books and novels written about her, documentaries, and I even referred to the Anne Boleyn Files to see what her fans say about her. Doing this allowed me to discover her characteristics, what actions she made and why, and how other people reacted to her at the time.
However, as you rightly say, there are so many contradictions in the literature about her, so it was important to find a balance. Separating fact from fiction is tricky and I had to make a decision by finding the human element to her.
Nicholas Higgs: Where did the filming of 'I Am Henry' take place? I wish you all the best for the future.
Fleur: Thank you for your kind words Nicholas. We filmed in the crypt at St Mary Magdalene Church in Paddington, London. It was an incredible space to film in. It was really dark and a lot of the shots were candlelit, which helped to give the sense of the time. It had beautiful stained glass windows, and wonderful carved doors. I think it's quite a popular spot for filming – parts of Les Misérables were shot there, and I saw it pop up in a television drama recently.
Anne Barnhill: Oh, this is so exciting! I can't wait until the film is available to the general public. My question is: What was the most difficult part of this role?
Fleur: Thank you for your support Anne! In the film we see Anne Boleyn after death confronting Henry. I suppose the most difficult aspect of the film was controlling her feelings towards Henry; finding the balance between the hatred and the love she felt for him after this time.
Kylar: Greetings. My question is What was your favourite aspect of the role?
Fleur: Anne experiences so many contrasting emotions in the film, and it was fantastic to have so much to get my teeth into. In the morning on set I'd be playing her going to her death and in the afternoon remembering how happy she and Henry were.
Maria: My question is: If you could go back and say anything to Anne Boleyn, what would you say or ask?
Fleur: Beware Cromwell.
Barbara: I am interested in her and her life, and if you could offer any information on any books, files etc that I could read here in the USA it would greatly be appreciated. Thank you for your time.
Fleur: The most helpful book I used in my preparation was The Lady in the Tower by Alison Weir. She provides a thorough insight into Anne's downfall. I had the privilege of meeting Alison in 2011 when she came to see me perform as Anne Boleyn in a play.
Mrsfiennes: There have been so many portrayals of Anne on screen. What do you think you brought to the role that was different from everyone else?
Fleur: In my opinion there have been a lot of good portrayals of Anne and I wouldn't want to compare myself directly to any other actors. However, the script for "I Am Henry" feels very raw and truthful, and approaches the story from a different angle that we have never seen before. You'll just have to wait and see!!
Cheryl Esselman: What do you feel was Anne's greatest asset and liability?
Fleur: She was a powerful woman in a world where women were powerless, and I feel this was both her asset and in the end her greatest weakness.
Sweeling: Hello Fleur, did you believe that Anne was going downhill just by her own accord?
Thank you.
Fleur: The way that Anne meddled in affairs of State unfortunately earned her powerful enemies and tensions with Cromwell. However, I think that there were many contributing factors to Anne's downfall that were out of her control. For example, her failure to produce a male heir and Henry's roving eye at this time. The Anne Boleyn I was playing did not commit the crimes she was accused.
Morgan: Hello! I am curious what drew you to the part of Anne Boleyn? Was it the history and intrigue?
Fleur: Anne Boleyn is such an interesting character and I have always been intrigued by the period. Audiences will often have pre-conceived perceptions about Anne, and so it poses a unique challenge to an actor to offer the viewer something new and insightful.
Susan Leith: Miss Keith, was the wardrobe of the time challenging? Did it allow you to become more like Anne?
Fleur: Definitely. Stepping into costume really helps to embody a character. Wearing the tight corset and heavy fabrics affected me immediately – it slowed me down, tightened my breath and changed my posture. The dresses were beautiful but it was challenging at times – after long days of filming, I was happy to get out of the corset and back into much looser clothes!
David Leighr: Hello, My wife and I enjoy English broadcasting here in the states. We recently got the entire collection of Foyle's war and love it. We also get PBS and broadcasting of various accounts of British monarchs.
My question for you would be based on some stark portrayals of these historical figures or events. Do you feel the depictions are fair to the historic figure or events or as I heard it said, spot on. As with any historic figure, many are quite tragic and caught up in the time they lived. How do you feel about Anne and does your portrayal really cover her to your satisfaction? Here in the states I discovered too many biographic presentations are more for titillation than historic accuracy.
Fleur: It is incredibly important to be prepared before filming. On a film set you are against the clock, so all of your creative thinking has to be done beforehand. Therefore I absorbed myself in the different opinions people have about Anne Boleyn. I used the positive and negative words said about her, in order to embody her character and create my own interpretation of Anne. In order to play a character you have to like them, or at the very least find aspects of their personality you can relate to, and so you find all of their likable qualities and change how they react according to each situation. I don't want to give away too much about how I played her… I'm sure every subscriber of the Anne Boleyn Files has their own opinion about Anne, so it will be interesting to hear the consensus!!
Isabel: Dear Fleur, Thank you for doing this Q&A and for taking the role of Anne. Do you have a different perception of Anne now that you have "walked in her shoes" for a while? And of Henry? Again, thanks a lot!
Fleur: This was my second time playing Anne Boleyn, and I came at her character from a different angle this time. I first played her in 2011 in a play about Anne and her brother, George, which followed them from their teenage years, up until their deaths. It was interesting 'walking in her shoes' four years later. For the preparation of "I Am Henry", I focussed mainly on her downfall and all of the factors which contributed to her death. My perception of Henry did change because of this – I felt much more animosity towards Henry than I had done previously.
Sarah Hodge: I this seems like a really great opportunity! So exciting!! I recently completed some research on Anne Boleyn and the portrayal of her fall in period drama as part of my final year of school. I watched 10 period dramas and analysed how similar the period dramas portrayal was to contemporary historian opinion. I found that more recent ones were quite close in some elements to the contentions of historians and I'm just wondering how much that actually plays a part in the production process? What was your method of preparation for the role? Your process of character development? I have studied drama as a final year subject so I would find this interesting on both a research level and also just a general interest level. Thank you.
Fleur: There are some very good period dramas out there – I particularly enjoyed "Wolfhall" on the BBC earlier this year – perhaps you saw it too when you were doing your research.
I think it is important to reflect the historical echo, to achieve the facts, but ultimately it is a dramatic portrayal. "I Am Henry" is a drama set around the time of Henry's death, but I'm sure Jan Hendrik Verstraten (writer and director) will agree, the facts were very important to the script.
When preparing for a role, I research the period in detail so I know what events are occurring at the time. I then begin to look at the character – for Anne, there is so much information written about her. I think about her characteristics – she comes across as courageous, intelligent, driven, sophisticated, and so on. I like to know the character inside out before coming to the text, because then I can explore it deeper. Good luck with your course Sarah.
Thank you for all of your questions, I really enjoyed answering them.
Here's an exclusive image of Fleur as Anne Boleyn in the Tower: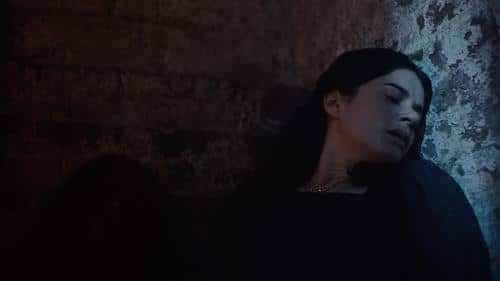 From "I am Henry" Facebook page: Fleur Keith trained at ArtsEd School of Acting, where she was nominated for the Spotlight Prize. Her professional debut was playing Anne Boleyn in a new play 'Fallen in Love' (Red Rose Chain/Camden Roundhouse).
Her television credits include 'The Night Manager' (BBC/AMC) which stars Tom Hiddleston and will be broadcast in the UK and US next year, 'The Missing' (Channel 4), 'Henry and Anne' (Channel 5) and popular British soap 'Emmerdale' (ITV). Her other work includes theatre, voice-overs and short films. Fleur is about to begin rehearsals for 'Waste' at the National Theatre in London, directed by Roger Michell (Notting Hill).
We auditioned many actresses to play the role of Anne Boleyn, but Fleur's acting talent and flawless delivery shone through. She is also a mezzo-soprano, and gets to sing a 16th century French song in the film.