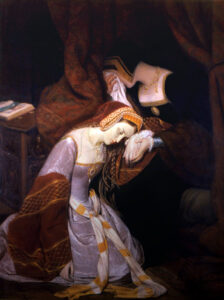 This week's #PortraitTuesday treat is a well-known 19th century Anne Boleyn portrait.
The Anne Boleyn in the Tower portrait dates to 1835 and was painted by French painter Édouard Cibot (1799-1877). It is housed in the Musée Rolin in Autun, Burgundy, France.
It's a beautiful painting and I have used it a lot here on the Anne Boleyn Files to illustrate posts about Anne Boleyn's time in the Tower of London in May 1536. I always wonder, though, which of the two women depicted in the painting is Anne. I'm inclined to choose the seated figure because of her black dress, black being an expensive colour of fabric, and also because she is wearing more jewellery. She just strikes me as more "queenly". What do you think?
I love the Book of Hours or Bible that you can see in the background, something that would have given Anne comfort in her last days.
You can click on the portrait to enlarge it.