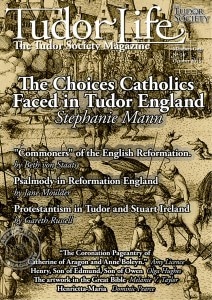 The October edition of Tudor Life magazine is out now! It's a huge 84-page edition with a special section on the Reformation. Articles this month include:
The "Commoners" of the English Reformation by Beth von Staats
The choices Catholics faced in Tudor England by Stephanie A. Mann
Psalmody in Tudor England by Jane Moulder
Henrietta Maria in Trouble by Dominic Pearce
"So much misery to our loving subjects" by Gareth Russell
Pomegranates and Falcons by Amy Licence
Henry, son of Edmund, son of Owen by Olga Hughes
Art and Religion in Tudor times by Melanie V. Taylor
Cromwell: Martyr or Mercenary? by Kyra Kramer
and much more! It's a great read for Tudor history lovers.
Click here to read a sample of the mgazine.
Tudor Society members get to read the whole magazine and have access to the archives of past Tudor Life issues, going back to September 2014. There are also lots of other benefits of membership: weekly videos, monthly expert talks and live chats etc. and you can find out more at www.tudorsociety.com/. I hope you enjoy the Tudor Society!