Posted By Claire on September 9, 2015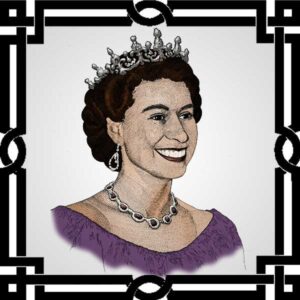 Today I'm delighted to be part of a tribute to our present queen, Queen Elizabeth II, who will later today (around 5.30pm) become Britain's longest reigning monarch, beating Queen Victoria's record of 23,226 days, 16 hours and 23 minutes. Please see the schedule at the end of this post to enjoy articles by other writers as part of this tribute.
Congratulations to Her Majesty the Queen on this amazing achievement, "Long may she reign"!
As I have written a book on kings and queens, Illustrated Kings and Queens of England, I wanted to share with you extracts on the top 5 longest reigning monarchs.
It was tricky making this list, with the fact that there are different lists according to whether you list them as monarchs of the kingdoms of the British Isles, monarchs of the UK etc. etc. so I have chosen to list the ones that sat on the throne of the kingdom of England the longest, regardless of whether it was pre- or post-union. Phew! So, let's get on with it…
1 – Queen Elizabeth II
Rule: 6 February 1952 – Present.
Elizabeth II was born Elizabeth Alexandra Mary on 21 April 1926 at 17 Bruton Street, Mayfair, the home of her maternal grandfather Claude Bowes-Lyon, 14th Earl of Strathmore and Kinghorne. She was known to her family as "Lilibet". Elizabeth and her sister Margaret were educated at home by governesses including Marion Crawford, known as "Crawfie". She married Prince Philip of Greece and Denmark, son of Prince Andrew of Greece and Denmark and Princess Alice of Battenberg, in November 1947 after he had renounced his Greek and Danish royal titles, taken on the surname Mountbatten and converted from Greek Orthodoxy to Anglicanism. The couple had been corresponding since Elizabeth was 13. They went on to have four children: Charles, Prince of Wales (married Lady Diana Spencer and divorced in 1996, married Camilla Parker Bowles in 2005); Anne, Princess Royal (married Mark Phillips and divorced him in 1992, married Timothy Laurence in 1992); Andrew, Duke of York (married Sarah Ferguson, now divorced), and Edward, Earl of Wessex (married Sophie Rhys-Jones).
Elizabeth became Queen of the United Kingdom and the Commonwealth Realms on 6 February 1952, after the death of her father George VI. She is still the reigning monarch and her other titles include Paramount Chief of Fiji, Duke of Normandy, Lord of Mann and Supreme Governor of the Church of England.
Elizabeth II celebrated her Diamond Jubilee in 2012, marking her 60th year as queen. She is the longest living monarch (Queen Victoria is in second place, having lived to 81 years and 243 days) and her eldest son Charles is the longest-serving heir apparent in British history.
Elizabeth II's reign has seen the continuation of the dissolution of the British Empire and the subsequent formation of the Commonwealth of Nations.
2 – Queen Victoria
Rule: 20 June 1837 – 22 January 1901
Length: 23,226 days (63 years, 216 days) 16 hours and 23 minutes.
Queen Victoria was born Alexandrina Victoria on 24 May 1819 at Kensington Palace and was the the only child of Prince Edward Augustus, Duke of Kent and the fourth son of George III, and Princess Victoria Mary Louisa of Saxe-Coburg-Saalfeld, Duchess of Kent. She was known as "Drina" by her family.
Her father died when she was just 8 months old and she was brought up at Kensington Palace by her mother, who, along with her comptroller Sir John Conroy, devised a rigid system of upbringing, known as the Kensington System, to control Victoria and isolate her from the outside world. When Victoria became queen in 1837, her mother and Conroy expected her to be completely dependent on them, but she rebelled against them and took control of her own life. She was crowned queen at Westminster Abbey on 28 June 1838. Salic law prevented her ruling Hanover and so the crown passed to her uncle who became King Ernest Augustus I.
During the first few years of her reign, she was influenced by Lord Melbourne, the Whig Prime Minister, who she probably viewed as a father figure. His influence ended on her marriage to her cousin Albert of Saxe-Coburg Gotha on 10 February 1840. The couple's first child Victoria (married Frederick III of Prussia) was born in November 1840 and Victoria went on to have eight more children: Albert Edward (the future Edward VII), Alice (married Louis IV, Grand Duke of Hesse), Alfred (married Grand Duchess Maria Alexandrovna of Russia), Helena (married Christian of Sonderburg-Augustenburg), Louise (married John Douglas Sutherland Campbell, 9th Duke of Argyll, Arthur (married Princess Louise Margaret of Prussia), Leopald (married Princess Helena of Waldeck and Pyrmont) and Beatrice (married Prince Henry of Battenberg).
Victoria was devastated when Prince Albert died of typhoid fever in December 1861 and wore black for the rest of her life. She also withdrew from public life, preferring to spend her time at Balmoral, Osborn House or Windsor Castle, away from the public eye. As well as being in a permanent state of mourning, Queen Victoria had Prince Albert's clothes laid out very day for forty years after his death.
Victoria was the last monarch of the House of Hanover. Her reign is known for the incredible change and progress of the Victorian era, the expansion of the British Empire – making Britain the most powerful country in the world, Victoria being the first Empress of India of the British Raj, the various attempts on the Queen's life, the rumours of an affair with her personal servant John Brown which caused her to be known as "Mrs Brown", her Golden Jubilee and the Jubilee Plot (a failed assassination attempt by Irish Nationalists), and the way that she married off her children and grandchildren to European royals, giving her the name "the Grandmother of Europe".
Queen Victoria died on 22 January 1901 at Osborne House on the Isle of Wight; she was 81 years old. She was buried in the royal mausoleum at Frogmore House, in Windsor Great Park, beside Prince Albert.
3 – King George III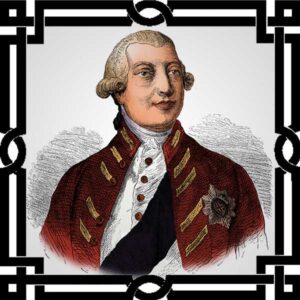 Rule: 25 October 1760 – 29 January 1820
Length: 59 years, 96 days
George III was born on 4 June 1738 at Norfolk House in London and was the eldest son of Frederick, Prince of Wales, and Princess Augusta of Saxe-Gotha. He was the grandson of George II and succeeded him because Frederick, Prince of Wales, died in 1751. His father, who he loathed, had died when he was 12 so he was influenced by his tutor John Stuart, Earl of Bute. It was Bute who recommended he marry Charlotte Sophia of Mecklenburg-Strelitz, which he did in September 1761. The marriage was successful, with the couple having 15 children and appearing devoted to each other. They had 9 sons and 6 daughters including George IV; Frederick, Duke of York and Albany; William IV; Charlotte (married King Frederick of Württemberg); Edward, Duke of Kent and Strathearn (father of Queen Victoria); Augusta Sophia; Elizabeth (married Frederick VI, Landgrave of Hesse-Homburg); Ernest Augustus I of Hanover; Augustus Frederick, Duke of Sussex; Mary, Duchess of Gloucester and Edinburgh; Sophia and Amelia.
His early reign was marred by disagreements over the Seven Year's War. George's ex tutor, the Earl of Bute, became the chief minister in government, replacing the Duke of Newcastle and the Whigs. and the Treaty of Paris, which he negotiated in 1763, was met with opposition due to the concessions made to Spain and France, including the return of some territories. Bute resigned and the Whigs returned to power.
His reign is known for the loss of the American colonies as a result of the American Revolutionary War and the 1776 Declaration of Independence. The colonies saw George as a tyrant and accused him of a long list of crimes against them. However, Britain was victorious in wars with France. After the French Revolution of 1789 and the overthrow of the monarchy there, France declared war on Great Britain and threatened to invade, this was knocked on the head by Nelson's victory at the Battle of Trafalgar against the French navy. Trouble with France lasted until 1815 when Napoleon was defeated by the coalition forces led by the Duke of Wellington. George's reign was also known for the British Agricultural Revolution.
George had a keen interest in politics, but in 1788/9 he suffered some type of mental breakdown, possibly as a result of porphyria, and left things to William Pitt the Younger, his Prime Minister. It was Pitt who was largely responsible for the Act of Union of 1800, which came into effect in January 1801, and was his way of dealing with unrest in Ireland. This act united Great Britain and Ireland as the United Kingdom of Great Britain. In 1801 George suffered a further mental collapse, and then again in 1804 and 1810, and by 1810 he was also suffering from severe catarachts, deafness and rheumatism. His mental state was exacerbated by the death of Princess Amelia in 1810 and in 1811 a regency act was passed making his son Prince Regent. George spent his final years in seclusion at Windsor Castle and died on 29 January 1820 after falling into a coma at Christmas 1819. He was buried in February 1820 in St George's Chapel Windsor Castle.
4 – Henry III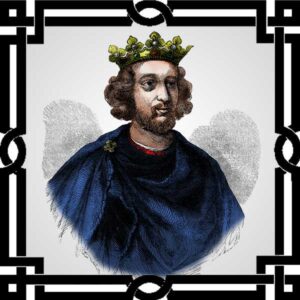 Rule: 18 October 1216 – 16 November 1272
Length: 56 years, 29 days
Henry was born on 1 October 1207 at Winchester Castle and was the son of King John and Isabella of Angoulême. He inherited the throne at the age of 9 and is one of England's longest reigning monarchs. He was crowned on 28 October 1207 at Gloucester Abbey and inherited a kingdom troubled by civil war (the First Barons' War). His father had appointed a council and had chosen William Marshal, 1st Earl of Pembroke, to help Henry in his minority. When Marshal died in 1219, Hugh de Burgh took over as Regent until Henry assumed control in January 1227.
Henry's priority was the restoration of the French territories lost in his father's reign. However, his French campaigns were costly failures, and these, combined with his plans to exort money from the clergy in order to pay the Pope for his acquisition of Sicily, led to further trouble with the barons of England. The barons, led by Simon de Monfort, 6th Earl of Leicester, revolted in 1258, insisting on reform, and this led to Parliament passing the Provisions of Oxford, which created a council of 15 elected by the barons to rule alongside the King. This constitution was replaced in 1259 by the Provisions of Westminster. Henry repudiated the Provisions by papal bull in 1261 and so civil war broke out again in 1264. Henry, his queen and his son Edward were taken prisoner by Simon de Montfort and the rebel barons and de Montfort took control of government.
In May 1265, Henry's son Edward escaped and joined forces with the Earl of Gloucester. In August, the two men met de Montfort and his army at the Battle of Evesham. De Montfort was killed and his forces defeated. Henry was released and restored as king, but Edward, as Steward of England, took more control.
Henry was married to Eleanor of Provence and they had five children: Edward I; Margaret, Queen of Scots; Beatrice, Countess of Richmond; Edmund Crouchback, 1st Earl of Leicester and Lancaster, and Katherine.
Henry died on 16 November 1272 at Westminster and was buried at Westminster Abbey.
Edward III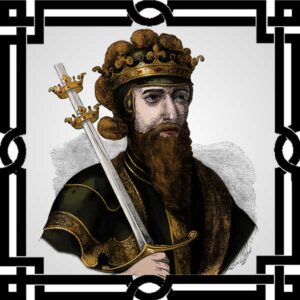 Rule: 25 January 1327 – 21 June 1377
Length: 50 years, 147 days
The 14 year-old Edward III took over as King of England when his father Edward II abdicated in 1327 and was crowned on 1 February 1327. His mother Isabella acted as regent, helped by her lover Roger Mortimer, until 1330 when Edward rebelled against Mortimer and had him executed, while Isabella was put under house arrest. Edward then assumed control of England in his own right.
There was trouble with Scotland in Edward's reign, with English nobles known as "the Disinherited" organising an invasion to reclaim the lands they had lost. Their aim was to replace David II of Scotland with Edward Balliol. With Edward III's support, they were victorious and David was forced into exile. In 1337 Edward's refusal to pay homage to the French king Philip IV led to Philip confiscating Aquitaine from Edward. In response, Edward laid claim to the throne of France and invaded in 1339, sparking off a series of wars known as the Hundred Years War. Edward defeated France at the 1346 Battle of Crécy and his son, Edward the Black Prince, was victorious at Poitiers in 1356, capturing John II, King of France. In 1360, Edward agreed to the Treaty of Brétigny, which ended the first phase of the war and which saw Edward renouncing his claim to the French throne in return for a large amount of northern and western France. Trouble broke out again in 1369, when Edward's son, John of Gaunt, invaded France and the Treaty of Bruges meant that England lost most of its territories in France and was left with Calais, Bordeaux and Bayonne.
In contrast to his father, Edward III is known as the one of the most successful monarchs of England's Middle Ages. His achievements included legislation like the 1351 Statute of Labourers, the Statutes of Provisors and Praemunire, the Treason Act of 1351, and the development of the existing Parliament with an elected "speaker" representing the Commons. Edward III also created the Order of the Garter in 1348.
Edward was married to Philippa of Hainault and the couple had thirteen children, including Edward the Black Prince; Lionel of Antwerp, Duke of Clarence; John of Gaunt, 1st Duke of Lancaster; Edmund of Langley, 1st Duke of York, and Thomas of Woodstock, 1st Duke of Gloucester
Edward's wife Philippa died in 1369 and his mistress Alice Perrers, along with Edward's chamberlain William Latimer, began to dominate the King. Latimer was eventually dismissed and Alice banished, and John of Gaunt began to take control as Edward began to suffer with senility and ill-health. Edward died at Sheen Palace on 21 June 1377 from a stroke. Edward's eldest son, Edward the Black Prince, was already dead, having died in 1376, so the throne was passed to Richard, son of the Black Prince.
Queen Elizabeth II Tribute
Enjoy more tributes to Elizabeth II with the following writers and websites:
9 September – Claire Ridgway "The Top Five Longest Reigning Monarchs" at The Anne Boleyn Files (this post), Sandra Vasoli "The Coronation Jewels Worn by Queen Elizabeth II" at queenanneboleyn.com, and Beth von Staats "Elizabeth II: Queen of 'The Greatest Generation' at queenanneboleyn.com
10 September – James Peacock "My Dear Paradise in the Highlands" at queenanneboleyn.com
11 September – Deb Hunter (also known as Hunter S Jones) "Mourning and Magic in the Victorian Era" at huntersjones.com
Did you know that the longest serving ruler of all time is King Sohuza, of Swaziland? He ruled his kingdom for 82 years and 254 days (10 December 1899 to 21 August 1982), becoming king when he was just four months old. He had seventy wives and two hundred and ten children.
All text and images used in this post are copyright MadeGlobal Publishing.