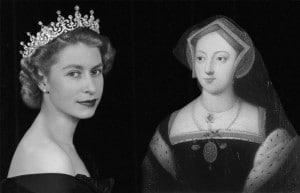 I've had a few people ask why I, as an owner of an Anne Boleyn website, have been involved in a tribute to Queen Elizabeth II on the day she became Britain's longest reigning monarch.
Well, there are three answers to the question:
I'm British and I have the greatest respect for my royal family, so wanted to pay tribute to Her Majesty's achievement.
I know that many of my followers are interested in British history and Birtish royalty.
Queen Elizabeth II is descended from Mary Boleyn, sister of Anne Boleyn.
I thought you might be interested in how Queen Elizabeth II is descended from Mary Boleyn, so here is the line of descent and I hope you find it interesting:
Mary Boleyn (d. 1543) m. William Carey
Catherine Carey (c.1524-1569) m. Sir Francis Knollys
Lettice Knollys (1543-1634) m. Walter Devereux, 1st Earl of Essex
Robert Devereux, 2nd Earl of Essex (1565-1601) m. Frances Walsingham
Frances Devereux (1599-1674) m. William Seymour, Duke of Somerset
Jane Seymour (1637-1679) m. Charles Boyle, 3rd Viscount Dungarvan
Charles Boyle, 2nd Earl of Burlington (d. 1704) m. Juliana Noel
Richard Boyle, 3rd Earl of Burlington (1695-1753) m. Dorothy Savile
Charlotte Elizabeth Boyle (1731-1754) m. William Cavendish, 4th Duke of Devonshire
Dorothy Cavendish (1750-1794) m. William Cavendish-Bentinck, 3rd Duke of Portland, Prime Minister
Lieutenant-Colonel Lord Charles Bentinck (1780-1826) m. Anne Wellesley (Lady Abdy)
Reverend Charles Cavendish-Bentinck (1817-1865) m. Carolina Louis Burnaby
Cecilia Nina Cavendish-Bentinck (1862-1938) m. Claude Bowes-Lyon, 14th Earl of Strathmore and Kinghorne
Elizabeth Bowes-Lyon, Queen Elizabeth the Queen Mother (1900-2002) m. King George VI
Queen Elizabeth II (1926- ) m. Prince Philip of Greece and Denmark, now known as Prince Philip, Duke of Edinburgh
Trivia: Princes William and Harry are descended from Mary Boleyn not only through Prince Charles, but also through their mother's Spencer family ancestry.