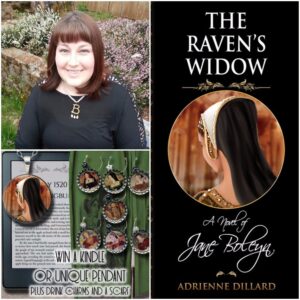 I'm honoured to host my dear friend and fellow MadeGlobal Publishing author, Adrienne Dillard, on the Anne Boleyn Files today. I've known Adrienne for a few years now, due to our mutual fascination with the Boleyn and Carey families, and I'm so excited for her about the recent release of The Raven's Widow: A Novel of Jane Boleyn. It's wonderful to see an alternative to the horrible, scheming Jane that we usually see in fiction – thank you, Adrienne!
Adrienne is here as part of her book tour for The Raven's Widow. MadeGlobal Publishing is giving away a copy of the book at each stop and there is also a big prize on offer – scroll to the bottom for details.
Over to Adrienne!…
When it comes to Tudor history, there is one phrase I hear over and over when it comes to anyone other than Henry VIII or his six wives: "What we know about (fill in the blank) would fill no more than a postcard." This is certainly true for most people, but there is actually more out there about Jane Boleyn, Lady Rochford, than you would expect. As you look over this list, you will see many facts that you probably already know, but there may be some that are brand new to you. I know I was very surprised when I stumbled across a few of these! Hope you enjoy!
1. Jane's Siblings
We have documentation for four of Jane's siblings. Her eldest brother, Henry Parker, served in the king's household and was created a Knight of the Bath on the eve of Anne Boleyn's coronation. He married Grace Newport and then Elizabeth Calthorpe. Jane's sister, Margaret appears to have been younger, but, as with all of the Parker children, we have no date of birth. She married Sir John Shelton. There is no record that her brother, Francis ever married, but he did live long enough to be granted property along with their father in the 1520s. The last sibling, Elizabeth, disappears from the records after birth.
2. Chateau Vert
On March 4, 1522, Jane appeared in a pageant at Cardinal Wolsey's palace of York to celebrate Shrove Tuesday. Jane and the two young women who would become her sisters-in-law, Mary and Anne Boleyn, were joined by a few other damsels of the court to portray the womanly virtues of Constancy, Kindness, and Perseverance, respectively. Though a Mistress Parker is listed in the records concerning the Field of Cloth of Gold meeting in France in 1520, this is the first time we can officially pinpoint Jane at court.
3. Jane's Jointure
Jane's jointure was signed on October 4, 1524. While it doesn't give us a specific date for her marriage to George, the date on her jointure can help us pin it down; particularly when we consider that the Eltham Ordinances, drawn up in the autumn of 1525, notes the payment allotted to "Young Boleyn and his wife." When we figure in the holy holidays in the religious calendar, we arrive at a wedding date of November 1524 or in the very early months of 1525, after Epiphany and before Easter. Jane's jointure amounted to 2,000 marks – part contributed by her father, Lord Morley, and the rest made up with funds from the king.
4. New Year Gifts
In 1532, Jane gave King Henry VIII four caps for New Year; half were made of satin and half were made of velvet, two of them trimmed with gold buttons. That same year, George gave the king two gilt daggers hung on velvet girdles.
5. Visit to France
In October 1532 Jane accompanied Anne Boleyn, by then Marquess of Pembroke, across the channel to meet Francis I in France. On the third night in Calais, a banquet was held to fete the French King. After the meal, Jane danced in a masque that featured both of her sisters-in-law.
6. Both she and George were godparents to her brother's children.
The Miscellanea Genealogica Et Heraldica lists the entries of births in the family of Parker from 1533 to 1546. The original source for the information is from a Latin Bible formerly in the library of the late Rev John Fuller Russell, possibly a descendant of the Russell family. Jane (awnt to the sayd Henry Parker) is listed as godmother to her brother's heir, the third Henry Parker, born August 21, 1533. The next year, "the Lord Rochford" is listed as godfather to Henry Parker's first daughter, Alice, born October 8, 1534. Since this is post-1529, we know that the lord referred to is George Boleyn. Two more sons, Thomas and Charles, are born in 1535 and 1537, respectively. Then Jane is again listed as godmother to the next child, Mary Parker, born June 14, 1538. The second Henry Parker seems to have stuck to the tradition of naming his children after their godparents. His heir is named for both father and grandfather – Lord Morley served as co-godparent with Jane. Alice is named for her grandmother, who served as co-godparent with George. Thomas is named for his godfather, Sir Thomas Audley, and Mary is named for her godmother, Mary Howard, the Duchess of Suffolk. A daughter born after Jane's execution is named Amy after her grandmother/godmother, Amy Calthorpe. The only child not named in this manner is Charles, whose godfathers are Sir Francis Bryan and Sir John Russell.
7. Queen Anne's Coronation
When Anne Boleyn processed through London from the Tower to Westminster on the way to her coronation, Jane followed along behind her just after the Lord Chamberlain and Anne's Master of the Horse. This position was far above what her rank as Viscountess entitled her to and placed her higher than the queen's sister, Mary. There is no explanation for why her position was so prominent, but perhaps it was because she enjoyed a much closer relationship with Anne than history has portrayed.
8. Banishment
In the autumn of 1534 the Imperial Ambassador, Eustace Chapuys, wrote a missive to the Emperor detailing Jane's involvement in a "conspiracy" to quarrel with another woman at court who had caught the king's attention. It's not clear who all was involved in the conspiracy; it may have been just Anne or could have included more members of the Boleyn family. Regardless of the participants, it was Jane who was punished when the plan backfired. It is at this point that Jane disappears from court, not to return until the spring of the following year. It's not clear where Jane lived during this time, but some historians have theorized that she stayed at the palace of Beaulieu.
9. Intellectual Pursuits
At some point before August 1535, Jane became patroness to one William Foster, a scholar at King's College, Cambridge. Subsidising the education of a scholar was not something that was unique, many of the great ladies of the nobility did it, but perhaps Jane was inspired by her father's love of learning when she decided to become Foster's patroness.
10. Letter to Master Kingston
Shortly after her husband was imprisoned in the Tower of London on charges of incest with the queen, Jane wrote a letter to the Constable of the Tower asking how George fared. She asked Kingston to assure George that she would attempt to intercede with the king on his behalf. It's not clear whether Jane was able to make good on her intentions; but her promise provided at least a sliver of comfort to her husband, who asked Kingston to reply with his thanks.
Bonus Fact! Jane's Property
After Jane's arrest, the king's ministers took an inventory of her goods, just as they did with all traitors to the crown. This list included several jewels: a black enamelled brooch with six diamonds, an agate brooch, and a gold brooch. However, the most telling item in the collection was something rather more ordinary. Among the clothing, jewels and other accoutrements for proper court attire, we find a piece of furniture: a wooden bed with Rochford knots, complete with its original yellow and white silk and sarcenet furnishings. This was Jane's marriage bed. It may not seem like such a big thing, it's only a bed after all, but you have to remember that this particular bed was confiscated after George's execution. He was a traitor, and all of his goods were forfeit to the crown. When Jane petitioned Thomas Cromwell for his assistance in claiming her jointure lands, she also asked him to petition the king for George's plate and bedding. Judging by the final inventory of Jane's own property, she was successful in securing their return and – most importantly – she kept them. These household furnishings would have been very valuable; it would have been tempting for Jane to sell them during her meanest years, but she never did. These objects could have reminded her of happier times with her late husband. Perhaps the Rochford marriage wasn't as miserable as history would have you believe.
As I said, MadeGlobal Publishing is offering a copy (paperback) of Adrienne's novel as a giveaway prize at each book tour stop. To be in with a chance of winning, simply comment on this post saying which other historical personality you'd like to be given a fresh depiction or rehabilitated in a novel. A winning comment will be picked at random and the winner notified by email. Comment before midnight on Friday 7th April.
Good news – There's another giveaway too! If you go to https://www.madeglobal.com/giveaways/ravens-widow-giveaway/, you can enter a giveaway to win your choice of either a kindle e-reader or a bundle of goodies (a beautiful Jane Boleyn pendant, Henry VIII & Six Wives drink charms, and a Henry VIII and Anne Boleyn scarf.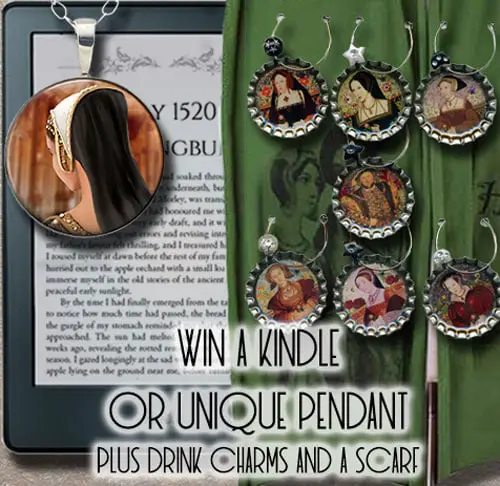 Do make sure you catch up with Adrienne at her other book tour stops! Here's the schedule: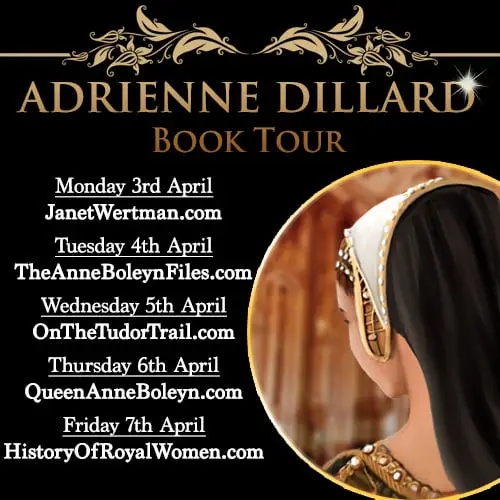 Adrienne Dillard, author of The Raven's Widow: A Novel of Jane Boleyn is a graduate with a Bachelor of Arts in Liberal Studies with emphasis in History from Montana State University-Northern. She has been an eager student of history for most of her life and has completed in-depth research on the American Revolutionary War time period in American History and the history and sinking of the Titanic. Her senior university capstone paper was on the discrepancies in passenger lists on the ill-fated liner and Adrienne was able to work with Philip Hind of Encyclopedia Titanica for much of her research on that subject. Her previous works include best-selling novel,"Cor Rotto: A Novel of Catherine Carey" and "Catherine Carey in a Nutshell" for MadeGlobal's History in a Nutshell series. When she isn't writing, Adrienne works as an administrative assistant in the financial services industry and enjoys spending time with her husband, Kyle, and son, Logan, at their home in the Pacific Northwest.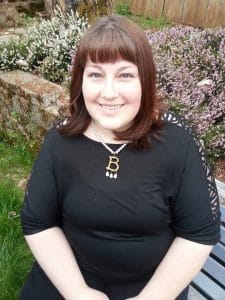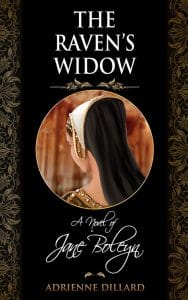 Connect with Adrienne here:
https://adrienne-dillard.com/
Twitter @ajdillard81
Notes and Sources
Hamilton, Adams & Co, ed. (1886). Miscellanea Genealogica Et Heraldica
Fox, Julia (2007). Jane Boleyn: The Infamous Lady Rochford
Letters & Papers of Henry VIII