Posted By Claire on April 7, 2017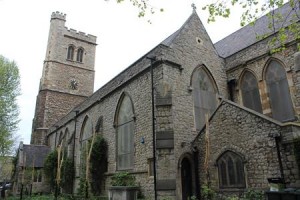 On this day in history, 7th April 1538, Elizabeth Boleyn, Countess of Wiltshire and Ormond and mother of the late Queen Anne Boleyn, was laid to rest at St Mary's Church, Lambeth, in the chancel. She had died four days earlier at the Abbot of Reading's home near Baynard's Castle in London.
In a letter to Lady Lisle, John Hussey recorded Elizabeth Boleyn's funeral procession:
"My lady Wiltshire was buried at Lamehithe on the 7th. My lord Comptroller was chief mourner of the men and lady Dawbny of the women. She was conveyed from a house beside Baynard's Castle by barge to Lambeth with torches burning and four baneys (banners?) set out of all quarters of the barge, which was covered with black and a white cross. At her burial was the King of Heralds, a herald, and a pursuivant."1
The "lord Comptroller" and "lady Dawbny" who acted as chief mourners were Sir John Russell and Katherine Howard, Lady Daubenay, Elizabeth Boleyn's half-sister.
Elizabeth's resting place was once marked by a brass plate inscribed "Here lyeth the Lady Elizabeth Howard, some time Countess of Wiltshire" but that no longer exists.2
St Mary's Church, Lambeth, was saved from demolition in the 1970s by the Garden Museum which had been set up to preserve the tomb of John Trescant (c.1570-1638), the famous botanist and gardener who was buried at the church. The Howard Chapel of the church is now the museum's cafe, but all the tombs of the Howard family, Elizabeth's relatives, have been preserved under the cafe's wooden floor so they're all safe.
Here is a slideshow of photos I took at Lambeth in May 2013 showing the exterior of Lambeth Palace (the red brick building) and the exterior and interior of the Garden Museum (formerly St Mary's Church), where Elizabeth is buried.
[slideshow id=580 w=450 h=300]
Notes and Sources
Letters and Papers, Foreign and Domestic, Henry VIII, XIII Part 1, 717.
Nichols, J (1786) History of the Parish of Lambeth.