2 February 1550 – Sir Francis Bryan dies
Posted By Claire on February 2, 2017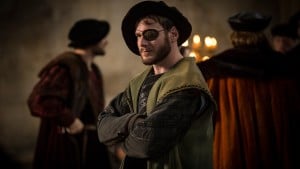 On 2nd February 1550, in the reign of King Edward VI, the courtier, diplomat and poet nicknamed "the Vicar of Hell", Sir Francis Bryan, died suddenly at Clonmel in County Tipperary, Ireland.
Sir Francis Bryan was born c.1490 and was the first surviving son of Sir Thomas Bryan and Lady Margaret Bryan (née Bourchier). His mother served Queen Catherine of Aragon as a lady-in-waiting and then served as governess to Henry VIII's children, Mary, Elizabeth and Edward. Lady Bryan was related to Anne Boleyn, being the half-sister of Elizabeth Howard, Anne's mother.
Bryan was a court favourite and became a gentleman of the Privy Chamber in 1518, only to lose his position in Cardinal Wolsey's purge in 1526. He regained it in 1528. He lost one eye on 7th February 1526, at the Shrovetide joust at Greenwich – click here to read more.
Bryan served Henry VIII as a diplomat during the king's 'Great Matter', but in May 1536 he was called to London to be interrogated as part of the 'investigations' during Anne Boleyn's fall. Bryan was allied with the Seymours by this point and some see his interrogation as a ruse to add credibility to the proceedings; he was not imprisoned.
He served as ambassador at Francis I's court in 1538, as Vice-Admiral in 1543 and as ambassador to Charles V in 1543. He made Ireland his home following his marriage to his second wife, Joan Butler, Dowager Countess of Ormond, in 1542. He was made Knight-Banneret in 1547 for his role in the expedition against the Scots as commander of the horse and then appointed Lord Marshal in January 1549, leading Edward VI's forces in Ireland. He was made Lord Justice in December 1549. He travelled to Tipperary as Lord Justice "to check the incursions of the O'Carrolls" but died there on 2nd February 1550. His last words were said to be: "I pray you, let me be buried amongst the good fellows of Waterford (which were good drinkers)."
You can read more facts about this interesting man in my article Sir Francis Bryan, the Vicar of Hell.
Today is Candlemas, the Feast of the Presentation of Christ in the Temple and the Purification of the Blessed Virgin, and the end of the Christmas season. You can click here to find out more about it.
Image: Felix Scott as Sir Francis Bryan in BBC's "Wolf Hall".