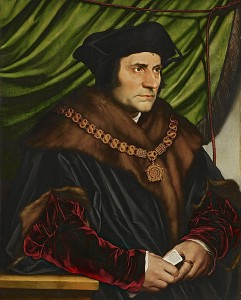 Today is the anniversary of the birth of Sir Thomas More, lawyer, philosopher, humanist, scholar and Henry VIII's Lord Chancellor, on 7th February 1477 (or 1478).
More was born in Milk Street, London, and was the son of Sir John More, lawyer and judge on the King's Bench, and Agnes Graunger, daughter of Thomas Graunger, a merchant of the Staple of Calais and an alderman of London.
Sir Thomas More is known for his scholarly works, including Utopia, for his campaign against heresy, for his service to King Henry VIII as his advisor and Lord Chancellor, and for being executed in 1535 after refusing to take the Oath of Succession.
Click here to read an excellent article about Thomas More's life by author Beth von Staats.