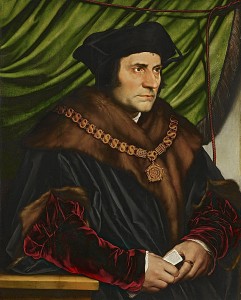 Today, Beth von Staats, author of Thomas Cranmer: In a Nutshell and creator of QueenAnneBoleyn.com, shares with us a biography of Thomas More.
And it was precisely in defence of the rights of conscience that the example of Thomas More shone brightly. It can be said that he demonstrated in a singular way the value of a moral conscience which is 'the witness of God himself, whose voice and judgment penetrate the depths of man's soul' (Encyclical Letter Veritatis Splendor, 58), even if, in his actions against heretics, he reflected the limits of the culture of his time.
— Pope John Paul II —
Apostolic Letter, Issued Motu Proprio, Proclaiming Saint Thomas More
Patron of Statesmen and Politicians.
Though dead for nearly 500 years, Saint Thomas More still elicits strong feelings from many people – hero to some, villain to others. Whether heralded a saintly heroic figure of great courage and strength of character by playwright Robert Bolt or vilified as a heretic-torturing and -burning zealot by novelist Hilary Mantel, Saint Thomas More generates passion in those who study him. Interesting given his staunch Roman Catholicism, perhaps Pope John Paul II actually had the most balanced view of this great Tudor historical figure. As His Holy Father correctly taught his flock and the world upon Saint Thomas More's appointment as Patron of Statesmen and Politicians in October 2000, this was a complex man of great moral character and strength of purpose whose actions reflected the morals and belief system of his time.
Saint Thomas More lived and died a man of the 16th century. To all living in 16th century Tudor England, there was only one true religion, all those disbelieving heretics. The problem became disagreement on what exactly the true religion was. In 16th century Tudor Era England and Wales, religion was serious business. Unfortunately for the subjects of the realm, just what religion one was to adhere to changed with the theological whims of the reigning monarchs and was particularly confusing during the reign of King Henry VIII. Overstep the mark of the king's ever changing religious philosophies, and a person would quickly become the victim of judicial murder.
During the course of King Henry VIII's reign, thousands of people were executed for belief in their chosen faiths. Roman Catholics with one notable exception, Blessed John Forest, were typically executed for treason, while evangelicals most commonly were executed for heresy. Were convicted Roman Catholics actually traitors or convicted evangelicals really heretics? Well that all depended on King Henry VIII's religious beliefs at any given point of his 37 year reign. What was treason or heresy today changed tomorrow. In world history's most bizarre example of the religious persecutions of monarchs, three Roman Catholics and three evangelicals were executed upon King Henry VIII's command for their religious beliefs on the heels of Thomas Cromwell's martyrdom – and yes he too was a religious martyr – all executed on the same day.
Thus, it was within this 16th century culture that Pope John Paul II refers to that Saint Thomas More laid down his gauntlet. His allegiance was to both the Roman Catholic papacy and his monarch, King Henry VIII, in that order. As More declared just before his execution, "I die the King's good servant, and God's first." Overstepping the mark by refusing to recognize King Henry VIII as Head of the Church of England, More was killed for his religious beliefs. One can't skirt that reality no matter how much some people condemn More's involvement in heresy burnings or his "colorful and vulgarity laden" written debates with Martin Luther and William Tyndale. Given every opportunity to escape his fate through capitulation, Saint Thomas More died because of his willful choice to remain true to his beliefs. Thus, Saint Thomas More is a legitimate Roman Catholic martyr as defined by the religious leaders of the faith he held fast to, his life prior to the day of his death preparation for his ultimate fate.
Born February 7, 1477, Saint Thomas More was the only surviving son of attorney and later Judge John More and his first wife, Agnes. More was the beneficiary of an exquisite education. In his childhood he attended Saint Anthony's School, a Roman Catholic "free" Grammar School within easy walking distance of his Milk St. home. Here More learned English, and more importantly to the era, Latin. At the age of twelve, through his father's influence, More became a page for the Archbishop of Canterbury, John Morton. The archbishop must have been highly impressed with the boy, because in 1492, Saint Thomas More entered Oxford University on scholarship, nominated by the Archbishop of Canterbury himself. Likely as the only son in his family, More remained only two years at Oxford, heralded back home by his father to attend the New Inn, London to study law.
Though Saint Thomas More's education at Oxford University was short-lived, his education at the Benedictine charged Canterbury College and perhaps also St. Mary's Hall influenced him profoundly. Beyond French, mathematics and history, More learned the liberal arts of grammar, rhetoric and logic, thus researching Aristotle, Boethisus, Priscian and Ovid through lecture and disputation. The focus upon formal oratory and public debate, commonly required to dispute both sides of any rhetorical question, served More throughout his lifetime, most poignantly upon his arrest for failure to take the Oath of Succession, and subsequent imprisonment, trial and execution.
At New Inn, London, Saint Thomas More studied common law, becoming a full member of the profession in 1502. While at New Inn, one of the Chauncey Inns of Court, and during his early law career, More also continued to pursue his literary and spiritual interests, further reading the classics and devoutly studying the Holy Bible. In addition, More studied extensively the Fathers of the Roman Catholic Church, lecturing on St. Augustine De civitate Dei and other topics. Torn between the laity and the ecclesiastical, More's beloved friend Erasmus teaches us that the king's most faithful servant lived near the Carthusian monastery outside the walls of London from 1502 to 1504. Here Saint Thomas More joined in the monks' spiritual exercises and worship services. Although More followed through with his law career and soon approaching career as an esteemed statesman, his devotion to serving penance through hair-shirts and self-flagellation continued throughout his lifetime.
In 1504, Saint Thomas More was elected to Parliament representing Great Yarmouth. Soon after in 1505, he married his first wife Joan Colt. Erasmus teaches us that More was committed to the education of women, this first evidenced by More's instruction to his younger wife in music and literature. Thomas and Joan More by all accounts enjoyed a loving marriage, their four children born to them, Margaret, Elizabeth, Cecily and John, all surviving to adulthood. Sadly, as all too common in the 16th century, the marriage was a short one. Joan More perished in 1511. Perhaps to ensure continued mothering of his children, Thomas More "against friends' advice and common custom", within a month married the widow of a wealthy friend, Alice Elrington. Whether the marriage was a happy one was disputed even by contemporaries. Even so, More lovingly raised Alice's daughter from a previous relationship as his own. All of Thomas More's children, including his step-daughter and also his ward Anne Cresacre, received exquisite educations typically available to solely male children of the nobility, the education of women then a novel concept.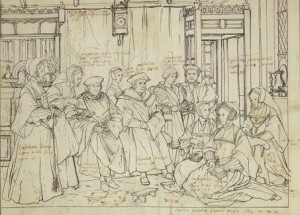 Steadfastly committed, Saint Thomas More grew as a Parliamentarian, by 1510 representing London. The same year, Thomas More was appointed an under-sheriff of the City of London, a role in which More's reputation as an honest and efficient public servant began to blossom. Through his outstanding regard as an effective Parliamentarian and the respect he earned as under-sheriff, Thomas More was appointed Master of Requests in 1514, the same year appointed as Privy Councillor to King Henry VIII. Talent scouted by Thomas Cardinal Wolsey in 1515, More accompanied King Henry VIII's Lord Chancellor to Calais and Bruges on a diplomatic mission to King Charles V, Holy Roman Emperor, to gain protection of the interests of English merchants. While abroad, More began composing the Latin language Utopia, a novel contrasting the sins and contentious behavior of contemporary European realms with his ideal of a reasonable way of life and governance in his fictional nation "Utopia". Concurrently, More also was in process of composing his unfinished works in both English and Latin, A History of King Richard III.
Upon Saint Thomas More's return to England, he completed his arguably most famous work Utopia, Erasmus publishing the book in Leuven in 1516. Though still very active in Parliament, Thomas More resigned his post as under-sheriff in 1519, becoming completely attached as a courtier of King Henry VIII at that time. By 1520, religious reformer Martin Luther published three works setting out his doctrine of salvation, attainable by Lutheran theology through grace alone, along with other controversial theological positions. King Henry VIII was irate, and with the assistance and possible ghost writing of Thomas More, Henry published a rebuttal entitled Assertio Septem Sacramentorum (Defense of the Seven Sacraments). Pope Leo X rewarded the king with the title "Defender of the Faith", a title British monarchs embrace to this day, albeit the separation from the papacy in Henry's reign.
By this time, Saint Thomas More was in great favor with the king, already appointed Under-treasurer of the Exchequer and knighted. Henry VIII's "intellectual courtier", secretary, close friend and confidant, Thomas More was elected Speaker to the House of Commons in 1523. He was further appointed Chancellor of the Duchy of Lancaster and High Steward of Cambridge University in 1525. Thus, More became increasingly influential over time, welcoming foreign diplomats, drafting documents for the king (perhaps including ghost writing), and serving as a go-between between the king and Thomas Cardinal Wolsey. By 1525, Thomas More's power neared its apex, him directing the activities of Parliament, stewarding the realm's most prestigious colleges, as well as holding both executive and judicial authority over the entire North of England.
Upon the heels of the stark and stunning fall of Thomas Cardinal Wolsey, Thomas More was offered the powerful position of Lord Chancellor of England and Wales in October 1529. Recently completing his work Dialogue Concerning Heresies, a fictional, humorously toned debate between More and a young college student with reformist views, More accepted the appointment — some historians projecting with King Henry VIII's assurance that he would not be compelled to act outside his conscience. Whether the king's reported assurances were fact or fiction, Thomas More entered into the most controversial years of his public service, Robert Bolt fictionally white-washing his years as Lord Chancellor, Hilary Mantel fictionally vilifying them.
Saint Thomas More, whom already aided Cardinal Wolsey in attempts to prevent the promulgation of Lutheran and evangelical works in the realm, also engaging in heated and colorful written deputation and debate with both William Tyndale and Martin Luther, viewed the beliefs of Lutherans and other evangelical reformers as a "call to war". Thus, with the support and approval of King Henry VIII, Thomas More was instrumental in the ultimate burnings of Thomas Hitton, Thomas Bilney, Richard Bayfield, John Tewkesbery, Thomas Dusgate and James Bainham. In the case of Tewkesbery, More observed, "He burned as there was neuer wretche I wene better worthy." It is further believed that More was instrumental "from afar" in the apprehension of William Tyndale, albeit Tyndale was judicially murdered via partial hanging and burning a year after his own demise. How close Thomas More came to apprehending Thomas Cromwell is lost to history, although it is factual truth that Lutheran works were being translated from German to English in Cromwell's home at the time.
Burning people for heresy was nothing new in Europe or in England and Wales specifically. Burning "heretics" became a customary practice as early as the 12th century throughout Europe, a statutory punishment as early as the 13th century. In 15th century England, those who followed the teachings of John Wycliffe and the Lollards were burned at the stake, religious persecution that continued for over 100 years, legitimized by the Fire and Faggot Act of 1414. In England even "already dead" people were burned, John Wycliffe exhumed and burned 30 years after his death. Over 30 burnings for heresy are verified to have taken place in the century leading to Thomas More's Lord Chancellorship, and they certainly did not conclude with his death. Consequently, it is no surprise that those that were condemned for heresy during More's Chancellorship were burned at the stake. It was sadly the expected and accepted punishment of the times.
Damning to Saint Thomas More's legacy is the view of Protestant contemporaries of John Foxe, the martyr diarist who proclaimed in his histories of the men condemned by Thomas More that torture was used to exact confessions. In Foxe's Book of Martyrs, Thomas More is stated to have exacted torture by his own hand during interrogations. Beyond Foxe's claims, there is no contemporary evidence of any kind identified by historians to validate torture tactics. An antagonistic source at best, readers need to acknowledge John Foxe's lack of objectivity for what it is, an historical accounting written from a biased Protestant perspective. Still, the "torture accusations" occasionally rear their ugly head, most recently in Hilary Mantel's admittedly fictional account in Wolf Hall, a literary choice that has justifiably sparked heated debate.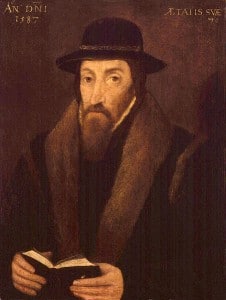 On May 16th, 1532, Saint Thomas More resigned his position of Lord Chancellor, turning in the Great Seal. Although some historians claim he feigned illness, no formal reason was given. This stated, the English Bishops submitted to King Henry VIII's authority, formally separating the Church of England from the papacy, the previous day. Retreating to the seclusion of his home in Chelsea, Thomas More wrote copiously in defense of the Roman Catholic Church, most pointedly Confutation of Tyndale's Answer. In addition, More composed A Letter impugnynge the erronyouse wrytyng of John Fryth against the Blessed Sacrament of the Aultare, Fryth already imprisoned in the Tower of London for his Eucharist views denying transubstantiation. Though More arrested Fryth for heresy, his condemnation would ultimately fall to the new Archbishop of Canterbury, Thomas Cranmer, and his successor, Thomas Audley. Perhaps a preclude of events yet to unfold, Thomas More chose not to attend the Coronation of Queen Anne Boleyn, feigning illness. King Henry VIII was angry at the perceived slight towards his new wife, already pregnant with what was hoped to be a healthy male heir.
In the hopes that neutrality and remaining silent would help his cause, Saint Thomas More spoke nothing of the king's separation from Rome and leadership over the clergy. Still, King Henry VIII included Thomas More's name in a Bill of Attainder introduced to Parliament against Elizabeth Barton, Holy Maid of Kent, and her supporters. Brought before a sub-committee of the Privy Council, More was repeatedly questioned regarding his perceived opposition to the king's separation from the papacy. In short, More side-stepped the question by simply stating he explained his views to the king directly with no displeasure. Given More's popularity and lack of evidence, his name was removed. Thomas Howard, Duke of Norfolk, subsequently warned More that he was in grave danger, adding "indignatio principis mors est."(The wrath of the high is death.) Thomas More famously replied, "Then, in good faith, between your grace and me is but this, that I shall die today, and you tomorrow."
Saint Thomas More was required to appear before a commission at Lambeth Palace on April 13th, 1534. The purpose of the inquiry was to request Thomas More to swear his allegiance to the Act of Succession. Although More accepted that Parliament held the right to declare Anne Boleyn Queen of England, he refused to take the Oath of Succession. In short, More publicly refused to take the oath due to his staunch belief in the papal supremacy of the clergy. He also publicly refused to agree with the appropriateness of King Henry VIII's annulment from Queen Catalina de Aragon, now known as the Dowager Princess of Wales in deference to her first marriage to the king's deceased older brother, Arthur, Prince of Wales.
After the commission meeting at Lambeth, Saint Thomas More, who earlier in the day informed his family of his likely arrest and imprisonment, was turned over to the Abbot of Westminster for safe-keeping. Four days later, he was formally arrested and imprisoned in the Tower of London. While imprisoned, More composed A Dialogue of Comfort Against Tribulation, a remarkable work exploring the quandaries associated with religious persecution, most pointedly how the lure and comforts of recantation as compared to the dread of torture and painful death if one remains true to faith create turmoil for the persecuted. Ironically, Thomas Cranmer was compelled to read More's thoughts while imprisoned in his final days of life, perhaps strengthening Cranmer's resolve in his final hour. In addition, More engaged in extensive letter writing, most significant to his legacy, corresponding regularly with his daughter, Margaret Roper. These letters survive, a gift to historians attempting to research his imprisonment and world views.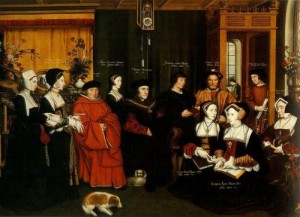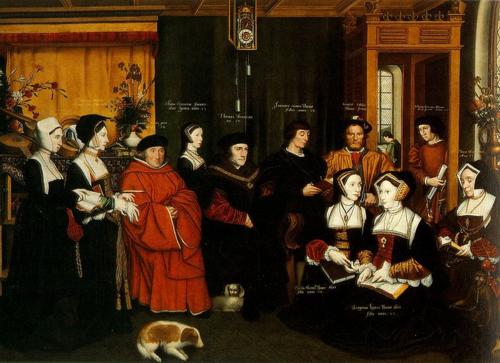 In November 1534, the Act of Supremacy was introduced to Parliament. Its passage insured through Parliamentary Law King Henry VIII's supremacy over the Church of England. Soon later, Parliament passed the Treason Act of 1535, establishing it a capital offence punishable by execution to "maliciously wish, will, or desire, by words or writing" to deny to members of the royal family their "dignity, title, or name of their royal estates." An oath of allegiance to the Act of Supremacy was required throughout the realm, refusal equating to treason assumed. Thomas More refused to make an oath of allegiance, and also refused to explain his reasons for not doing so, as by common law, no words spoken against a law equated to legally following it. Still, Parliament targeted More just the same with an Act of Attainder for "intending to sow sedition" by his refusal to take the oath.
Throughout the course of Saint Thomas More's imprisonment, Thomas Cromwell made several visits in an attempt to counsel More into stating allegiance to the Oaths of Succession and Supremacy. Much is made by historians and fiction writers of the relationship between Thomas More and Thomas Cromwell, many suggesting the men's rapport was adversarial. On this point, both playwright Robert Bolt and novelist Hilary Mantel agree, albeit who was "the hero" and who was "the villain" contested. In reviewing Thomas More's own words in his correspondences with his daughters, and also Thomas Cromwell's words in various documents, there in contrast appeared to be a respectful rapport shared by the two men. Although one could argue More was cautious in his letter writing assuming they would be intercepted before delivery, he could have chosen to say nothing, his usual habit when in disagreement. Thus, based on contemporary documents written by both men, an acrimonious or adversarial relationship can not be assumed.
This all stated, on May 2nd, 1535, Saint Thomas More met with Thomas Cromwell, Thomas Audley, Thomas Cranmer and others at the Tower of London. Told he was commanded by King Henry VIII to state his opinion of the Act of Supremacy, More stated he refused to "meddle in such affairs". Although told the king would be merciful should he take the oath, More chose instead to say nothing beyond his desire that he focus all his attention on living a Christian life. Another visit by Cromwell and the others on June 3rd, 1535 resulted in the same. At this visit, More remained altogether silent. Later the same month, Richard Richard, Baron Rich of Leez and Solicitor-General, paid a visit along with Sir Richard Southwell to take away More's books and reading materials. Their alleged conversation at this visit was later to be disputed at trial. Two days later, Thomas More was questioned by official investigators.
Sadly, Thomas More's beloved friend, and interestingly also the beloved friend and chaplain of King Henry VIII's grandmother, Margaret Beaufort, John Cardinal Fisher was executed for treason by decapitation on June 22nd, 1535. A clear omen of events to come, a special commission was soon established to hear the case of Thomas More. Two days later, a copious indictment of treason was also presented. Finally, on July 1, 1535, the treason trial of Saint Thomas More began at Westminster Hall. Here is an attempt at astute brevity. Pleading not guilty to all charges, Thomas More contended that he never showed malice to the king, nor did he ever violate the terms of the Treason Act. He correctly asserted that by the common law of the realm, his silence was defined as consent, not opposition. He also testified that he never engaged in sedition in any correspondences with John Cardinal Fisher. Prosecution in contrast contended that More's silence was clear evidence of "a corrupt and perverse nature", thus violation of the Act.
At trial, the most damning evidence presented was the testimony of Sir Richard Rich, Baron Rich of Leez, a man who in time would be recognized by historians as the Tudor Era's greatest villain. Although Sir Richard Southwell and another man present testified that they heard nothing, Rich contended that during his visit to More in the Tower, he asked More a hypothetical question, to which More answered that Parliament had no more power to enact the Act of Supremacy than it did to pass a law declaring God not to be God. In response, More accused Rich of perjury, stating:
"In faith, Mr. Rich, I am sorrier for your perjury than for my own peril, and you shall understand that neither I, nor no man else to my knowledge, ever took you to be a man of such credit as in any matter of importance I or any other would at any time vouchsafe to communicate with you."
Sir Richard Rich's testimony, if found credible, would lead to the conclusion that Thomas More violated the Treason Act. After deliberating only one hour, the jury of twelve men found Thomas More guilty of treason, his punishment declared as follows:
"He shall be drawn on a hurdle through the City of London to Tyburn, there to be hanged till he should be half dead; then he should be cut down alive, his privy parts cut off, his belly ripped, his bowels burnt, his four quarters sit up over four gates of the City and his head upon London Bridge."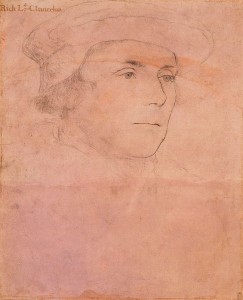 Once the trial concluded, Saint Thomas More was escorted by the constable to a barge that transported him a short distance down the Thames, back to the Tower of London. As Thomas More and his guards approached the Tower, his daughter Margaret Roper reportedly poignantly knelt to receive his blessing, then embracing and kissing him. Escorted through a large crowd of supporters to his cell, More's execution was set, his last six days of life spent preparing for his willfully chosen martyrdom by fasting and praying.
On July 5, 1356, the Monday after his condemnation at trial, Saint Thomas More received a visit from his wife Alice. He gave one final letter for his daughter Margaret, creatively written with charcoal. The next morning, Sir Thomas Pope arrived early, informing More that he would be executed at 9:00 AM. He relayed the king commanded that More keep his final words short and to the point. King Henry VIII commuted More's execution to beheading, albeit it is unknown when More learned this. Shortly before the appointed time, More was led out of his cell for the short walk to Tower Hill. He was reportedly wearing a simple grey robe and carried a red wooden cross. Sadly, no one from his family was there to support him, as permission was not granted.
As Saint Thomas More climbed the stairs to the scaffold, an officer helped steady him. As commanded by the king, he spoke briefly, but powerfully. First, More beseeched the crowd to pray for him, and then he would pray for them in the next world. He then told the crowd words that will ring throughout eternity, "I die the King's good servant, and God's first." More then bravely kneeled in front of the block, quietly uttering the words of Psalm 21:
"To the chiefe Musician. A Psalme of Dauid. The King shall ioy in thy strength, O Lord: and in thy saluation how greatly shall he reioyce?
Thou hast giuen him his hearts desire; and hast not withholden the request of his lips. Selah.
For thou preuentest him with the blessings of goodnesse: thou settest a Crowne of pure gold on his head.
He asked life of thee, and thou gauest it him, euen length of dayes for euer and euer.
His glory is great in thy saluation: honour and Maiestie hast thou layde vpon him.
For thou hast made him most blessed for euer: thou hast made him exceeding glad with thy countenance.
For the King trusteth in the Lord, and through the mercy of the most High, he shall not be moued.
Thine hand shall finde out all thine enemies, thy right hand shal finde out those that hate thee.
Thou shalt make them as a fiery ouen in the time of thine anger: the Lord shall swallow them vp in his wrath, and the fire shall deuoure them.
Their fruit shalt thou destroy from the earth, and their seed from among the children of men.
For they intended euill against thee: they imagined a mischieuous deuice, which they are not able to performe.
Therefore shalt thou make them turne their back, when thou shalt make ready thine arrowes vpon thy strings, against the face of them.
Be thou exalted, Lord, in thine owne strength: so will wee sing, aud praise thy power."
Saint Thomas More laid his head upon the block, stretching his arms out in front of him. If we are to believe as he did, with one blow of the axe, Thomas More passed on to purgatory, his stay likely brief. Sainthood, however, would wait four centuries, More finally canonized along with John Cardinal Fisher by Pope Pius XI in 1935. His abundantly deserved appointment to Patron Saint of Statesmen and Politicians was announced by Pope John Paul II on October 21st, 2000.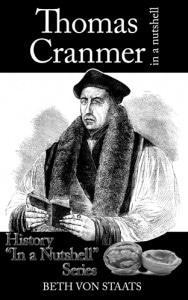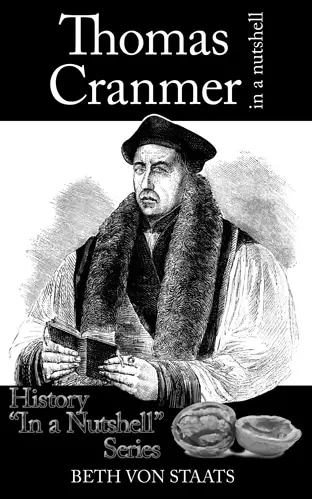 Beth von Staats is a history writer of both fiction and non-fiction short works. A life-long history enthusiast, Beth holds a Bachelor of Arts degree, magna cum laude, in Sociology from the University of Massachusetts, Dartmouth. She is the owner and administrator of Queen Anne Boleyn Historical Writers website, QueenAnneBoleyn.com. Beth's interest in British History grew through the profound influence of her Welsh grandparents, both of whom desired she learn of her family cultural heritage. Her most pronounced interest lies with the men and women who drove the course of events and/or who were most poignantly impacted by the English Henrician and Protestant Reformations, as well as the Tudor Dynasty of English and Welsh History in general.
Her first book Thomas Cranmer: In a Nutshell was published in April 2015.
Notes and Sources
Ackroyd, Peter (1998) The Life of Saint Thomas More, Vintage Books.
Author Unidentified, The Trial of Saint Thomas More: An Account, http://law2.umkc.edu/faculty/projects/ftrials/more/moreaccount.html
Author Unidentified, The Trial of Sir Thomas More, a Chronology, http://law2.umkc.edu/faculty/projects/ftrials/more/morechrono.html
Author Unidentified, Chronology of the Life of Saint Thomas More, American Catholic Lawyers, http://www.americancatholiclawyers.org/more_chron.htm
Psalm 21, The Holy Bible, World English Bible Translation, The Official King James Bible Online, http://www.kingjamesbibleonline.org/psalms-21-parallel-kjv-1611/
Pope John Paul II, APOSTOLIC LETTER ISSUED MOTU PROPRIO PROCLAIMING SAINT THOMAS MORE PATRON OF STATESMEN AND POLITICIANS, Libreria Editrice Vaticana, http://w2.vatican.va/content/john-paul-ii/en/motu_proprio/documents/hf_jp-ii_motu-proprio_20001031_thomas-more.html