The Life of Anne Boleyn Colouring Book – available for pre-order now!
Posted By Claire on May 10, 2018
You might remember that back in December, as part of the Anne Boleyn Files Advent Calendar, I shared an Anne Boleyn colouring page drawn by artist Dmitry Yakhovsky. Well, Dmitry convinced me (and it didn't take a lot of convincing!) that it would be a good idea to work together on an Anne Boleyn colouring book. So, drum roll, applause, anticipation, party poppers…
Here it is….
The Life of Anne Boleyn Colouring Book! Available for pre-order now – click here. I'm so excited! Dmitry has done a fabulous job – such a talented chappy.
I have told Anne Boleyn's story in words while Dmitry has brought it to life with beautiful drawings for you to colour. They really are stunning and I'm over the moon with the finished result.
Here's the blurb:
Claire Ridgway, author of The Fall of Anne Boleyn: A Countdown and owner of The Anne Boleyn Files website, and artist Dmitry Yakhovsky have come together to create this beautiful colouring book which will be enjoyed by young and old alike.
The Life of Anne Boleyn Colouring Book tells Anne Boleyn's story through both text and drawings, from her family background, through her rise and fall at Henry VIII's court, to her execution in May 1536, and her legacy: Queen Elizabeth I. Learn all about Anne Boleyn while Dmitry's stunning illustrations and your colouring bring Anne, her story and other famous Tudor characters to life. This book is a fitting tribute to Queen Anne Boleyn.
Relax, unwind and express yourself with these 34 colouring pages. Each colouring is accompanied by a page of text giving an accurate account of Anne Boleyn's life.
Highlights include:
● Hever Castle
● Château Blois
● The Château Vert Pageant
● Anne Boleyn and Henry Percy
● Anne Boleyn's first motto
● Henry and Anne's marriage
● Anne Boleyn's Falcon Badge
● Henry VIII's jousting accident
● Anne is taken to the Tower
● Anne's execution
● Anne's resting place
+ MANY MORE!
The Life of Anne Boleyn Colouring Book comes out on 1st June, the anniversary of Anne Boleyn's coronation, but it can be pre-ordered from Amazon – click here to pre-order it now.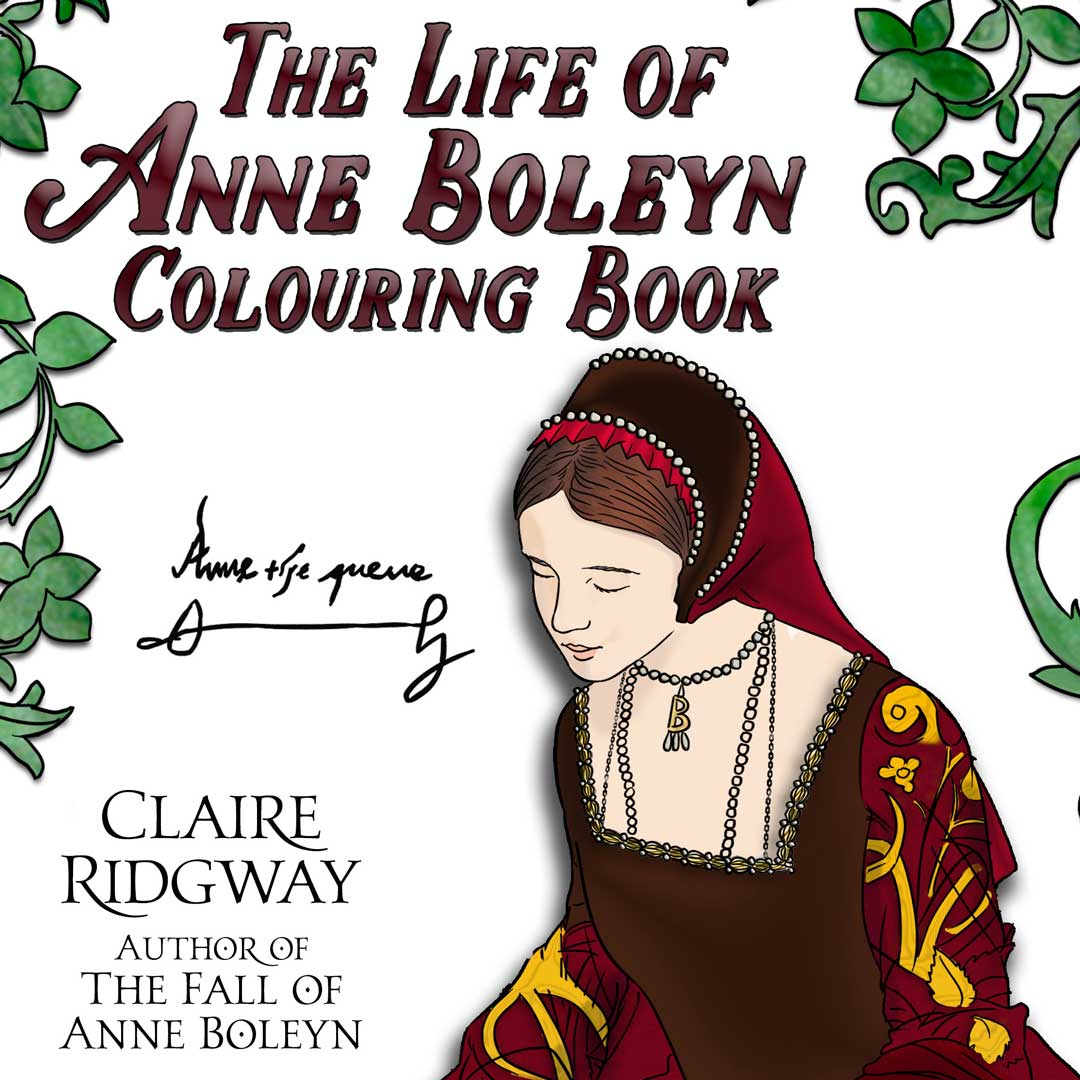 Paperback: 78 pages
Publisher: Madeglobal Publishing (June 1, 2018)
Language: English
ISBN-10: 8494853937
ISBN-13: 978-8494853937
Product Dimensions: 8.3 x 0.2 x 11.7 inches
I'd love to see your colourings so please do share them with me via my social media channels: