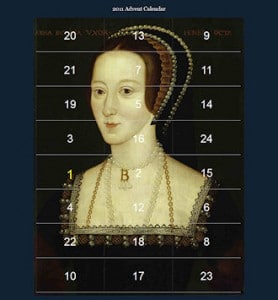 Many children (and adults!) around the world have enjoyed opening the first window of their advent calendar today and beginning the countdown to Christmas. Well, with the help of my trusty sidekick (husband Tim, bless him!), I have produced The Anne Boleyn Files 2011 Advent Calendar!
OK, so I can't promise you chocolates, Lego toys or gimmicks this advent – sorry! – but I can promise you interesting "on this day in history" articles, facts and trivia, will that do?
I hope you enjoy using it and you can't cheat, I'm afraid, there's no way of opening all the windows at once and then taping them back shut with this calendar!
To open today's window, simply click on the picture or click here
Happy Advent!