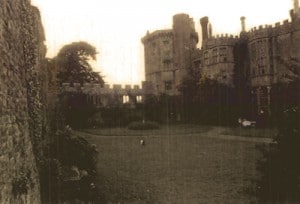 Today, we have a guest post from Anne Boleyn Files visitor, Nancy Smith. Some of you will know Nancy from meeting her on The Anne Boleyn Experience 2010 and Executed Queens Tour 2011, and those of you who read the blog diaries I kept on the tours will have seen Nancy in the photos – she dresses up in Tudor dresses and always looks fabulous. Thanks so much, Nancy, for sharing your trip to Thornbury.
My Tudor Idyll at Thornbury Castle by Nancy Smith
Sunday, October 11, 2011 began mundanely enough. After attending Holy Communion at the Chapel of St. John the Evangelist in the White Tower, I caught the 11:30 am National Express coach from London Victoria Coach Station to Bristol and, upon arrival at Bristol's Broadmead Coach Station I transferred to the 309 bus for the final leg of my journey – Thornbury, South Gloucestershire, home of Thornbury Castle, the only Tudor castle to be open as a hotel, where I had reservations for a three-night stay.
Upon reaching Thornbury, I asked the bus driver where I should alight for the castle. The driver told me he didn't know; however, a charming elderly gentleman who had boarded several stops earlier came to my rescue, saying he would tell me when it was time to disembark. I told him how excited I was to be staying at Thornbury Castle because, being a big Tudor history fanatic, I knew that Henry VIII and Anne Boleyn had stayed there for 10 nights in August of 1535. He then asked if I knew why Henry was so fascinated by Anne. When I admitted that I didn't (I'm not even sure why I am attracted to the men that I'm attracted to, except that they remind me something of my father only less gruff and generally a lot less dependable, so why would I understand the dynamics of a relationship that existed nearly 500 years ago?), I was told that Henry found Anne so fascinating because she had five fingers and a thumb on each hand, as well as three fully developed breasts! No, I didn't refute the gentleman's hypothesis, but I thought that it was rather funny how hard old fallacies die! By now it was time for me to get off the bus; Thornbury Castle as about a 10 minute walk at the bottom of the High Street.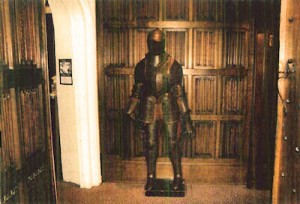 I walked down a gentle incline, past the old town well, now decorated with flowers, and finally past St. Mary's Parish Church and under an arch into the grounds of Thornbury Castle. I followed the signs to Reception, stepped through a doorway and into the Entrance Hall, where I was met by an old suit of armour, and walked into the 16th C!
Before I go any further, let me tell you a little about the history of Thornbury Castle. The earliest account of Thornbury and its manor dates back to the time of King Athelstan (925-940 AD), grandson of King Alfred the Great. However, for our purposes I will begin with Humphrey Stafford, who succeeded to Thornbury in 1403 and who was created 1st Duke of Buckingham in 1444.
Humphrey Stafford, who was faithful to the Lancastrian cause, died in the Battle of Northampton in 1460 and was succeeded by his grandson, Henry Stafford, who became 2nd Duke of Buckingham. Henry Stafford helped to place Richard III on the throne and was made Constable of England as a reward for his loyalty. In October of 1483, however, Henry led a revolt against Richard III with the intent of installing Henry Tudor on the throne in his place. The revolt failed and Buckingham was beheaded in Salisbury without benefit of a trial. Henry Stafford was succeeded by his son, Edward Stafford, as 3rd Duke of Buckingham in 1485 when Henry VII ascended to the throne. Henry restored the Buckingham title and estates to young Edward, and he was made a Knight of the Garter in 1495 at the age of 17. The accession of Henry VIII in 1509 brought further honors to Edward, and and was Lord High Steward at Henry's coronation, where he carried the King's crown. In 1514 Edward Stafford, 3rd Duke of Buckingham, became Lord High Constable of England. However, Edward Stafford was the great-grandson of Edward III's youngest son, Thomas of Woodstock, and his Plantagenet blood made him a threat to Henry VIII. Buckingham became suspected of treasonous activities in 1520, and Henry authorized an investigation. The Duke was summoned to Court in April 1521, arrested, and imprisoned in the Tower of London. He was tried before a panel of 17 peers on charges of listening to prophesies of the King's death and intending to kill the King, found guilty, and executed on Tower Hill on May 17, 1521. He was posthumously attainted by Act of Parliament on July 31, 1523.
Whether or not Edward Stafford had designs on the throne cannot be ascertained at this late date. In Tudor England (1988), John Guy concluded that Edward Stafford's was one of the few executions of high personages during the reign of Henry VIII where the accused was almost certainly guilty; Sir Thomas More, however, complained that the key evidence from servants was hearsay.
It was Edward Stafford who obtained a license to castellated the manor at Thornbury in 1508, and at that time work began on the present castle. Unfortunately, the castle was not completed at the time of the 3rd Duke's death in 1521. The castle was appropriated by Henry VIII after Stafford's downfall, and remained in royal hands for the next 33 years. It was during this time period, in August of 1535, that Henry and Anne stayed at Thornbury Castle for 10 days, slumbering in the Duke's Bedchamber. Henry's elder daughter, Princess Mary (later Queen Mary I), also spent time at Thornbury Castle, and it was upon her death that Thornbury Castle was returned to the descendants of the late Duke.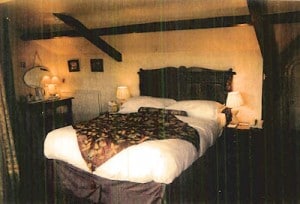 Now back to my story. Upon reaching the Reception Desk I was greeted by Valerie, who I later found out is the castle's historian. I again stated how excited I was to be staying at Thornbury Castle since I was a Tudor history fanatic, and mentioned my involvement with the AB Files website, which she had not heard of but promised to check out. She then summoned the porter to help with my luggage, but he could not be immediately located, so Valerie led me to my room. We climbed several rather steep flights of stairs (there were no lifts in Tudor England) before stopping at the Gloucester Bedchamber. I had reserved a single room, advertised as (not surprisingly) the smallest rooms in the castle. I was expecting a nice room, but nothing spectacular. To my delight, I found that I had been upgraded to a double for single occupancy. The Gloucester Bedchamber was beautiful, with oriel windows that looked over the castle gardens, the Privy Garden and the Goodly Garden, and towards the Parish Church. There was a decanter of sherry in the room, along with 2 apples, bottled water, and a candy dish full of Fox's Glacier Fruits! By now my suitcase had arrived, so I went about preparing my room for my stay. When I had set up the room to my satisfaction, I decided to explore the gardens, said to be the oldest Tudor gardens in England. I found a nice bench to relax on for a few moments, trying to imagine that it was 476 years earlier when Henry and Anne were guests. Upon returning to my room I decided to rest awhile before going into town for dinner; unfortunately the Gloucester Bedchamber was so comfortable and inviting that I didn't wake up until after midnight, so there was no dinner for me that night! The only thing that I (vaguely) remember is the phone ringing and someone asking if I needed the bed turned down.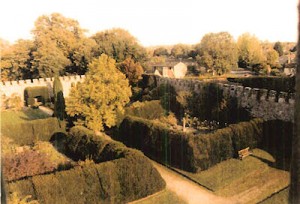 I woke up the next morning feeling very refreshed and went down to the dining room for a delicious English breakfast (my mouth is starting to water just thinking about it!). The restaurant was decorated with Tudor portraits, and Tudor music was playing in the background. I again found myself imagining being at Thornbury during its glory days. After breakfast it was time to tear myself away from Thornbury Castle in order to walk into the town to catch the bus to Bristol and then on to my destination for the day, the beautiful Cathedral city of Wells.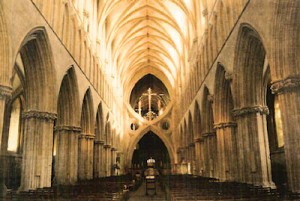 I again boarded the 309 and then caught the 376 to Wells, where I spent the day exploring Wells Cathedral and Bishops Palace. All too soon it was time to return to Thornbury, where I enjoyed a meal of scampi and chips at the White Lion public house before returning to Thornbury Castle for the night. As I walked underneath the archway and into the castle grounds I again felt myself being transported back to the 16th C. – there was no electric lighting leading to the castle, so my short walk was in darkness.
I again enjoyed a good night's sleep, and the next morning repeated my routine of enjoying a good English breakfast followed by a bus ride to Bristol with a change (again on the 376) to Glastonbury to visit the ruins of its famous Abbey, once the grandest and richest Abbey in England, until its suppression by Henry VIII in 1539 during the dissolution of the monasteries. The ruins are still a magnificent sight, but viewing them is mixed with a feeling of sadness for the grandiose building and its history that has been lost. According to legend the bodies of King Arthur and Queen Guinevere were discovered there by monks in 1191, and a plaque before the former High Altar marks the site of their graves.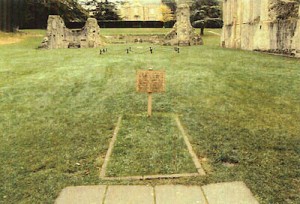 The only intact building on the site is the Abbot's Kitchen, which is set up as it would have appeared during the Abbey's heyday.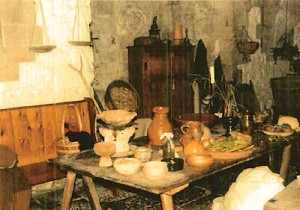 After several hours of exploring the ruins in the rain, I reboarded the 376 bus to Clarks Village outlet center in Street for some 21st C. retail therapy. When the stores finally closed at 6:00 pm, and with my arms full of the goodies that I had purchased, I headed back to Thornbury. I stopped for a pizza at La Piazza on the High Street before walking down the hill towards Thornbury Castle. Feeling somewhat depressed because it was my last night at Thornbury, I began to pack up my things for the next day's journey. I was a little somber the next morning during breakfast, knowing that I would soon have to leave this beautiful place behind. I sadly dragged my suitcase down the stairs and handed the keys to the Gloucester Bedchamber to the woman at the reception desk, expressing my satisfaction with my stay at Thornbury Castle and promising her (and myself!) that I would be back. Then I wheeled my suitcase up the hill towards the bus stop and my next destination, the 750-year old Rose and Crown on Harnham Road in Salisbury.
All in all, I was very pleased with my stay at Thornbury Castle. While not inexpensive, I didn't consider the cost of my stay to be exorbitant. The cost for the three nights was £360, inclusive of VAT (20% of the bill) and full English breakfast. Of course, I had paid for a single room and was given an upgrade, so my accommodations were somewhat more grand than they might have been. The only downside that I can think of (except, of course, that I had to leave after 3 nights) is that it was somewhat out of the way for someone depending on public transportation (like I was) – a 60-70 minute bus ride to Bristol as Thornbury has no train station, plus another hour to Wells or 80 minutes to Glastonbury. However, having access to a car would cut down greatly on travel time, making Thornbury convenient to places like Bath, Tintern Abbey, Berkeley Castle, Gloucester, and many other sites in southwest England in addition to Wells and Glastonbury. Besides, Thornbury is a destination in itself – I could have chosen an anonymous hotel in Bristol for my stay if convenience was the only consideration, but it wouldn't have been nearly as enjoyable.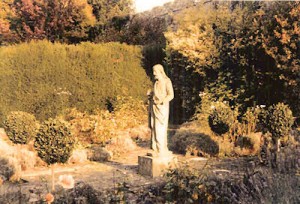 As far as dining is concerned, Thornbury Castle has its own restaurant, as well as there being various restaurants a short walk away in the town. I chose to forego eating my evening meal in the castle restaurant for several reasons – first of all, there is a dress code of "smart casual", meaning no jeans or trainers (sneakers in American), and I didn't have appropriate clothing with me to dine there. Besides, the castle restaurant is quite expensive – an experience in itself – and since I was traveling solo I really didn't feel like sitting through a two hour meal without having someone to talk to.
I've already kept my promise to myself to return to Thornbury Castle – I've made reservations for 3 nights in June of 2012, right before the Discover the Tudors tour! I didn't get to visit the Parish Church during my last stay, so that was an incentive to return. Besides – it's only a 25 minute bus ride to Berkeley Castle, which is only open on Sundays, Thursday and Bank Holiday Mondays for most of the year. (During July, August and part of April, Berkeley Castle is open Sunday through Thursday). Basically, staying at Thornbury Castle gave me that "Thornbury feeling" – which is very similar to that "Hever feeling" that many of the people on Claire's tours have spoken of. It's about as close to the 16th C. that someone living in the 21st C. can get!