The Boleyn Festival, Blickling 2012
Posted By Claire on January 19, 2012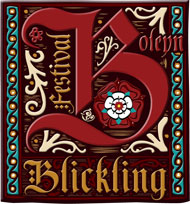 Today we have a guest post from Carole Richmond who is organising this year's Boleyn Festival at Blickling Hall:-
Many historians believe that Anne Boleyn was born at Blickling in the house that stood there before the grand Jacobean manor that now stands on the site. For many years Blcikling, a National Trust property, has celebrated the connection with an annual ghost talk and midnight vigil on May 19th, the anniversary of Anne's execution. Led by famous local historian and compelling storyteller, Neil Storey, people wait outside Blickling to see if a headless Anne Boleyn arrives in a coach driven by her headless brother George and pulled by four black horses. She hasn't arrived yet.
Last year Blickling augmented the usual offering with talks from Alison Weir, Tracy Borman and Sarah Gristwood. That event was very successful and has expanded this year into a four-day literary festival featuring Alison Weir, Eric Ives, David Loades, George Bernard, Suzannah Lipscomb, Nicola Shulman, Suzannah Dunn and Harriet Castor. Neil Storey will also be reprising his annual talk about Anne's ghosts and other supernatural events in Norfolk. The event runs form May 17th through to May 20th and full details can be found at www.boleynfestival.co.uk.
How to buy tickets
Email: blickling@nationaltrust.org.uk, ticket hotline is 01263 738030 or 0844 8004308
Latest News
Buy a four-day pass to the Boleyn Festival for £110 – that's 17% off the full ticket price, ring 01263 738030 or 0844 8004308 for more details.
Also…
In support of the Boleyn Festival at Blickling, Norfolk County Council Library & Information Service is delighted to announce that the Wycliffite Bible once owned by Anne's uncle, James Boleyn of Blickling, will be available to view in the Norfolk Heritage Centre – exact days and times to be confirmed. Come along to find out more about this amazing manuscript volume, its history and connection with Anne Boleyn.