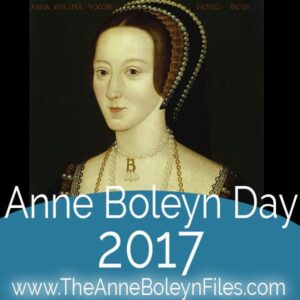 Friday was a busy day for us here at the Anne Boleyn Files as it was our annual Anne Boleyn Day. I like to pay tribute to the life of Queen Anne Boleyn on the anniversary of her execution by bringing us all together with special events like videos, articles and giveaways. This year, I decided to try out Facebook live and do some live talks – rather scary but it worked really well.
If you were at work or your time zone meant that you missed some of the events, don't worry, you can catch up with them by clicking on the following links. The Facebook live giveaways are over, but the others are open until midnight on 24th May so just follow the instructions.
Other blogs and authors also paid tribute to Queen Anne Boleyn. I apologise to anyone I miss here (my brain is still fried!) but here are links to some of the ones I noticed in my social media feeds:
Last year's Anne Boleyn Day saw lots of authors and historians come together to share video talks and if you missed that you can catch up with it on the Anne Boleyn Files YouTube channel – Anne Boleyn Day 2016 playlist.
Thank you so much for all your comments, messages and emails. Apologies for not replying to all of them, it's been so hectic, but it has really moved me how Queen Anne Boleyn is remember 481 years on and how she has brought us all together.