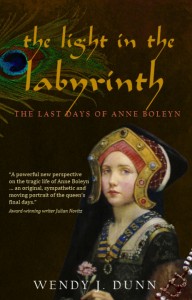 Author Wendy J Dunn reads a chapter from her historical novel The Light in the Labyrinth to us as part of Anne Boleyn Day 2017. It is a wonderful novel telling of Anne Boleyn's last days through the eyes of her niece.
Would you like to win a copy of Wendy's book? Simply leave a comment below this post saying whose perspective you'd choose if you were writing a novel about 1536. Leave it before midnight on 24th May 2017. One comment will be picked at random and the winner contacted.
In the winter of 1535, fourteen-year-old Kate Carey wants to escape her family home. She thinks her life will be so much better with Anne Boleyn, Henry VIII's second wife and the aunt she idolises. Little does Kate know that by going to attend Anne Boleyn she will discover love and a secret that will shake the very foundations of her identity. An attendant to Anne Boleyn, Kate is also swept up in events that see her witness her aunt's darkest days. By the time winter ends, Kate will be changed forever.